Free expedited shipping has changed the way a lot of people shop. These days we buy our groceries, toiletries, clothing and much more, knowing that it will arrive on our doorstep within two days or even less. Now, Walmart wants to get in the near-instant gratification action with its new free NextDay delivery service.
Walmart's NextDay delivery doesn't require you to subscribe to a service. In comparison, Amazon's free 2-day service and free 2-hour service with Amazon Prime Now (available in more than 90 cities and metropolitan areas) require you to be an Amazon Prime member ($119.00 per year).
To use NextDay delivery, you have to choose from the 220,000 items offered with NextDay delivery. Your order has to be $35 or more. And, all of the items in your order have to be eligible for NextDay service. You'll need to check the cutoff time for one-day service in your area and keep in mind that one-day is the next business day, so Friday orders won't arrive until Monday. For now, NextDay is available in Phoenix and Las Vegas and is rolling out in Southern California. By the end of the year, Walmart expects the service to cover 75 percent of the U.S. population.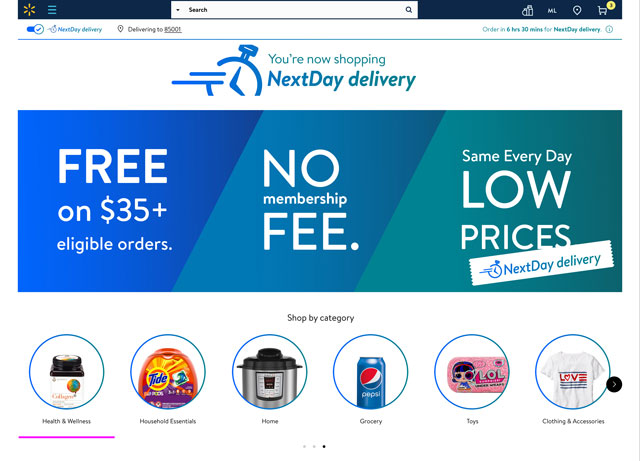 If you're not covered yet, Walmart offers free 2-day service on millions of items — also without a pricey membership fee. Like with the NextDay service, your order will need to exceed $35. And you'll need to place your order before 2 PM in your time or the time zone of where the package will be delivered if it's not your home address.
If that's not quick enough, check out your options for getting anything delivered in an hour.
[Image credit: Walmart]