Hisense is going big with its new C1 Laser Mini portable projector, boasting a massive display of up to 300 inches. At the heart of the C1 is Hisense's TriChroma Laser Light Engine, employing three lasers to deliver sharp, vibrant 4K video with 1600 ANSI Lumens – bright enough for most viewing environments. With an integrated 20-watt JBL speaker, the C1 is easy to recommend for anyone who wants the flexibility of enjoying a big-screen movie experience virtually anywhere.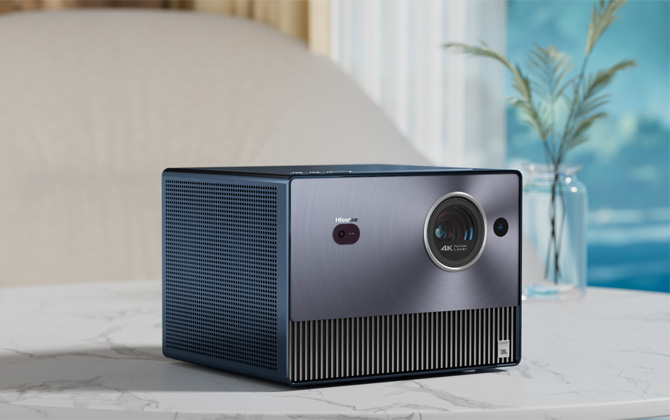 The C1 doesn't take portability lightly. Weighing in at a modest 10.1 pounds and measuring 9.7" by 7.1" by 8.5," it's easy to pack up and hit the road. Upon arrival, setup is effortless with Auto Focus and Auto Keystone features. Being a long-throw projector with a throw ratio of 1.2:1, it requires several feet of space for a 65-inch display (its smallest screen size) and considerably more for a 300-inch display. If possible, drawing the shades is advised; while 1600 lumens is decent, it may fall short in sun-drenched rooms.
Read more: Looking for other portable projector options? Read our review of the Samsung Freestyle 2.
When it comes to connectivity, the C1 is well-equipped with a solid array of ports and built-in streaming capabilities. You'll find two HDMI ports, two USB ports, optical and analog audio, along with an Ethernet port. For streaming, the C1 embraces WiFi 6E, offering access to hundreds of streaming apps via Hisense's VIDAA platform, eliminating the need for an external streaming media player.
Hisense has also paid attention to the small details with the C1. The remote control is backlit and supports Hisense's VIDDA Voice and Amazon Alexa voice commands. And you don't have to worry if the remote goes missing; a built-in remote finder has you covered.
The Hisense C1 Laser Mini is now available at Best Buy and Amazon for $1,999.99.
[Image credit: Hisense]
For the past 20+ years, Techlicious founder Suzanne Kantra has been exploring and writing about the world's most exciting and important science and technology issues. Prior to Techlicious, Suzanne was the Technology Editor for Martha Stewart Living Omnimedia and the Senior Technology Editor for Popular Science. Suzanne has been featured on CNN, CBS, and NBC.