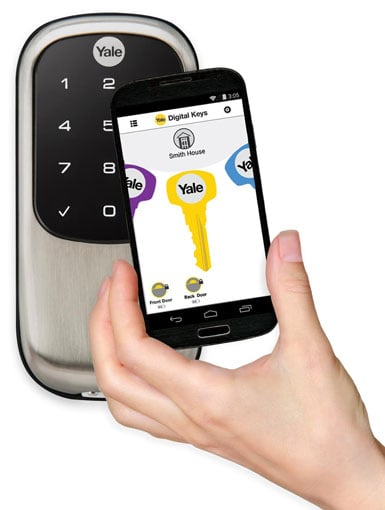 Yale Locks and Hardware, the company whose founder invented the modern key-and-tumbler door lock in 1843, has plans to jump to the front of the burgeoning category of smartphone- and smartwatch-controlled door locks and peephole cameras with its Real Living line of security products.
Yale Real Living was launched in 2009 with a line of keyless deadbolt locks that featured touchscreens and keypads for locking and unlocking with pin codes, and were sold and installed by professionals specializing in home automation systems.
Early next year, Yale will add a "digital key" function accessed by an app — aptly named Yale Digital Keys — that will become available along with a new Real Living lock. A new app-enabled peephole video camera is set to join the lineup then, too. There's a second new lock that's planned to work with the app belonging to Nest — the maker of Internet-connected thermostats and carbon monoxide monitors — rather than with a Yale-created app. A release date has not yet been set. All three of these new products are billed as DIY (do-it-yourself) consumer-installable products.
Here's more on what's to come:
The Assure Lock with Bluetooth ($224.99) comes with five digital keys sent to the Digital Keys app by a Yale central server computer, and those can be assigned by the owner to anyone in the household or a visitor. Moreover, a single digital key can be used to access multiple Assure locks on a property. Yet, while the keys are revocable, once revoked a key cannot be reassigned to a new user, and additional digital keys cost $1.99 each as an in-app purchase. (The Assure companion app will be available for iOS and Android devices and the Samsung Galaxy Gear S2 smartwatch.)
Because the lock communicates with the app only via Bluetooth (not through the Internet), the phone must be within a tight radius of about 30 feet to work with it and it can't be remote controlled from afar. "Twist and Go" functionality lets the user unlock the deadbolt by first rotating the phone 90-degrees sideways (from vertical) in his hand while approaching the door, then touching the Assure with his hand. For those instances when the phone is absent or dead, a built-in touchscreen keypad also can be used to lock or unlock the deadbolt with a pin code, and the lock's onboard memory can store up to 12 pin codes.
Plus, to integrate the Assure into a home network, there's also a place in the lock to install an optional Z-Wave or Zigbee wireless networking module.
Four AA batteries will power the Assure for one year, Yale says. And for an added measure of reassurance, when the batteries do die, touching terminals on the bottom of the lock with a 9-volt battery will juice the Assure just enough to work for the moment.
The Look Door Viewer ($179.99 Wi-Fi; $199.99 Wi-Fi + Z-Wave or Wi-Fi + Zigbee) is an Internet-connected camera and 4.3-inch high-definition (720p) LCD monitor set that replaces the door's traditional peephole and streams what it sees to a companion app (iOS or Android). A photo of the visitor is automatically taken when the integrated doorbell button is pressed, and a built-in motion sensor can trigger the camera to snap a photo when someone merely approaches the door (within 6.5 feet). Snapped photos can be archived on a microSD card via the built-in card slot.
Photos or live video can be streamed to the monitor. The companion app can receive streamed video and also may be used to speak with the visitor from anywhere.
Four AA batteries will power the Look for eight months to a year, depending upon how often the Wi-Fi functionality is utilized, Yale says.
The Linus lock — named after company founder and lock inventor Linus Yale — is planned to be both more sophisticated and more expensive than the Assure lock, though the price has not been set yet. Instead of a digital key residing in a Yale companion app, Linus will leverage the Nest app to control its core functions — including locking and unlocking doors from anywhere, creating or revoking passcodes that provide different levels of access for family members and guests, getting alerts when a guest passcode is used and when the batteries are dying, seeing a history of all passcode usage, and remotely checking whether a door is securely closed as well as locked. Up to 250 passcodes can be assigned, but there is no additional cost for any of them.
Linus is the first product to incorporate a new Nest technology named Weave, which allows it to work directly with Nest home automation products — without the need for an Internet or "cloud" connection as a go-between. And it also uses a new secured wireless networking technology from Nest named Thread that will tie it directly to other "Thread-enabled" home automation products. (No other Thread-enabled products are available to-date, but they may be by next year.)
Among the benefits of its Nest connection, the Linus displays a warning icon if a Nest Protect product in the home detects smoke or carbon monoxide, alerting the user before he opens the door. Linus also can switch the Nest Thermostat to Home or Away mode based on locking or unlocking of the door. And it can turn the Nest Cam on when someone enters the home, or off when he leaves.
As with the Assure lock, Linus also features a touchscreen keypad that can be used to lock or unlock it if a mobile device with the Nest app is unavailable, and has a 9-volt battery override for temporary power when its internal batteries are drained.
Four AA batteries will power the Linus for 1.5 years, Yale says.
[Image credit: Yale]