We may earn commissions when you buy from links on our site. Why you can trust us.

The Best Indoor TV Antenna for HD and 4K
Why buy an indoor HDTV antenna
A Cord-Cutting Essential
An indoor HDTV antenna is a must-have accessory for cord-cutters. That's because OTA (over-the-air) broadcasts are available free of charge, while getting local channels through streaming services can be expensive and chews up Internet bandwidth.
Although the selection of channels varies depending on where you live, much of North America's population live within the broadcast range of at least some OTA channels. Broadcast TV is digital and available HD quality, so you don't have to worry about a fuzzy picture. In fact, it is common for local media to look better via OTA broadcast than over cable TV because the OTA signal has more bandwidth.
4K OTA is Coming: NextGen TV
With NextGen TV rolling out, 4K UHD OTA (over the air) broadcasts are on the way, and fortunately, today's indoor TV antennas will work with the new system. As of October 2021, there are over 40 U.S. cities that already have NextGen TV broadcasts.
In cities with stations supporting NextGenTV (also known as ATSC 3.0) viewers enjoy a number of new features, like Dolby Audio System for NextGen TV (which includes support for Dolby Atmos). But the big draw is the promise of superior picture quality on any 4K TV, thanks to the combination of 4K resolution and HDR. The leap in quality for broadcast TV represents the biggest upgrade in image quality for OTA since the move from SD to HD.
Works with OTA DVRs and USB tuners, and even Smartphones
Using an antenna does not mean you are beholden to the broadcast schedule. DVRs are available for as little as $100 (the Sling AirTV 2). These devices have built-in tuners, so you can even use them to watch TV on a PC monitor or using a projector and have the flexibility to record and watch shows at your leisure. There are even adapters you can use to watch OTA TV on smartphones and tablets.
Suppose you are into sports or following the news. In that case, you can employ a USB DVR with multiple tuners (only one antenna is needed) and watch various live TV channels simultaneously, or record one or more channels while you watch another. It's old-school binge-watching sorcery, with the added benefit that with DVR content, you can fast forward through commercials.
Backup Plan for Cable Subscribers
Even if you are not a cord-cutter, the low cost of a TV antenna makes it an easy to justify accessory for your TV. If, for example, you experienced a problem with your cable service halfway through the Super Bowl, you'd have the option of switching to the antenna. The same goes for natural disasters – you might lose your cable service and fast Internet, but if you have an antenna, then you'd still have access to news from your TV.
Also Works with FM Radio
If you have an audio system with an FM tuner and a coaxial input—many AVRs offer this option—you can use a TV antenna as an FM antenna. Sharing an indoor antenna with a TV is impractical, so if you want to receive both FM radio and OTA TV, you'll want to buy a separate antenna for each device, rather than trying to rig up a signal splitter.
What to look for in an indoor HDTV antenna
Various form factors
Indoor antennas come in various styles, some of which are easy to hide, and others allow for easy placement on a flat surface. This decision is partly driven by where your TV is located, with flat antennas being ideal for wall-mounted TVs, while freestanding antennas are handy when you have a TV on a table, stand, or credenza.
The size and shape of an antenna are closely related to its passive performance. That's how much signal it pulls in without amplification. Typically, the larger the antenna, the stronger the passive signal, and therefore the longer the range.
Since form factor affects placement options, it also affects reception inside homes. Ideally, an indoor antenna should be located near a window for the best reception, but if that's not feasible, experimenting with the available placement options within a room may yield more channels, and it only takes a few extra minutes to run the channel scan again and compare.
Range: Amplified or Passive
Aside from the form factor, one of the main differences between indoor antennas is whether they are amplified or unamplified. And this, in turn, is one of the main differentiators between indoor antennas in terms of their range.
While indoor antennas are sold with an advertised range, due to various factors that include topography, weather, and the walls of your house, those range estimates are practically meaningless. But they do loosely correlate to increased capability, especially within the product line of a single company.
Amplified TV antennas boost the passive signal. The amplification requires external power, which makes for a slightly more complex install. Notably, you can add an amplifier (aka signal booster) to any passive antenna, but the combined cost tends to be higher than simply buying an amplified antenna.
The usefulness of an antenna amplifier is highly circumstantial. Indeed, my hands-on experience calls into question the value of amplification. Why? One hypothesis is that in areas where reception is strong, an amplifier might actually over-amplify the overall signal coming from the antenna (which contains all the channels). The result is worse reception, not better, because the highly amplified strong channels cause the weak ones to get lost. This is supported by anecdote as I'm not the only writer to encounter this phenomenon.
While I saw no benefit from amplification, someone who lives in an area with overall poor reception very well might. Channel count is one thing and signal stability is another: An amplifier can sometimes help turn an intermittent weak signal into an uninterrupted one. Ultimately, my reception results with and without amplification are specific to my apartment.
Another use for an antenna amp is for extra-long coaxial cable connections; for example, if the TV is in a basement and you have the antenna located on an upper floor. The extra gain from the amp will help ensure the signal makes it to the Tuner.
Features
Adjustability
The length of the connecting coaxial cable is a crucial consideration. The longer the cable length, the more flexibility you have in terms of placement. Some antennas allow you to use your own coaxial cable so that you can have a custom length. Others require the use of an extension cable if you need to go beyond the size of the provided cable.
If you are buying a flat antenna for a wall-mount application, you'll want to ensure the cable is long enough for your particular application. Mounting the antenna near (or directly on) a window is a popular tactic to maximize reception.
Look for amplified antennas with USB power instead of a proprietary wall-wart, which allows you to use a USB port on the TV itself for power. Not all USB ports provide power, so check your TV user guide.
Suppose you use an antenna with a portable device, for example, a laptop or a tablet with a tuner/adapter of some sort. In that case, you'll want to look at compact freestanding indoor antennas that are easy to carry and can sit on a tabletop.
Aesthetics
The type of antenna largely determines the appearance of that antenna. And unless you are seeking a retro look, likely the last thing you want is an old-school rabbit ears antenna (still, I did test a pair).
One of the most common indoor antennas is the flat design, which pretty much looks like what it is, a flexible sheet of plastic. Sandwiched inside the plastic is the actual antenna, which is made of thin, flat metal. Often these antennas are white on one side and black on the other to better match the color of the walls, and are paintable. The flat antennas in this roundup are all paintable.
Freestanding antennas come in a variety of shapes and sizes. Some look a bit like Wi-Fi routers with lots of antennas sticking out, others are minimalist single-antenna designs, and you'll find flat antennas repackaged for freestanding use with varying degrees of visual appeal.
Aesthetics should only be part of the equation when shopping for an indoor antenna; after all, an antenna is useless if it does not receive the channels you want to watch. This is why buying an antenna with a good range is a high priority. But there's a good chance an indoor antenna will be visible (unless you are lucky enough to get great reception with an antenna hidden behind the TV). Therefore, you don't want to discount appearance altogether.
Choosing the Contenders
Our final testing list results from research into ratings and reviews of indoor TV antennas, combined with hands-on experience. Because antenna performance is closely tied to the specific installation, this is a product category where aggregated anecdotal user experience is a valid measure of real-world performance, perhaps as much as a lab test.
To create a list, I browsed the existing recommendation articles found on various websites, and I perused ratings and reviews for indoor TV antennas located on amazon.com. I also took a trip to my local Walmart supercenter to see what sort of antenna selection was available to brick-and-mortar shoppers and wound up purchasing one while I was there.
I'm a cheapskate, so I did not shell out for a $70 or $100 antenna, like the ClearStream Flex that's the top pick over at Wirecutter. The whole point of an antenna is to save money, after all. Therefore, I limited the list to antennas under $35 and included two models from the popular 1byone brand.
Best Indoor TV Antenna
The goal of this article is to find the best performer among the eight featured antennas: The 1byone Model 2 TV Antenna, 1byone Amplified Indoor TV Antenna, Luxtronic Portable TV Antenna with Magnetic Base, Mohu Leaf Thirty TV Antenna, Philips Fabric Swatch TV Antenna, Philips HD Loop TV Antenna, RCA Amplified Indoor TV Antenna and the XFIREE Digital TV Antenna. For the test, I ran a channel scan for each model with the antenna located next to the display in my living room.
I live in Center City, Philadelphia, in a high-rise building. I'm within line of sight of a couple of broadcast towers, but other signals come from the Roxborough Antenna Farm, located ten miles away but on the other side of the building. With a good antenna, I can receive over 80 digital TV channels. The "winner" here is the antenna that pulls in most channels.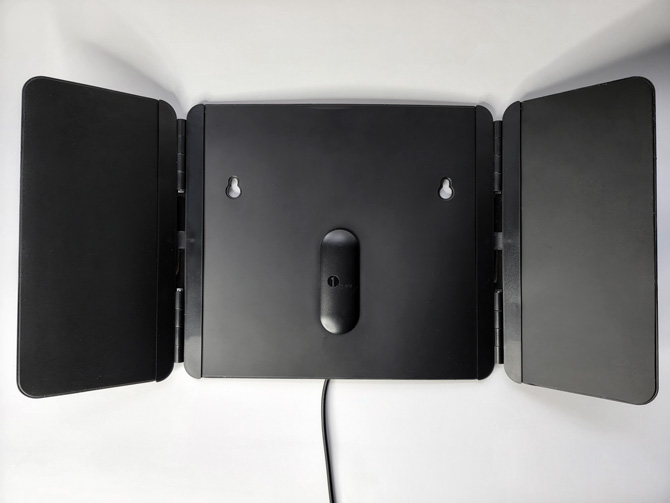 1byone Model 2 TV Antenna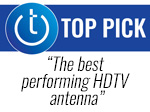 This flat antenna has flaps that increase its size, allow it to stand up on its own, and provide some adjustability for OCD types. The 1byone Model 2 is omnidirectional, USB powered, and accommodates wall mounting. However, it is not "low key"; it is relatively large, and both sides of the flat panels are black.
The 17-foot cable ensures plenty of reach for placement in a spot with good reception.
This 1byone delivered the best performance of all the antennas I tried, but did so when operating without the amplifier, in passive mode. The USB-powered amplifier is entirely separate, so you can leave it out if not needed. Performance with an amplified signal was also good, better than any other amplified antenna.
Ultimately, the antenna that brings in the most channels is the winner of this hands-on showdown, and this 1byone model is it.
Digital Channels: 88 (passive), 82 (active)
Price: $27.99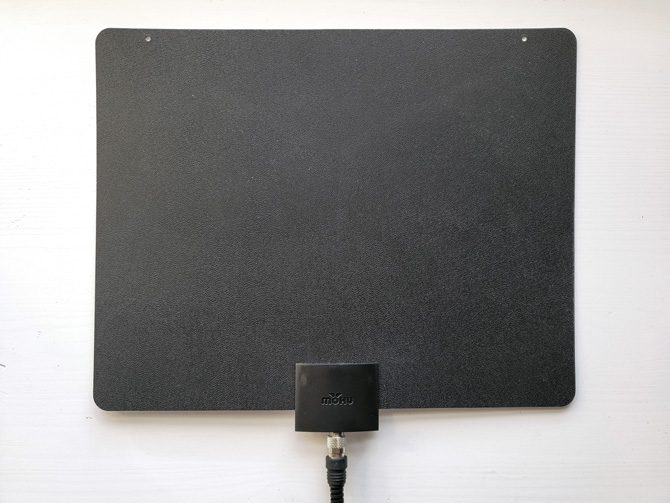 Mohu Leaf 30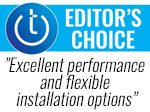 The previous Techlicious selection for best indoor TV antenna remains a top selection, essentially matching the performance of the 1byone (in passive mode). The Mohu Leaf 30 is a passive, flat, omnidirectional antenna that offers one feature all the other in this list lack: A removable 12-foot coaxial cable. The upshot is you can replace the cable with a longer one if your installation demands it.
The Mohu came extremely close to matching the 1byone's reception channel count, falling short by only one. This is essentially a tie, which means choosing between the Mohu and 1byone comes down to price and whether you have more use for the 1byone antenna's ability to stand freely, or the Mohu's replaceable cable and reversible flat panel with one black and one white side.
Digital Channels: 87 (passive)
Price: $39.99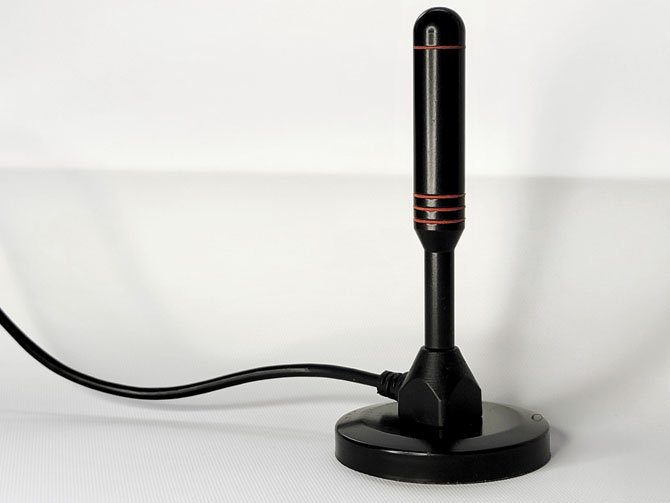 Luxtronic Portable TV Antenna with Magnetic Base
This antenna caught my eye because it looks so portable and low-key. It's an omnidirectional passive antenna and is the smallest of all the antennas on this list. I'd also venture to say it feels like the best-made antenna; it is metal and sturdy and feels like it'll survive being tossed into a backpack.
What I did not expect was how well it did in the reception test. The small size did not equate to small performance. This antenna delivered the second-best overall performance and is easily the most versatile in terms of placement. It's purely passive, so you don't need a spare USB port to make it work. It is a thoroughly impressive antenna, portable or not, and it may be all the antenna many people need.
Digital Channels: 83 (passive)
Price: $18.99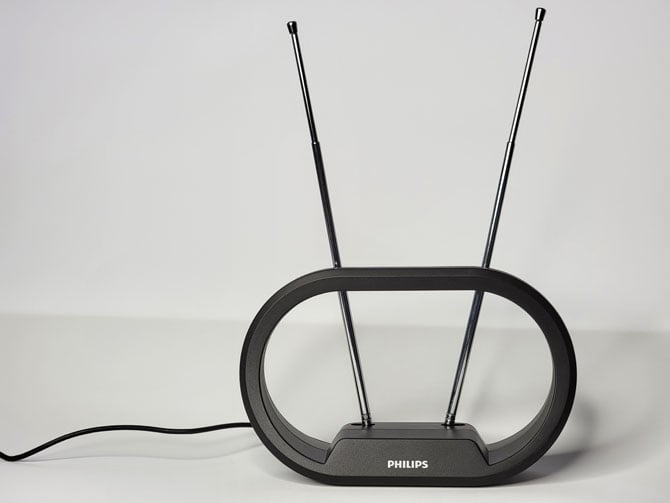 Philips HD Loop TV Antenna
This is a freestanding, passive "rabbit ears" style antenna. Philips claims a 30-mile range. Very inexpensive (the most affordable of this roundup), but the supplied cable is very short, just 4 feet, preventing any install option other than right next to the display.
This antenna was purchased precisely because it is the least expensive option. I wanted to establish a baseline for entry-level indoor antennas (and I like the look of the old-school collapsing rabbit ears).
It turns out that old-fashioned looks and a low price can be deceiving. This Philips is an excellent performing antenna, fourth place overall. If all you care about is good reception and want to spend the least you can on an antenna, this is a great choice. Its performance is quite profound, but maybe it should come as no surprise that an old-school antenna design works so well since TVs were once totally dependent on OTA reception.
Digital Channels: 82 (passive)
Price: $17.99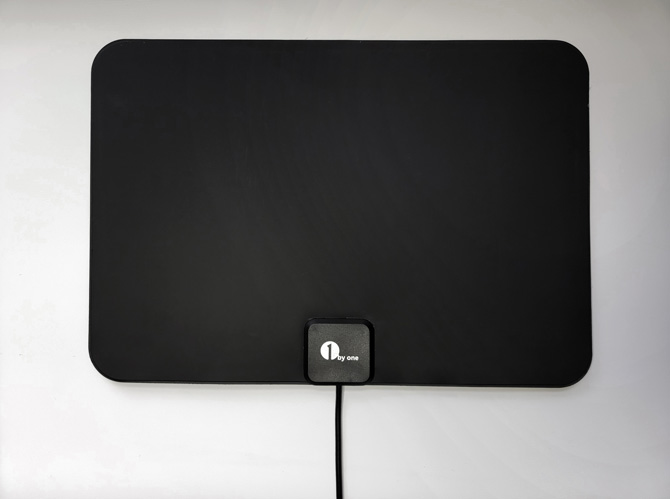 1byone Amplified Indoor TV Antenna
This flat, amplified omnidirectional antenna features the now-familiar (and functional) flat form factor. It comes with a 16-foot coaxial cable and a detachable USB power cable and power supply. The only catch is it appeared to be the poorest performer among the antennas I tested!
Or, at least that's what I thought before took away the amplifier and ran the scan using it as a passive antenna. The result? A dramatic improvement in reception, enough to barely beat the Philips Fabric Swatch and the RCA triple-antenna, as well as easily surpass the XFIREE. But it's still not as good as the Philips rabbit ears or the tiny Luxtronic, and its reception pales in comparison to the 1byone Model 2 or the Mohu Leaf 30.
Digital Channels: 73 (passive), 50 (active)
Price: $28.99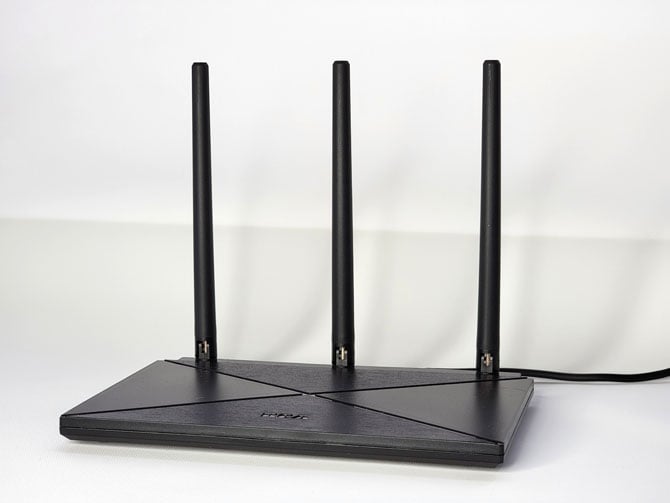 RCA Amplified Indoor TV Antenna
This entry in the list results from a foray into my local Walmart supercenter to see what's available to buy on the spot (if you need an antenna right away). It's from RCA, which claims to be number one in antennas in the U.S. It looks like it means business, with a triple-antenna design resembling a Wi-Fi router. It is not low-key by any means, and RCA says it offers a 60-mile range.
This antenna did a good job finding channels but surprisingly could not exceed the performance of a couple of the passive antennas that cost less. Another surprise, it provided the same performance in passive (unamplified) mode and in active (amplified) mode—at least it was not worse with amplification, as was the case with all the other amplified antennas.
This is a directional antenna, meaning that fiddling with it might help reception. I ran the scan three times and used the result with the highest number of channels.
The three antennas are articulated and offer many options in terms of positioning, which means if you are at all OCD, you might wind up spending an evening "optimizing" this antenna. But there's no real way to know what effect your tweaking has on reception, so it isn't significant. I'd rather have an omnidirectional antenna and be spared the stress.
Digital Channels: 72 (passive), 72 (active)
Price: $39.99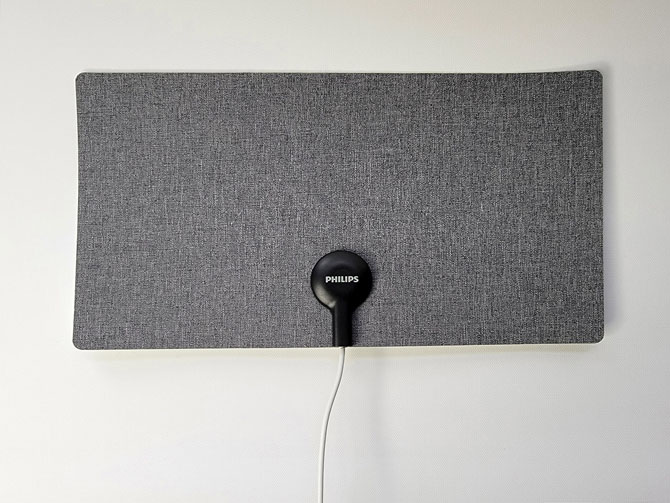 Philips Fabric Swatch TV Antenna
This is a basic flat omnidirectional passive antenna with a decorator-friendly twist: One side is covered in gray fabric (the other side is white). The idea is that one side or the other will blend in best with your wall. Nothing much more to it; the cord is white, which is another thoughtful touch in terms of aesthetics; all the other antennas in this list have black cords that are much more visible against a white wall.
Despite its minimalist design, this antenna did a decent job pulling in channels, considering its low cost and basic design. But, it's notably the poorest performer among the three flat-style antennas I tested.
Digital Channels: 72 (passive)
Price: $16.99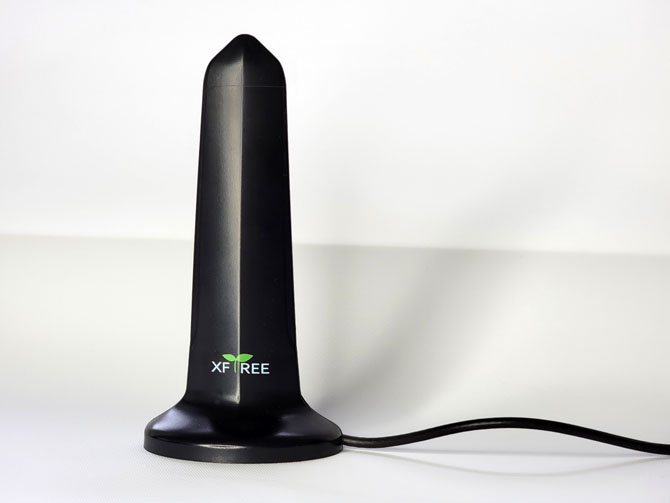 XFIREE Digital TV Antenna
Every list that has a winner also has to have a loser. This is a freestanding, compact, amplified omnidirectional antenna. It touts 5 dB passive and 25 dB amplified gain. The claimed range is 250 miles with the supplied amplifier, which seems exaggerated. It is USB powered and equipped with a 16-foot long, permanently attached coaxial cable.
Unlike the other antennas in this article, which are popular options with lots of good reviews, this antenna was purchased with fingers crossed, based on a combination of price, looks, and performance claims. It's a new product, so there are no professional reviews, and even on Amazon, there were only five user reviews posted when I bought it. Fingers crossed that it's a hidden gem? If only.
This antenna was the absolute worst performer, and the amplifier did much more harm than good. It was handily beaten by the least expensive option, not to mention by all the other options as well. Given this result, the 250-mile range claim is not credible.
Digital Channels: 62 (passive), 22 (active)
Price: $26.99

Conclusion
This hands-on comparison taught me that advertised range and specifications are close to meaningless when it comes to antennas. I also learned that an amplified antenna is not necessarily better than passive, it depends on where you live.
The Top Pick and top performer, the Model 2 from 1byone ($27.99), is perhaps not a surprise in that it's the largest antenna of the group, which means there's more physical area to pick up a signal. It also offers the flexibility of wall-mount or freestanding use, without the need for a stand, which is unique among the products in this roundup. And comes with an amplifier, for situations where that helps, but you can choose to not use it.
The Mohu Leaf 30 ($39.99) essentially ties the 1byone in terms of reception, but is a different design that's suitable for slightly different scenarios. It earns Editor's Choice for its removable cable and the reversible design with one white and one black side, that's also paintable.
The Luxtronic Portable is a solid alternative to the two top picks, especially if you want a compact antenna that's easy to move around or fit into a tight spot. It's under 20 bucks, passive, and the smallest on the list. The high-quality reception was a huge surprise, and the excellent build quality is a bonus. If a flat antenna won't work for you, give the Luxtronic a shot.
You absolutely cannot judge an antenna by looks or by price. The Philips rabbit ears finished in fourth place, but they are dirt cheap, selling for around twelve bucks. If you like their old-school look, then you probably don't need anything more to add OTA TV to your entertainment portfolio.
[Image credit: Mark Henninger/Techlicious]
Mark Henninger is an AV enthusiast, equipment reviewer, photographer and videographer. He is a THX-trained video calibrator and has extensive experience working with consumer displays including TVS, projectors, monitors and smartphones. Mark started the editorial review program at AVS Forum, where he served as Senior Editor and then Editor.
---
Discussion