We may earn commissions when you buy from links on our site. Why you can trust us.

The Best Photo and Video Digitizing Services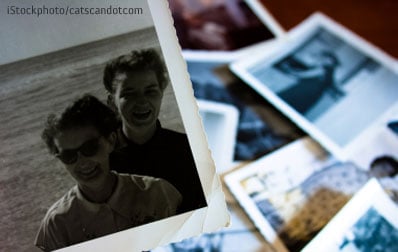 Wouldn't it be great if all your old photo prints were digital, to fill out your photo history in Facebook's timeline or add to the anniversary slideshow you're making for your parents?
Converting old prints and videos into digital formats is a project that we dread, akin to cleaning out the garage or organizing the attic. How to even begin? I won't lie – it is a huge project, but worthwhile. Indeed it took over my life for a couple weeks, much more than the afternoon I'd allocated. But voila, it's done, and the rewards have been great so far. Far-flung family members are having fun with forgotten memories, chatting over childhood photos that I've shared online, posting their own, and thanking me. And I can sleep at night knowing that something like burst water pipes won't wipe out my lifetime of memories.
You can do it too. The size of your task depends on the size of your collection, how organized you want to be and whether you can afford premium services that streamline the task. Of course, you could scan your own photos, but for many it's too time consuming and you're unlikely to get the same quality as the better commercial services. So how do you select the right digitizing service? Here's what you need to know.
Why convert?
Your physical media is degrading every day.
Videotapes and other magnetic media are the top priority. The magnetic molecules and substrates erode, losing sharpness and color, till nothing remains in as few as 10 years. How do you decide which tapes to convert, if you don't remember what's on them, and you don't own a working VHS player to review them? Don't worry. Just send them all in, preview the converted tapes online, and with the right service you pay only for the DVDs you order. You'll get back all your videotapes. Luckily, videos are easy to convert, so plan to do that right away.
Prints, film, and other physical media are also breaking down, more slowly. You will see a big difference between prints made on archival paper versus those from cheap processing and paper. Much depends on how they've been stored, whether exposed to air and light. All your physical media is at risk of total loss from degradation, fire, flood, or getting lost in the shuffle.
Gather Your Photos, Films, and Videos
Gather everything you want to convert: all your photo albums, pictures, videos, reel film, and memorabilia. Arrange it in piles chronologically. Label your stacks by year with index cards, which you'll need later in the packing step. If the project is overwhelming, hire a professional through the Association of Personal Photo Organizers to consult by phone or even come into your home and do it all for you, though this option is not cheap.
What to Convert
If you are a photo historian, you may want to convert everything. Everyone else, prepare to winnow. The sorting part of this task will take the most time. You'll be faced with many decisions – scan the negatives, or the prints? (Hint: negatives deliver superior quality, but cost a little extra.) Scan the whole stack, or just pull out the few keepers? How will you ever reunite the ones you pulled out back into the stack where they belong after the scanning is finished? Try to capture what's written on the back of the image? Take photos out of the albums, or pay a premium to have it done for you? Include special or odd-sized documents and photos? Keep mediocre photos because they show a slice of life that will become valuable as the years go by? Is there a chance you have the only surviving photo of Uncle Andrew?
Some of these questions might be answered after you look at the services offered, and their associated costs. There are services that can handle whatever you throw at them; it's all just a matter of what you're able to spend.
Choosing a Digitizing Provider
Your needs will determine which provider to choose. Look through the considerations below to figure out what you want. We've tested many services, and recommend our favorites here. There are local mom and pop providers as well, but the centralized large scale providers have sophisticated systems in place to prevent any mixups or damage to your media at their site, including safeguards like sprinkler systems, dust removal, and video-surveillance. Yes, it has happened that a fire burned down a site's facility, and all the work inside was destroyed. Sprinklers matter.
Flatbed vs. sheetfed scanning – A site that does flatbed scanning is your only choice for odd sizes that won't fit through an automatic document feeder, and they deliver better quality. Sheetfed scanning is cheaper and requires that you to bundle everything by size and orientation so the feeder won't jam.

Prep time – If you don't have time to devote to this project, go with a premium service that does all the organizing for you, such as taking your pictures out of the albums for scanning.
Negatives and slides – If you have the choice, scan negatives instead of prints. You will get far better quality so it's worth the extra cost. The problem is that it's hard to preview film to see what is worth scanning – bite the bullet and scan it all. You may discover hidden gems. Prices for film conversion can vary widely, so check around if you have lots of film.
Quality – Opt for higher quality scanning if you can afford it, because you just don't know what will be precious down the road. Choose add-ons such as higher resolution, image optimization, and rotation.
Preview prints and video online – Some sites include online previewing and sharing, usually for a limited time. This is useful for sharing quickly with friends and family, though you'll want to upload to your own site of choice for the long term. iMemories and YesVideo let you custom-build your video DVDs online with clips from your videos.
Shipping – If you are afraid to trust your life's memories to a postal service, you can drive your media to your choice of provider and drop it off personally. If you're not near one of the major players, find a local provider that scans onsite, though the cost may be higher and quality and other safeguards lower. At the other end of the spectrum, ScanCafe achieves premium quality scanning at a low cost by shipping photos to India for conversion.
Options During Ordering
Orientation – If you have lots of photos, it's worth it to pay the site to automatically rotate your images so they are all right-side-up.
Extra copies – When you place your order, you'll be offered the option of ordering extra copies of your DVDs. Get at least one extra set up front, one to keep and one to share with others as a backup.
Writing on the back – If your prints have notes on the back, consider whether to capture that data. A few services offer back-scanning for an extra fee.
No copyright – Conversion services won't touch copyright materials such as professional school photos or TV shows on VHS. If you're not sure, send it in and they'll decide.
Date stamping – Ask if provider can set the "EXIF" date to match the year the picture was taken, so you can sort all your photos chronologically. Although only FotoBridge offers it as of April 2012, others plan to add this important feature shortly. Alternatively, intrepid users can edit the EXIF data on scanned digital files using a program such as EXIF Date Changer.
How to Prep and Pack
Read the prep and packing instructions from your chosen provider. The digital files will come back to you with sequential names like "IMG0001, IMG0002…", so it will help if everything is scanned in chronological order. Look for instructions from your provider, such as numbering each bundle with an index card on top, with the year and number identifying sequence. The index card itself will be scanned, and that will be a tremendous help when you are scrolling through the endless photos trying to find something in a particular batch. Most will recommend stacking and bundling your prints in bunches of 100 (about 1" thick), secured with a rubber band in a plastic bag.
Providers say that too many users choose too flimsy a box, with too little tape and packing material. The contents arrive damaged or falling out. Protect your memories at this stage and follow their instructions carefully
Our Favorite Sites
Our current favorites are below. All are well-established trustworthy vendors that handle multiple types of media, from VHS to negatives, and they have extensive systems in place to protect your images. Some of the pricing bundles are complicated, so it may be fastest to get customer service help choosing the right package.
If money is no object, iMemories is the easiest solution and offers top quality. This full-service premium site can handle all kinds of media including delicate documents, photos stuck inside photo albums, and slides in their carousels. Put everything into one box, no counting or sorting or prep required, and they take it from there. Images are 49 cents per print, slide, or negative, and include rotation, image optimization, etc. via flatbed scanning. You have the option to edit videotapes online, which cost $10 to convert, and $10 for each DVD ordered. For example, use the online video editing tools to combine multiple videotapes onto one DVD, which can hold about 2 hours of material. iMemories wants to be the repository for all your memories in the cloud, old and new. Your digital media is stored at its online site for free initially, $5/month for ongoing online archival.
If there's no rush, ScanCafe boasts highest quality across a wide variety of media, and achieves this at a lower cost of 29 cents per image, or 22 cents with a value kit, and flatbed scanning. How? By sending photos to India, where labor costs for image optimizing are lower. The process can take up to 8 weeks. US rush processing is available at extra cost. All image optimization is included. It can handle your photos in albums and carousels, with a surcharge. Preview the images online up to 45 days, and discard up to 20% of them; pay only for those you keep.
If you prefer to walk into a local retail store and save on shipping, YesVideo is another large scale provider that excels at video conversion, handles prints and film, and offers online storage. The company has retail partnerships with many major chains including Walmart and CVS, and takes online orders. It too offers online editing of videos allowing the option to customize your DVD. Your converted videos and prints will be automatically added to its online sharing/archival site, free initially, then around $50/year to maintain. Video pricing is similar to iMemories, and prints/slides are about 40 cents, including all the auto rotation and image optimization. I toured YesVideo's facilities and witnessed the extensive safeguards and workflow in place, to prevent customer content from getting lost or damaged.
Photobin is especially attractive if you have a variety of media, such as prints, negatives, videos. The MixPics option gives you one flat price – you can add quantities to it during the ordering process and end up with pricing under 20 cents/image, and $8 videotape conversion. Scanning is sheetfed. The site also offers online storage, with a free basic service and subscription for advanced features.
If low price is the objective, ScanMyPhotos is the way to go. Choose pay-as-you-go sheetfed scanning at 12 cents a scan, or pack as much as you can into a pre-paid box (though it uses the postal service, not a tracking service like UPS). Quality add-ons like 600 dpi resolution, scanning in sequence, image rotation and optimization will push pricing up to equal those of other services, and mixing media like negatives and prints requires separate orders.
FotoBridge combines a focus on quality with low cost, using sheetfed scanning and package pricing, particularly attractive at high volumes. The company is working on features that will more easily integrate legacy memories with digital life, including a partnership with the Association of Personal Photo Organizers, photo upload to SmugMug, and efforts toward date-stamping.
This site doesn't convert photos, but has an innovative ShoeBox app on iPhone (Android coming soon) to snap pictures of prints to add to your digital collection. The app optimizes the image quality and sets the date-stamp to your specifications. A partnership with ScanCafe covers bigger conversion jobs. The site aims to be the repository for your extended family's photo storage and sharing.
Site
Scanning
Edit Videos
Store Online
Price for 600dpi Prints
iMemories
Scottsdale, AZ
Flatbed
Yes
$5/month
49 cents prints, negatives, slides
ScanCafe
Burlingame, CA and Bangalore, India
Flatbed
No
45 days only
22-29 cents
YesVideo
Santa Clara, CA
Flatbed
Yes
$50/year
40 cents
PhotoBin
San Diego, CA
Sheetfed
No
$0 - $40/year
Package pricing, down to 17 cents
ScanMyPhotos
Irvine, CA
Sheetfed
No
None
17 cents
FotoBridge
West Berlin, NJ
Sheetfed
No
14 days
on SmugMug
Package pricing, 12-24 cents
---
Discussion