The Best Ways to Get Netflix & Streaming Services On Your TV
Techlicious editors independently review products. To help support our mission, we may earn affiliate commissions from links contained on this page.
There's a good chance you already have at least one streaming media player at home, even if you aren't using it. Most mid-line and up HDTVs manufactured since 2015 have smart features that let you stream from a variety of services. Likewise, recent-model game consoles like the PlayStation and Xbox support major streaming services. You can even connect your phone to your TV to stream wired or wirelessly.
Working with the tech you have is the most obvious and cheapest way of getting Netflix and other streaming services in your living room. If your smart TV has all of the streaming services you want to watch, you don't have to look any further.
However, using what you have is not always the best way. Dedicated streaming media players are more polished presenters, offering faster and easier access to online content and often delivering new services and updates first or exclusively.
Streaming media players also make it easy to find and discover new content, which has become increasingly important as people subscribe to more services. In a May 2021 survey, Horowitz Research found half of TV content viewers feel overwhelmed by the number of streaming services and struggle to keep connected to their favorite content. And 61 percent of streamers said recommendations helped them discover content they otherwise would have missed.
So what's the best streaming media player for getting Netflix and other streaming services on your TV?
There are four main platforms: Roku OS, Fire TV OS, Apple tvOS, and Android TV (Google TV is essentially Android TV with some upgrades and minor design differences). For the last two months, I've been testing the latest crop of players for each platform. In the end, one stood out for each platform.
For Android TV there were a lot of models to choose from, including Onn., TiVo Stream TV, AirTV Mini, Nvidia Shield TV and others. I choose Google's Chromecast with Google TV as the best streaming player within this universe for its upgraded user interface and enhanced recommendation engine.
For Roku OS, the Roku Ultra stood out among from the other Roku players with its support for Dolby Vision, personal shortcut buttons on the remote, and remote finder.
For Apple tvOS, Apple TV 4K was the clear choice with its support for 4K with HDR (versus 2K for the Apple TV HD), faster 802.11ax Wi‑Fi 6 with MIMO, and a faster processor.
And, for Amazon's Fire TV OS family, I chose the $49.99 Fire TV Stick 4K over the $99.99 Fire TV Cube because the Cube's built-in Ethernet jack and faster processor weren't enough to justify the extra cost.
All four picks support 4K UHD with HDR (Dolby Vision and HDR 10) and advanced audio decoding, including Dolby Atmos.
When comparing each of these top choices against each other, I looked at how easy it is to find a specific show or movie, how you discover new content, as well as the viewing experience, including using the remote control. Here are my picks for the best streaming media players.
Streaming Models Comparison
Roku Ultra

Google Chromecast with Google TV

Apple TV 4K
Amazon Fire TV Stick 4K
Retail price
$99.99 (on sale for $89.94 on Amazon as of 8/22/2021)
$49.99 on Best Buy
$179.99 (on sale for $169.00 on Amazon as of 8/22/2021)
$49.99 (on sale for $37.99 on Amazon as of 8/22/2021)
Personalize home screen
✓
X
✓ (limited)
✓ (limited)
Search results for buying and renting
Pricing for every platform
Price for buying or renting only from Google Play
Price for buying or renting only from iTunes
Price for buying or renting only from Amazon
Search results
All results shown
Results based on viewing history, with promoted content
Results based on viewing history, with promoted content
Results based on viewing history, with promoted content
Remote
- Voice
- Basic TV controls
- private listening
- Netflix, Disney+, Hulu and Apple TV+ dedicated buttons,
2 user-defined buttons
- Voice
- Basic TV controls
- YouTube and Netflix buttons
- Voice
- Basic TV controls
- rechargeable battery
- Voice
- Basic TV controls
Lost remote finder
✓
X
X
X
Voice search
Roku
Google Assistant
Siri
Alexa
No box: plugs directly into TV HDMI
X
✓
X
✓
WiFi
802.11ac dual band with MIMO
802.11ac dual band
802.11ax Wi‑Fi 6 with MIMO
802.11ac dual band with MIMO
Ethernet jack
✓
X
✓
X
Screen sharing/casting
Yes, via Roku app for photos and videos for iOS/iPad OS and Android. Screen mirroring via AirPlay 2 for iOS/iPadOS
Yes, via Chromecast for Windows, Macs, Android, and iOS/iPadOS
Yes, via AirPlay 2 for Macs and iOS/iPadOS
Yes, for Windows, Macs, Android, and iOS/iPadOS with Airscreen app installed on Fire TV

Other connectivity
HDMI 2.0b (max of 60fps), USB-A (for media files), Bluetooth
HDMI 2.0 with ALLM (auto low latency for gaming), Bluetooth 4.2
HDMI 2.1, Bluetooth 5.0 (for pairing two speakers for stereo sound)
HDMI, Bluetooth 5.0 with BLE (for pairing two speakers for stereo sound)
Best streaming media player: Roku Ultra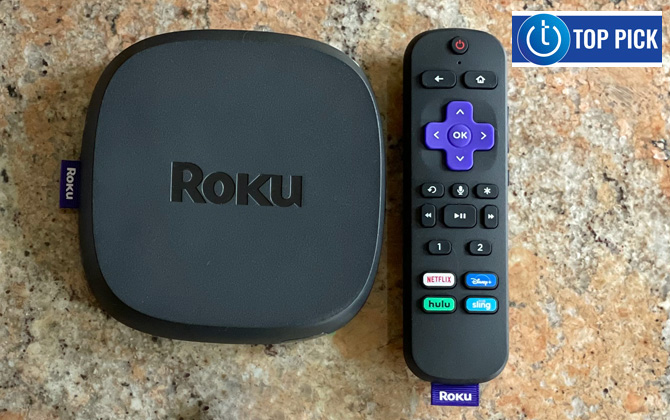 What sets the Roku Ultra above other streaming media players on the market is its no-agenda approach to delivering you the content you want to watch through Roku OS and the best remote control experience.
When searching for a show or movie, Roku OS is the only platform that will show you all of the options for watching, along with pricing for each streaming service at a glance. Other platforms sell and rent content and only provide pricing from their proprietary stores. Roku also takes an even-handed approach in suggesting content when searching for general categories, like "romantic comedies" or "1980s horror movies," as well as in the prominently "Featured Free" section. The Featured Free area displays a surprisingly strong array of content (in 35+ categories!) from free (advertiser-supported) multi-channel services like Tubi, Plex and Pluto, plus specialty content from streaming offshoots of cable regulars such as Discovery Go, Food Network Go, HGTV Go, and TLC Go.
Roku also gives you the most control over what you see on your home screen, letting you customize it with your favorite streaming apps for easy access. Seeing the wisdom here, competitors' boxes now offer a similar grid, but you need to navigate from the home page to a full list of your favorites.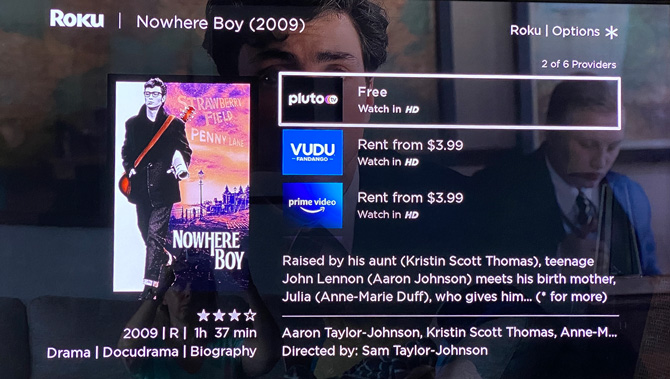 Also of note is the Ultra's voice-powered remote. The voice remote lets you plug in headphones for private listening and accesses Netflix, Disney+, Hulu and Apple TV+ with dedicated buttons. And, it's the only remote with two extra, user-assignable go-to buttons to open apps or specific shows or commands of your choice. Another aggravation-saving feature is the dedicated finder button on the side of the Ultra box that pings your remote when it gets lost within your cushions.
The Ultra also makes casting of photos and videos, as well as screen mirroring, easy for both iOS/iPadOS and Android devices. For photos and videos, you can cast photos and videos on the phone using the Roku app. The Ultra also supports AirPlay 2 for iOS/iPadOS and Macs and supports screen mirroring for Android devices.
On a day-to-day basis, the Roku Ultra's remote control and user-driven interface make for the best streaming media player experience.
Get the Roku Ultra $99.99.

Best streaming media player under $50: Google Chromecast with Google TV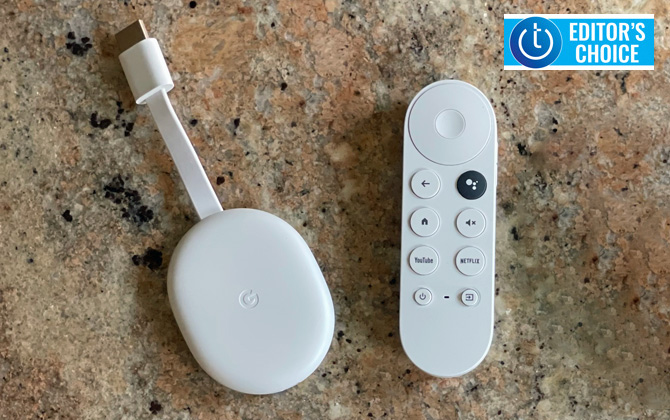 While not as feature-rich on the hardware side as my top pick, the Roku Ultra, Google TV provides a different, but equally rich, user experience. Instead of you driving your show and movie search, Google TV uses Google's impressive algorithms to customize content for you based on your viewing history across streaming services. This curation is especially helpful if you're paying for multiple services and don't have the time or inclination to sift through the myriad choices service by service. And, you're not being driven to promoted content as much as with Apple TV and Fire TV.
It's also easy to discover content. After selecting a movie, you can dig into bios of the cast members, projects they've done and films of a similar nature. If you like British dramas or music documentaries or a good war saga starring Tom Hanks, there's more to score. You'll see the price to buy or rent on Google Play and where it's free to watch (but not other rental or buying options). You'll also see content recommendations based on what you've watched on YouTube (also owned by Google parent Alphabet.)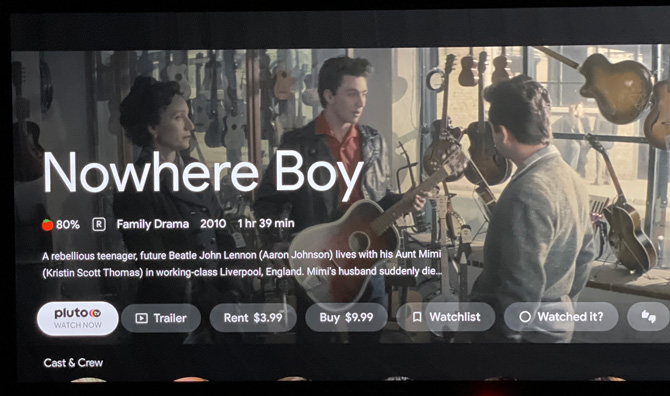 As its name suggests, Chromecast with Google TV exploits the Chromecast platform for wirelessly casting content from your phone, tablet or computer to your TV. A number of streaming music and video services support the Chromecast schema – identifiable on your phone with the image of a three-cornered box with the fourth replaced by curved lines.
While I appreciate the minimalist design to the hide-behind-the-TV dongle, the Chromecast with Google TV remote lacks support for private listening, it doesn't have a remote finder and the shortcut buttons are limited to YouTube and Netflix.
If you like the idea of highly-tailored viewing suggestions, Chromecast with Google TV provides a rich discovery experience and is the best bargain, at under $50.
Get the Google Chromecast with Google TV for $49.99.
A worthy media streamer for Apple fans: Apple TV 4K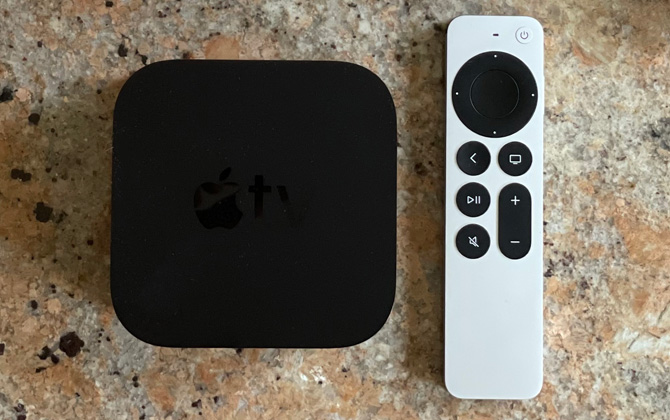 Apple TV 4K is a worthy media streamer for Apple fans. The user interface is elegant and I admire Apple TV 4K's show suggesting savvy. It's not mind-reading like the Chromecast with Google TV, but the curation is smart and sophisticated, with more premium up-market content spotlighted than on other streaming media players.
On the hardware side, the TV 4K has the fastest WiFi of the streaming media players – 802.11ax WiFi 6 with MIMO – though you'll need a WiFi 6 router to take advantage of the higher speeds. And, the posh new aluminum-clad Siri-voice remote wins points for being rechargeable.
If you own AirPods, private listening is easy: extract the buds from their case and put them into your ears. The soundtrack starts playing on the buds whilst the TV's speakers are automatically muted. No buttons pushed, no questions asked. Apple TV 4K also pairs well with HomePod Mini speakers and Apple Watch for streaming workouts with the Fitness+ app. And, of course, Apple TV 4K works with HomeKit, enabling you to view your camera feeds.
The Apple TV 4K is a great addition to an Apple household. However, at $179, it's hard to recommend for most people.
Get the Apple TV 4k for $179.00.

Best budget choice for over-the-air content: Amazon Fire TV Stick 4K
Amazon's Fire TV Stick 4K stands out for being the first to offer a new, more polished rendering of the Sling TV App (Roku Ultra now offers this and it will roll out to other Roku players). Sling offers cheap cable-like program bundles starting at $35, a fraction of the cost of regular cable, and makes it easy to watch free over-the-air TV with an AirTV2 tuner, which costs $99.99 on Amazon. However, as an overall streaming media player, the Fire TV Stick 4K doesn't seem to take my personal interests to heart as much as the other players do. Most content touted is from Amazon Prime Video and (Amazon owned) IMDb, plus carousel-spinning lines of "sponsored" shows.
While not my pick for most people, the Amazon Fire TV Stick 4K is the best choice for those looking to watch over-the-air content, and at under $50, it's a bargain.
Get the Amazon Fire TV Stick 4K for $49.99.

Squeezing the most gusto out of the TV medium has been a lifelong passion of Jonathan Takiff. As a kid, his favorite babysitter's father was a kindly, Czechoslovakia-born TV repair man who let Jon hang out in the shop and lug home a succession of unclaimed sets to fool with in his bedroom. Tracking television's on-going evolution has also been a professional calling for Jonathan for more than 40 years as a tech and entertainment writer for newspapers, magazines and websites. He's covered everything from the launch of Beta vs.VHS VCRs, video rental stores and mail order Netflix DVD service to the dawning of Hi-Definition television and channels (first on satellite TV) to the explosion of internet-based content delivery and its ascendance as the dominant medium with Ultra High Def imagery and "object based" surround sound.
[Image credit: Techlicious/Jonathan Takiff, Amazon]
Discussion