We may earn commissions when you buy from links on our site. Why you can trust us.

8 Bike Accessories for a Better Ride
Biking may seem like a low-tech way to get around, but there are plenty of high-tech bike accessories to make your ride safer and easier. Whether you're commuting to work or just getting a good workout, these eight gadgets will turn your everyday bike into a tech-savvy smart bike.
Turn your bike into an e-bike with Electron Wheel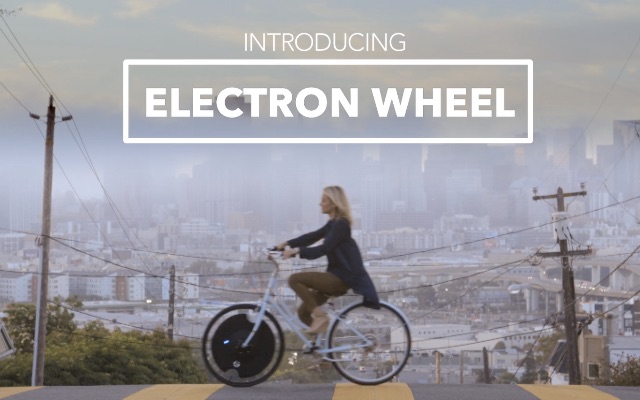 Commuting by bike helps you save money on gas and avoid hassles with traffic and parking. But if you need to go very far, taking your bike may just be too much. That's where e-bikes come in. While you still have to pedal, these bikes use an electric motor to add some extra power — which can help you go faster and thus farther. That could turn a bike commute from impossible to easy.
The downside to e-bikes is they can be pricey, most costing several thousand dollars. If you're interested in an e-bike but don't have the budget, Electron Wheel may be the perfect answer. The Electron Wheel is a replacement wheel for your current bike which turns it into an e-bike with an easy 30-second installation. It replaces the front wheel of your bike (it fits most bikes with rim brakes) and syncs with an app where you can select how much assistance you want the wheel to provide. It also works with Google Assistant, so you can check the battery life or change the assist mode by voice command.
The second generation Electron Wheel has an upgraded motor and battery, giving the wheel as much as a 50-mile range. And at half the price of even a budget-model e-bike, it's a good value.
Price: $899 at BestBuy and Electron
Be seen at night with the Blaze Laserlight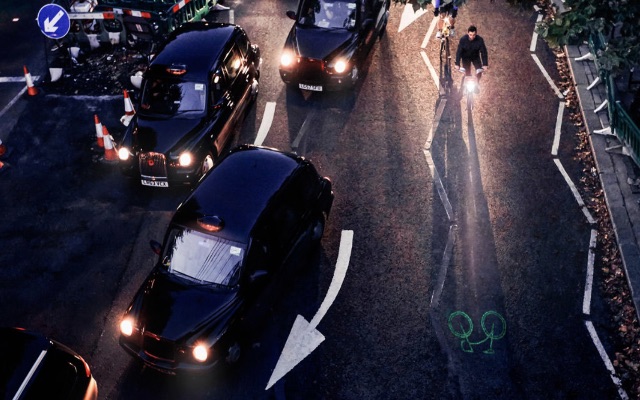 While both Cosmo Bike and Blaze Laserlight are focused on keeping cyclists safe, Blaze is all about visibility — especially at night, when you can be particularly hard to spot. It starts with a standard bike headlight, with a 300 lumen LED that will light up even the darkest roads. But what sets it apart from other headlights is its laser projection. The Laserlight projects a bright green image of a bicycle onto the road 20 feet in front of you, where drivers can see it even if you're in their blind spot. The bright laser is easily visible from multiple angles, alerting drivers to your presence so you can avoid collisions.
The light simply attaches to your bike's handlebar and runs for about 13 hours straight on a single charge. (And if you run low, an hour of charging will boost the battery up to 50%.) It's made of aircraft-grade aluminum and is fully waterproof, so it can handle any weather.
Price: $175 at Amazon, $200 at Blaze
Easily add headlights and taillights with Revolights Eclipse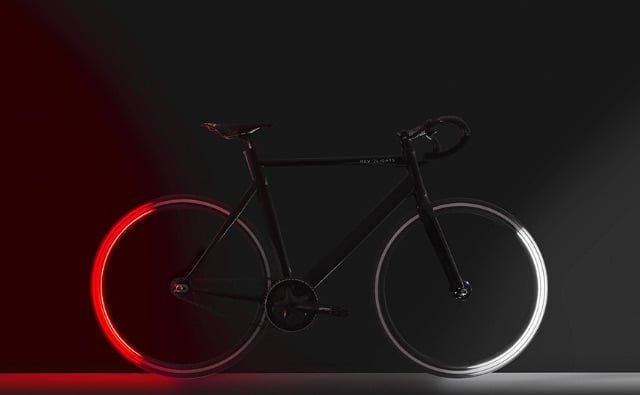 Revolights eschews the traditional format of headlights and taillights. Instead of putting lights on the front and back of your bike as though it were a car, Revolights Eclipse light up your bike's wheels. Though this may sound like a flashy gimmick, these lights aren't just for show. They're bright and clear from any angle, with an automatic brake light and turn signals so easily you're visible on even the darkest road.
The system consists of two rings of 24 LEDs each — white for the front wheel and red for the back wheel — that attach easily to your wheels with spoke clips. Only eight LEDs are active at once, just providing illumination to the front and rear of your bike instead of turning your tires into rings of light. The taillight automatically flashes as you decelerate, acting as a brake light and turn signals (that flash the lights on one side of the wheel or the other) can be activated via the app. The lights turn on and off automatically and last about four hours on a charge, giving you plenty of time to get where you're going. It's a feature-packed lighting system for anyone who wants to think beyond the traditional bike light.
Price: $220 at Amazon
Always watch your blind spots with Garmin Varia Radar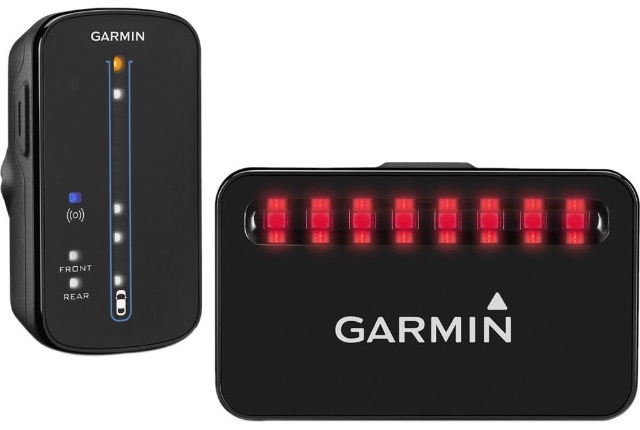 Bikes — which often have no mirrors at all — can have some big blind spots. If you aren't paying careful attention, it's all too easy to miss a vehicle coming up on you. And not being aware of what's happening on the road can put you in danger.
The Garmin Varia Rearview Radar aims to fix that. This gadget mounts on the back of your bike, where it uses radar to detect approaching vehicles. When a vehicle is within 153 yards, the Varia will let you know, telling you how quickly it's approaching via a simple indicator mounted near your handlebars. (The indicator comes with the $299 radar bundle, but it also works with Garmin's Edge 1000 bike computer. If you have the latter, you can snag the radar on its own for just $199.) The radar lets approaching drivers know you're there, too, flashing red lights to catch their attention — and keep you safe.
Price: $250 for radar bundle at Amazon, $150 for radar only at Amazon
Get around with ease using Beeline bike navigation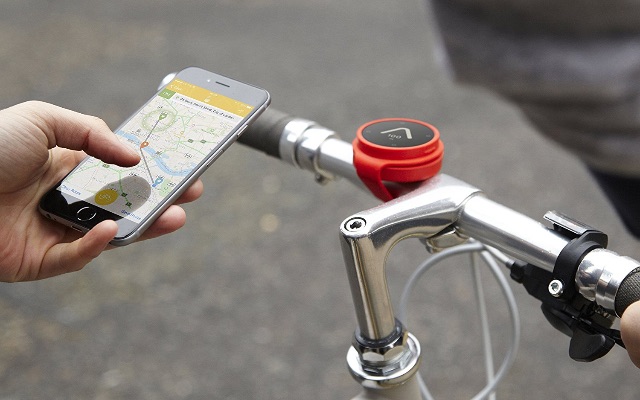 It's easy to rely on our smartphones for directions by car, public transit, or even foot, but what if you're biking? Even with a bike mount, your smartphone isn't necessarily the best solution for navigating by bike. And, just like when driving, having a screen in front of you can be a dangerous distraction.
Beeline makes bike navigation easier by focusing the basics. This round device mounts on your bike handlebar, where it shows a simple arrow pointing in the direction you need to go. This streamlined interface makes it easy to see everything you need to know at a quick glance, without any need to stare at a display. You just have to enter a destination in Beeline's smartphone app and use either compass mode (where it points you in the direction of your destination and you decide on the fly which turns to take to get there) or route mode (where it plots a bike-friendly route for you and indicates each turn). Route programmed, your phone can be tucked in a pocket or bag and you can follow Beeline's arrow to get where you're going.
The device itself is made for the outdoors, with a bright display that's easily readable in the sun, and casing that's both water and shock resistant to handle the outdoors. A 30-day battery life (with average use) rounds out its feature set. It's the ideal easy-to-use, low-maintenance navigation device.
Price: $139 at Amazon
Keep your bike secure with the Linka Smart Bike Lock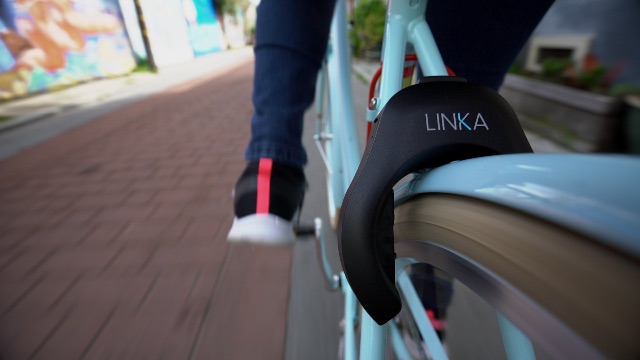 We've talked about keeping you safe, but what about keeping your bike safe? Linka makes securing your bike simple, with a lock that stays mounted on your bike's rear wheel that automatically locks and unlocks when you approach with your smartphone (or enter a 4-digit pin on the Linka). If you want more security than the Linka's simple wheel shackle, you can add a chain that threads through the Linka to attach your bike to a bike rack (or whatever else is convenient). If someone disturbs your bike, you'll receive a notification (if you're in Bluetooth range) and it will sound an ear-splitting 110 dB alarm. The battery can last up to 16 months, meaning you hardly have to think about keeping your bike secure.
There are two versions of Linka to choose from. The original Linka does all of the above and is available now for $169. But if you're willing to wait, the upcoming Linka Leo adds GPS tracking so you can find your bike — and get tamper notifications — anywhere. And while the original Linka had plenty of both, Linka Leo boasts a louder alarm and a longer battery life. Linka Leo will be shipping this spring, though we don't know the price yet.
Price: $169 at Linka
Stay safe with Cosmo Bike smart brake light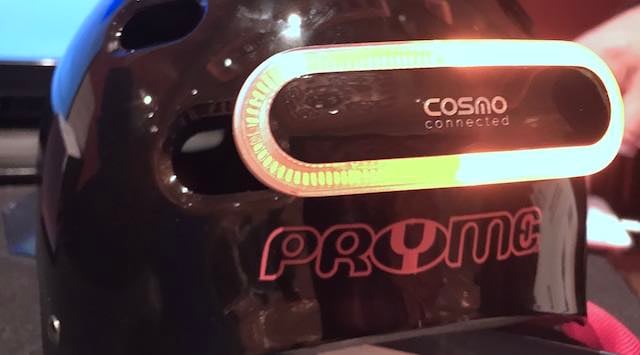 Whether you're biking in the dark or in a busy area, there's always a risk of not being seen. Cosmo Connected wants to fix that with a smart brake light that attaches to the back of your bike helmet. Eight LEDs stay lit for visibility, with an accelerometer that detects when you come to a stop and automatically lights a brake light. The same sensors can also detect if you've had a fall and notify friends or family — or, with an optional subscription, emergency services.
Cosmo can also serve as a turn signal, lighting up LEDs on one side of the helmet or the other to indicate direction. You can program in a route beforehand and then Cosmo will automatically activate the lights when you reach each turn. You can also trigger turn signals manually via the smartphone app or through an optional remote that mounts on your handlebar.
Price: $60 at Cosmo Connected, ships in September
Add smarts to your bike with the Wink Bar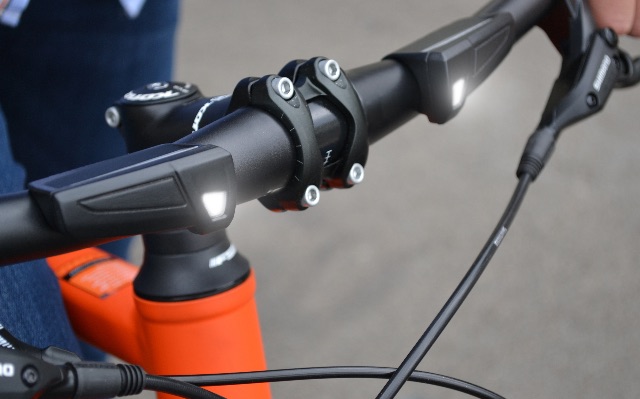 This connected handlebar adds three must-have features to your bike. First, two bright 224-lumen headlights that turn on automatically when it gets dark — helping you see the road ahead and helping drivers see you. Next up: turn-by-turn navigation. Set your route with your smartphone and lights on the handlebar will indicate when you need to go left, right, or continue forward. Finally, there's an anti-theft system. Built-in GPS tracks your bike wherever it goes, so you can easily find it whether you've just forgotten where you parked or someone's ridden off with it. You can virtually lock your bike via your smartphone or a key fob, then it will send a notification if it moves as well as sounding an alarm.
There are other products that offer these features, but having all of this is in a self-contained package is particularly convenient. Installation is as simple as removing your existing handlebar and replacing it with the Wink Bar. The battery will last for about three weeks of average use, and you can take it out to charge via USB without needing to park your bike near an electric outlet.
The downside for anyone biking in the US is that it won't be shipping domestically until 2019 — though you'll be able to pick it up in Europe starting in March.
Price: $337 at Velco, ships in 2019
---
Discussion