We may earn commissions when you buy from links on our site. Why you can trust us.

Finding the Best Thermometer for a Sick Child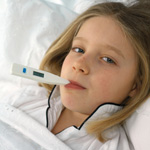 With the H1N1 virus still lurking about, this year's flu season promises to be a nerve wracking one. So it pays to be prepared with your favorite flu remedies, and a top-notch thermometer to ensure you can keep accurate tabs on everyone's temps. With so many options out there, from bare-bones basics to fancy ones that sense if you've placed the thermometer in the right spot, it can be a challenge to figure out exactly what you need. Here's the scoop:
---
Important Features
For the most accurate readings, stick with the traditional temperature-taking spots, the mouth and rectum. The thermometers that are designed to go into the ear or on the forehead don't give as accurate a temperature read. Forehead thermometers are notorious for giving a range of readings, high and low—they're okay for determining if your child has a fever, but don't use it if you want a definitive result.
Ear thermometers are reasonably accurate for kids three months old and up, but you need to be sure it's centered right in the canal in order to get a good reading. If your kids cooperate, you can move on to an oral temperature reading at age four.
Look for a thermometer that beeps when it's done. It'll help you avoid having to keep fidgeting with the thermometer to look and see if the temperature is still climbing.
Consider the speed of temperature taking. If you're using the thermometer on very young kids, get one that can get a temperature read quickly, to minimize the angst for you and your child. Keep in mind that some of the thermometers that claim to take 10 seconds or less may take longer in actual practice.
Thermometers to Try
The following are our recommendations but, due to high demand for thermometers, they are out of stock online or may only be available for double the retail price. Your best bet is to try your local pharmacy or drugstore. Unfortunately, thermometers which are widely available online, for the most part, are getting poor consumer reviews and we can't recommend them. If you do purchase a model which isn't working for you, don't hesitate to take it back for a refund.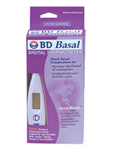 3M Nexcare Basal Digital Accu-Beep Thermometer ($12.99) This model has been highly reviewed for accuracy by Consumer Reports and consumers alike. It can be used orally or rectally, beeps when done and stores the last temperature in memory. However, it may take up to a full minute to read, so factor that in when making your selection.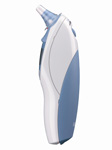 Braun ThermoScan Ear Thermometer Model IRT 4520 (retail: $59.99) This in-ear model offers a pre-warmed flexible tip, a guidance system to check the position in ear and built-in memory that gives you the last eight temperature readings (just in case you want to chart it for your pediatrician).
Discussion