Five to Fly: Top Airlines for In-Flight Wi-Fi
Techlicious editors independently review products. To help support our mission, we may earn affiliate commissions from links contained on this page.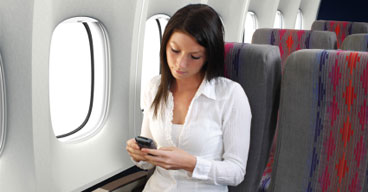 Funny how, just half a decade ago, checking your email at 35,000 feet wasn't even an option. In-flight Wi-Fi was still a daunting challenge just on the brink of being figured out by a bunch of determined tech geeks. Thanks to those geeks, we've very quickly come to expect a plugged-in experience when we fly and now throw a small tantrum when our in-flight Wi-Fi is too slow or, God forbid, your route doesn't even have it available.
Most recently, Virgin America upped the ante in the in-flight technology space by announcing their plan to to deliver faster Wi-Fi for travelers. This brings me to a critical point: Not all in-flight Wi-Fi technology is created equal.
While it's safe to say that in-flight Wi-Fi is on everyone's radar, many have promised fleet-wide Internet access, but few have delivered. If email access is a must (or you just can't bear to part with your Facebook friends), choose your airline wisely.
Here are the top domestic carriers for in-flight Wi-Fi:
1. Virgin America
This is an airline known for its technological innovations and was the first to partner with Gogo to offer Wi-Fi on every single flight. In the first half of next year, Virgin America plans to introduce Gogo's ATG–4 service. Bottom line: You'll be able to open your email four times faster.
2. Air Tran
Ranked the top airline in the Airline Quality Rating study twice in the past four years, Air Tran aims to deliver an excellent experience to its travelers. They were one of the first to jump on the Wi-Fi bandwagon and are one of the only two airlines to offer fleet-wide Internet service.

3. American Airlines
Access is now on board all Boeing 767-200 aircraft and select MD80 and 737 aircraft. You can also use their Wi-Fi Widget within 24 hours of departure to find out if you'll be able to plug-in on your flight.

4. Delta Airlines
Delta offers Wi-Fi on more than 2,200 domestic daily flights – that's 70% of their domestic aircraft. They were also the first to begin installation on regional jets but are just getting that project off the ground. Go to My Trips to check availability on your flight.

5. Alaska Airlines
Almost all of the aircraft serving the Lower 48 United States are equipped with in-flight Wi-Fi. In fact, only nine planes in the Alaska Airline fleet fly without Internet access. Tip: Make sure your laptop is fully charged since there are no plugs on-board Alaska Airlines flights.
Airlines not making the cut
Of the major carriers, United Airlines, Continental and US Airways are seriously far behind when it comes to Wi-Fi. United and US Airways do have access on some aircraft, but Continental is dragging its feet on their plans to install Wi-Fi access. Southwest has already begun installation and promises fleet-wide access in 2012. JetBlue says they will launch the fastest system in the skies next year.
Jennifer Gaines is the senior travel editor for Spire, a new flash-sale travel site that features limited-time deals on luxury hotels.
Discussion
New Articles on Techlicious