We may earn commissions when you buy from links on our site. Why you can trust us.

Fight Germs with These Top Hands-Free Faucets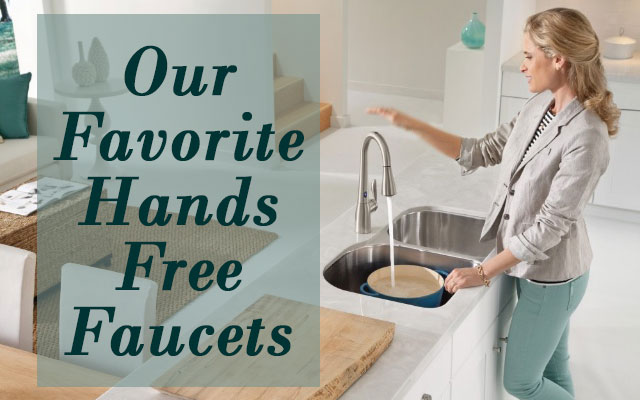 If your kitchen faucet is old, leaky or just out of style, it may be time to think about replacing it. And while you could replace it with another ordinary faucet, why not upgrade to a high-tech, hands-free version?
Hands-free kitchen faucets let you turn on the tap without fiddling with knobs or levers. Most use motion sensors to tell when your hands are under the tap and turn on automatically at just the right temperature. When your hands are grimy from cutting chicken or you're carrying a heavy pan to the sink, you no longer have to do anything but put your hands under the faucet to get water. This helps keep germs from spreading around the kitchen every time you touch the faucet. It's also a convenience that makes turning on the water as simple as walking to the sink.
What do I need to know about hands-free faucets?
Hands-free faucets come in a wide range of finishes and styles. No matter what style your kitchen, you can find a hands-free faucet that fits in. Most have a streamlined look, with the faucet and a simple lever for manual control built into a single unit. If you want a more classic design, you'll find styles that suit a more traditionally styled kitchen, but you won't find entirely vintage looks with big knobs.
In keeping with their minimalistic style, these faucets typically have a built-in spray head you pull down from the faucet. It's all of the features you need with none of the clutter.
One big difference between hands-free faucets and ordinary faucets is that hands-free models need power. Many work on batteries (often standard AAs), so you don't have to figure out how to get power to your sink. some offer AC adapters or the option to connect directly to power. A battery-powered unit is likely to be the easiest installation option, but you'll need to remember to change them if you want hands-free features to work.
Expect to spend $200 and up on a hands-free faucet, with a variety of good options in the $300 range.
Can I install a hands-free faucet myself?
Do you have the DIY know-how to install a standard faucet? Then you should be able to install a hands-free faucet. the only extra setup you'll need to do is plugging in the battery pack or plugging into an A/C outlet. if the faucet has an option to directly connect to power, that will require some extra DIY skills.
if you don't have the basic plumbing skills to install a faucet (or an interest in learning them), getting a professional to do it is your best bet. Though installation may set you back a few hundred dollars, it's likely less than you would spend to fix a DIY job gone wrong.
Which faucet should you buy? Let's take a look at our three favorite hands-free models.
Moen Arbor with MotionSense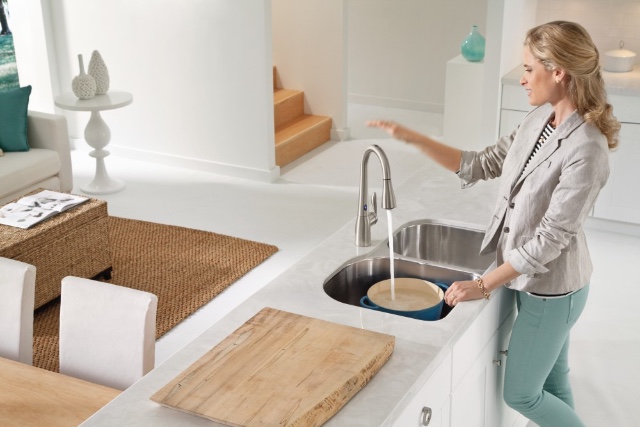 If you're looking for ease of use, Moen's MotionSense faucets feature two motion sensors plus manual controls. A lever on one side of the faucet allows for manual control, letting you adjust the temperature and pressure of the water. For hands-free control, leave the lever adjusted as you'd like, and the water will turn on at just the right temperature whenever you activate it with the motion sensors.
The retractable spray head isn't hands -free, but it's simple to use. pull it down from the faucet to direct water wherever you need it. When you're done, just let go, and it will automatically wind itself back in, snapping perfectly into place with no effort on your part.
The first sensor is at the bottom of the faucet, where it can detect your hands under the tap. Water starts flowing when it detects motion and stops when it doesn't, just as you would expect from a motion -sensing faucet. What if you're trying to fill a pitcher or clean a bulky pan? it would be awkward to hold something large under the faucet and wave your hand in front of the sensor to keep the water running. MotionSense installed a second sensor on top of the faucet. Just wave your hand above the faucet to start the water going, and it will keep flowing until you wave your hand over that sensor again. It's a convenient feature you might not realize you want until you have a hands-free faucet. having a variety of options lets you use the faucet in whatever way is easiest for each member of your household.
MotionSense faucets are available in a wide range of styles and colors. we like the Arbor, because it has an understated style that fits nicely in either modern or traditional kitchens. If you want a more modern look, there's the pricier Align ($515), and if you want a more traditional look, try the Brantford ($343). All three are available in chrome or spot-resist stainless finishes, and the Arbor and Brantford are also available in oil-rubbed bronze.
A limited lifetime warranty on trim and a five-year warranty on the digital components rounds out the package, guaranteeing this faucet will be a mainstay in your kitchen for years to come.
Price: $344.21 at Amazon
Pfister Lita with React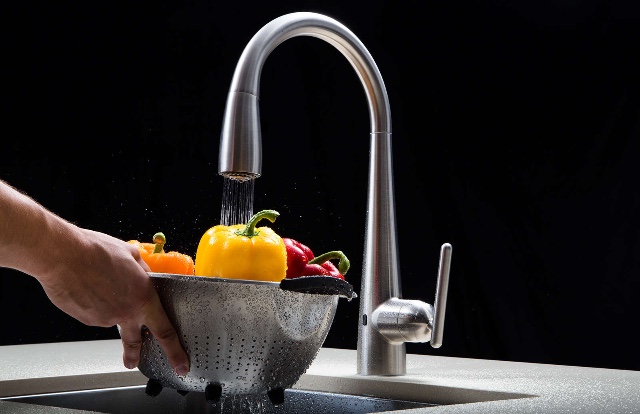 Instead of using two motion sensors like the Moen faucets, Pfister's React technology uses a single sensor located at the bottom of the faucet. Instead of detecting motion, it can tell when you wave your hand in front of the sensor; then it turns the water on. wave your hand again to turn it off. If you forget to turn the water off, it shuts off automatically after two minutes.
The sensor on Pfister's React faucets acts exactly like the top motion sensor on Moen's MotionSense faucets, solving the problem of how to clean bulky pans while keeping the water flowing. However, it's not quite as intuitive as a faucet that can tell when your hands are under the tap. Once you figure it out, it's simple to use.
for those who don't quite grasp the way the Pfister works, a lever on the side of the faucet lets you control it manually or adjust the temperature and pressure for hands-free use. A sprayer pulls down from the faucet, with buttons on the spray head that allow you to switch between spray and stream modes.
If you don't care for Lita's modern design, the Selia ($389) has a somewhat more traditional look (although anyone aiming for a country kitchen style will likely prefer the Moen Brantford). The Lita and Selia are both available with a stainless steel finish, and the Lita is also available in polished chrome.
perhaps the best feature of these Pfister faucets is the warranty. They're backed by the Pforever warranty that covers finish and function for as long as you own your home. That's reliability!
Price: $286.77 at Amazon
Delta Pilar with Touch2o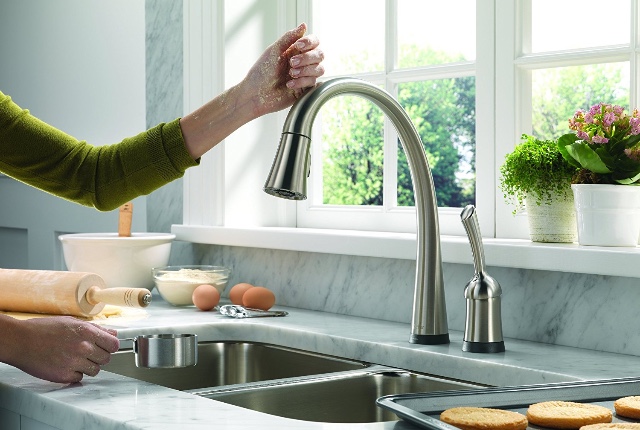 Even the best motion sensors can be finicky, requiring you to put your hands in just the right place to activate them. If you want the convenience of a hands-free faucet without the occasional frustration of a motion sensor, Delta's Touch2o faucets activate with touch rather than motion. tap anywhere on the faucet itself to turn it on.
A small LED at the base of the faucet indicates water temperature, so there's no danger of scalding yourself if it's accidentally set too hot. A second tap turns the water off again, and the faucet turns itself off automatically after four minutes.
Though this design may stretch the definition of hands-free, it does mean that no matter how grimy your hands are, you can easily tap the faucet with your arm to turn it on without spreading any mess around. Like other hands-free options, the Delta has a lever for manual use and to adjust the temperature and pressure of the water. A sprayer pulls down from the faucet itself, with both spray and stream modes.
Unlike the Moen and Pfister faucets, the side lever is not built into the faucet itself; it's a separate component. The faucet also comes with a soap dispenser. The design makes for a less streamlined look, but it still has clean lines that will suit a modern kitchen. If you need something with a more modern look, the Essa ($279) has sharp, clean lines and a built-in lever. If you prefer a more classic look, choose the Cassidy ($414), another all-in one unit with a less modern design. The Pilar is more middleoftheroad, with a design that could easily fit into modern or classic kitchens.
All three models are available in chrome, stainless and Venetian bronze finishes. the Essa is also available in matte black, and the Cassidy is available in champagne bronze.
Delta's faucets are backed by a five-year warranty, the least generous of any on this list but still long enough that you can have confidence in it.
Price: $332.98 at Amazon
[Image Credit: Moen, Pfister, Delta]
---
Discussion