Instant Pot Max & 4 More Hot New Multi-Cookers
Techlicious editors independently review products. To help support our mission, we may earn affiliate commissions from links contained on this page.
Within the last few years, we've become obsessed with multi-cookers and, in particular, Instant Pots. They promise faster, easier and healthier cooking using a wide variety of cooking methods in one space-saving pot.
Today's multi-cookers can take on up to 12 different cooking tasks:
Slow cooking: With slow cooking, you just add your ingredients when you leave for work in the morning, and you'll have a homemade meal when you arrive home.
Pressure cooking: In pressure cooking mode, your multi-cooker safely pressurizes the cooking chamber to speed up the meal making process. For instance, it only takes half an hour to can cook five pounds of chicken (with potatoes and veggies), once you've you dropped all the ingredients into the pot. Not all multi-cookers have this function since pressure cooking can be a safety hazard, with your food literally exploding in your face. You need a fool-proof sensor with a lockout mechanism and a splat-free release valve, like the Instant Pot, and now many others have.
Sautéing and browning: With the ability to brown and sauté, you brown your onions and meat in your multi-cooker before slow cooking or pressure cooking. That means one less dish to wash, which we're all for.
Steaming: Most multi-cookers come with a basket to handle your steaming needs.
Cooking rice/grains: Perfectly cooking a variety of grains is as easy as measuring and pressing a button.
Making yogurt: The yogurt making mode will help you keep your dairy at the proper temperature throughout the process.
Pressure canning: The key to canning is maintaining a high enough pressure and temperature to keep your food at a safe enough temperature.
Sous vide: Sous vide, a cooking method in which food is sealed in a plastic pouch, submerged in water, and then cooked to a precise temperature, cooks even delicate foods like fish perfectly every time.
Baking: The term baking here is a little bit of a misnomer. You'll be making moist cakes, not crisp cookies.
Sterilizing: Whether you're looking to sterilize baby bottles or canning jars, your multi-cooker can do the trick.
Warming: When the cooking is done, the automatic warming mode can keep your food at the perfect serving temperature, even if you arrive home late.
This year, there's an innovative new crop of multi-cookers hitting the market with new features and a variety of shapes and sizes. Here are the five models that caught our eye.
Instant Pot Max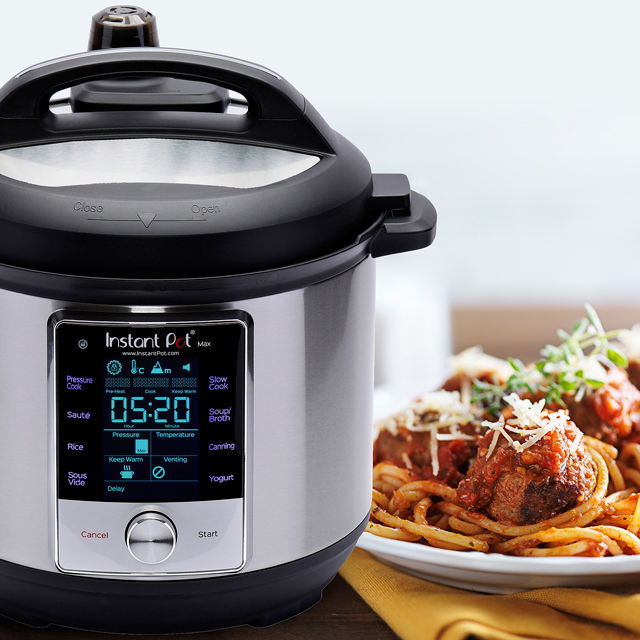 Instant Pot has lead the multi-cooker category and aims to keep that lead with its newest model, the Instant Pot Max. It heats hotter and faster than the previous models and with a maximum 15 pounds per square inch (psi) pressure level (3 psi higher than earlier models), adjusted to the local atmospheric pressure (There's a special Altitude Mode that takes care of the conversion for you). The additional pressure and heat make pressure canning an option on the Max for the first time. The 15 psi is needed to achieve a boiling temp of about 250 degrees. Anything less isn't enough to kill botulism spores, and it's the reason why The National Center for Home Food Preservation has warned against using pressure cookers to can. Instant Pot claims it has resolved those concerns with more accurate heat control. The new heat control tech also enables the Max to add another trendy feature, sous vide cooking.
Capacity: 6 quarts
Cooking methods: 12: Slow cooking, pressure cooking, sautéing, browning, steaming, rice/grain cooking, yogurt making, baking, sterilizing, warming, sous vide, canning
Accessories: Recipe book, soup spoon, rice paddle, measuring cup, stainless steel cooking pot, lid holder, steam rack
Price and availability: $200, August 2018 from instantpot.com
What to buy now: Instant Pot Ultra 6 Quart: While the Instant Pot Ultra 6 Quart has 10 modes of cooking (it's just missing the canning and sous vide functions) it costs $150 (check price on Amazon) and is highly reviewed.
Gourmia Cool-Cooker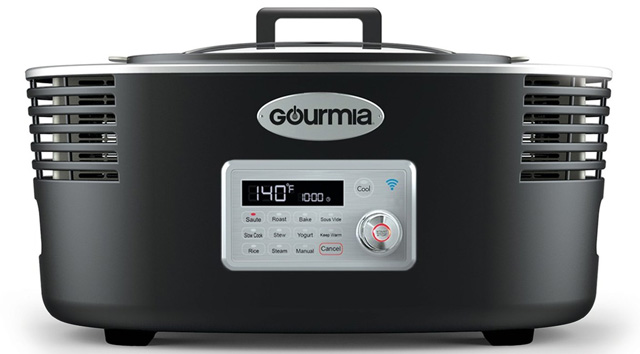 This revolutionary 11-in-1 Sous Vide and Multi Cooker is unique in the fact that is has a built-in refrigeration component. The concept is to let you stock the pot with raw food ingredients in the morning, using the fridge option to keep spoil-ables chilled and fresh. Then start the actual cooking process later in the day (or maybe even the next) so the food is finished just when you'll get home. A pot roast or steamed fish doesn't overcook and fall apart from sitting for hours in the 'keep warm' setting, says Gourmia chief product designer Ben Itzkowitz.
That cooling function also makes possible the making and preserving of yogurt in absentia, as that cultured treat needs to be refrigerated when "done" (6-8 hours after starting.) As will be offered across the Gourmia appliance line this year, Cool-Cooker control is remotely enabled with an app on a smart device (Android and iOS) and with voice commands using either Google Assistant and Amazon Alexa. Aiming to release the Cool-Cooker's by the end of the year, the designer vows that the price will be "affordable, not some crazy $500 thing."
Capacity: 6 quarts
Cooking methods: 11:
Slow cooking, pressure cooking, sautéing, browning, steaming, rice/grain cooking, yogurt making, baking, sterilizing, warming, sous vide, canning
Accessories: roasting/sous vide rack
Price and availability: Fall 2018, price not yet set, gourmia.com
What to buy now: Gourmia GPC800 Smart Pot. If you don't need the refrigeration feature, Gourmia's CPC800 is a highly reviewed multi-cooker with 12 different cooking modes (soup, meat, poultry, steam, saute, slow cook, dessert, beans, porridge, rice, warm, pressure cook) for $239.99 on Gourmia.com (check price on Amazon)
Bene Casa Digital Pressure Cooker Oven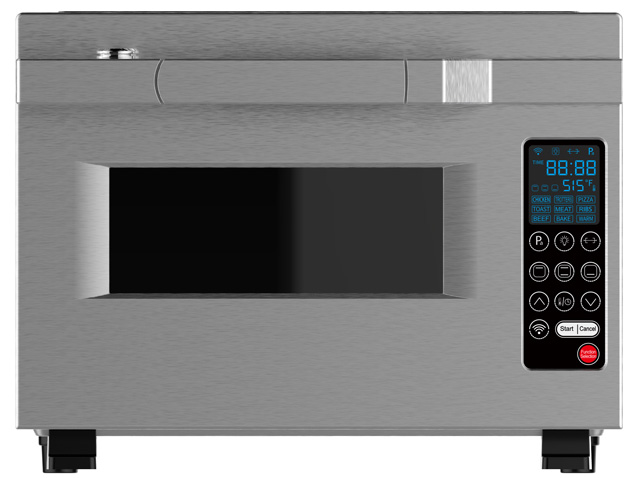 Another novel multi-tasking hybrid, the Bene Casa Digital Pressure Cooker Oven resembles a large toaster oven and, yes, it does have the expected skill set to bake, toast, roast and broil. And with its bay door uniquely being able to be sealed up tight, users will also have the option to pressure cook and moisture-seal food on-board. This serves as an alternative to the steam and convection cooking enhancements spotted in other glorified toaster ovens. The promise is that this will leave food moist, flavorful and full of nutrients. Like other Bene Casa products, preset programming is offer bi-lingually (Spanish/English) pre-set programming for rice, beans, paella, congri, arroz con pollo, chicken, vegetables, meat, fish, soup, and slow cooking. It will have Bluetooth capabilities for wireless communication.
Capacity: 6 quarts
Cooking methods: 11: Slow cooking, pressure cooking, sautéing, browning, steaming, rice/grain cooking, yogurt making, baking, sterilizing, warming, sous vide, canning
Accessories: None in box
Price and availability: Fall 2018 for $149
What to buy now: Bene Casa Electric Pressure Cooker: MBR, the manufacturer of the Bene Casa line of cookers, doesn't offer another pressure cooker oven, but you can buy an electronic pressure cooker from the company that has six settings and costs just $100 (check price on Amazon).
VitaClay VM-7800-5C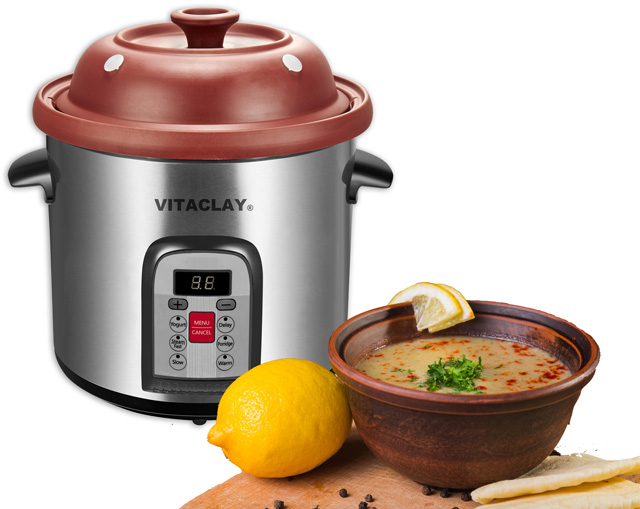 Like others in the VitaClay slow cooker family, this newest, biggest, 6-quart model stands apart from rivals by using an unglazed clay pot that's praised for its (better than metal-potted ) properties by organic food devotees.
Cooking in clay is said to activate enzymes and minerals in the food, recycling moisture and extracting extra flavors while preserving nutrients. And the vessel has no lead, no aluminum and no non-stick chemicals, touts the maker. This cooker's larger capacity pot and high dome (Tagine style) lid make it ideal for creating nutritious bone broths, as well as large batches of chili, stews, steamed fish or veggies.
But it's not the best VitaClay for roasts or rice, evaporating liquid more quickly than siblings, acknowledges the maker. As a breed, VitaClay units are actually faster slow cookers, boasting a higher wattage (500-600) heating system that kicks up the pre-heat operations four times faster than 300-350 watt rivals, claims the company. The brand's recipe for hearty, thick sirloin chili specifies a two hour cook time (after the meat is browned in a skillet) versus the 5-6 hour cook times found in similar recipes for conventional slow cookers.
Capacity: 6 quarts
Cooking methods: 11: Slow cooking, pressure cooking, sautéing, browning, steaming, rice/grain cooking, yogurt making, baking, sterilizing, warming, sous vide, canning
Accessories: None in box
Price and availability: Now, $129.99 on VitaClayChef.com (check price on Amazon)
Cuisinart CPC-900 High-Pressure Multi-Cooker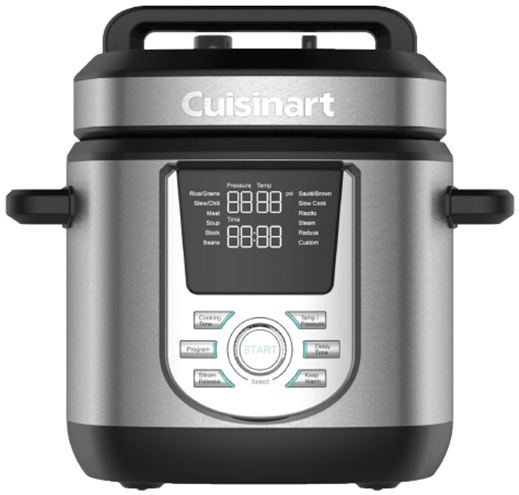 While not quite as psi-ed up as the Instant Pot Max, Cuisinart is cranking the per-square-inch maximum pressure capacity to 13 pounds for faster cooking in this new flagship multi-tasker. The maker also is introducing a special steam release button on the front control panel, located far-far away from the release mechanism normally found atop pressure cookers –though we have one of those, too, noted a demonstrator. Adding an electronic steam release button on the front provides reassurance for users, so they know their hands will be far away from where the steamy and potentially scalding air is released. So what happens in times of a power outage? There is a manual way to release pressure, so you can safely unlock the lid.
Capacity: 6 quarts
Cooking methods: 8:
Slow cooking, sautéing, browning, steaming, rice/grain cooking, yogurt making, baking, sterilizing, warming
Accessories: None in box
Price and availability: Fall 2018 for $149, Cuisinart.com
What to buy now: Cuisinart CPC-600. The Cuisinart CPC-600 doesn't produce as high pressure, but it's a highly-rated cooker and costs just $99.95 on Cuisinart.com (check price on Amazon)
[Image credit: Meat in multi-cooker via BigStockPhoto, Cuisinart, Gourmia, Instant Pot, VitaClay, MBR]
Discussion