The Best Camera Bags
Techlicious editors independently review products. To help support our mission, we may earn affiliate commissions from links contained on this page.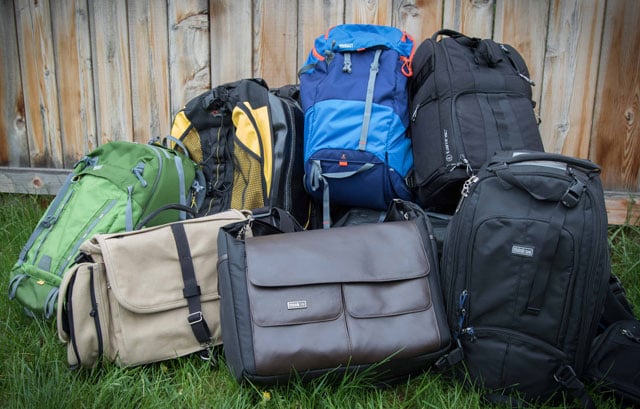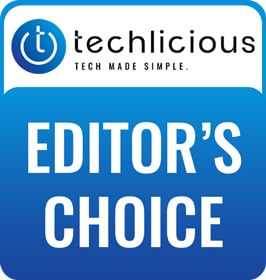 Like most people, my first camera bag came in a bundle when I bought my DSLR. It wasn't particularly stylish and the boxy shape would bang against my side and the strap kept sliding off my shoulder. Those free camera bags can hold a camera with attached lens and maybe one more lens. As I bought more equipment—a flash, a wide-angled lens and such, the bag was too small to carry it. After spending $50 to $100 on one bag after the next, I realized that it would have been better to evaluate my needs and get one good bag (with a lifetime guarantee).
It wasn't until my closet started filling up with camera bags that didn't work for me, that I realized all bags are not created equal. Bags are designed for different circumstances. Some bags are best suited for photographing your kids' soccer games, taking your cameras on vacation, shooting photos while hiking or on the sidewalks of a big city. The wrong bag can be uncomfortable and become heavy after a few hours. If you can't quickly reach your camera, lenses or accessories, you may miss shots because it's too much trouble to pull out your gear.
Here is what I learned from trying many camera bags:
Convenience- If I can't get my camera out quickly, I'll miss photos I'd otherwise want to take. A camera bag that is too small and crowded, or one that doesn't offer fast access to cameras and lenses, will make it hard to grab my camera. Handy compartments and fast release clips make it easier.
Durability - Well-built camera bags are made of material that won't rip. The zippers will be sealed from rain (though not necessarily water proof). The buckles are sturdy, made of material that won't break. And most importantly, the shoulder straps/handles won't rip at the seams when the bag is heavy.
Comfort - A camera bag can get heavy fast. A couple of lenses, batteries, a flash, and possibly a computer or tablet may all be light on their own, but together it can feel like you are hauling a ton of bricks. It's important that the bag can distribute the weight so it's easier to carry. Straps need to be padded and non-slip. The bag should conform to your body and backpacks need to wick sweat away from your back. Backpacks with hip support can take the weight off your shoulders.
Protection - You've invested in a DSLR and maybe some lenses. Be sure to protect your investment. The level of padding and protection you need depends on where you are shooting, how you are traveling and so forth. It's best to get a sturdy bag even if you are walking around city streets as it could fall or be banged against a building. Padded interior dividers are important to keep your camera, lenses and other equipment from banging around and scratching each other. Water resistant fabric and zippers are good for a light drizzle, but a rain cover is important if you are shooting on a rainy day (or in the Pacific Northwest like I do).
Design - Let's face it, if you are shooting at a wedding or other event, or in the city, you don't want some ugly clunky camera bag that looks like you should be wearing it on the trail. Manufacturers have started hiring accessory designers to beautify camera messenger bags and camera "purses." Nicely styled backpacks are both comfortable and durable for a hike yet look nice enough to carry into a restaurant or walking down the street.
Choosing a camera bag is personal. It depends on what equipment you want to carry, and where you will be taking photos. Your friend who is a professional photographer might love their bag but it may not be right for you. As a travel photographer I shoot in a lot of different situations which has afforded me the opportunity to test a variety of bag styles. So we picked the best camera bags in a variety of styles, keeping convenience, durability, comfort, protection and design in mind.
Shoulder Bags
Messenger bags and camera purses typically have a shoulder strap that can be worn cross-body. Shoulder bags are good for the city or for events. Look for a bag with pad to comfortably rest on the shoulder (without cutting into your flesh) and a non-slip surface so it doesn't slide off. A well-made bag will distribute the weight of the gear throughout the bag. When worn cross body, the bag can be swung onto your back to make it easier to carry. A flap over the opening may allow you to leave the bag unzipped and quickly reach in to switch lenses. The flap also protects the cameras from light rain.
These bags will often have a compartment for a tablet or laptop. While it makes it easy to travel with all of your equipment, you will probably want to leave the laptop in your hotel if you will be doing any significant amount of walking or if you are going to be taking photos all day.
Because I travel, I like a shoulder bag with a strap that fits over the handle of rolling luggage. This gives my shoulders a break when I have long walks through airport terminals.
Best Messenger Camera Bag: Domke Next Generation Journalist Series Herald

This canvas messenger bag is offered in a number of sizes and configurations. The styling is what you'd expect a press photographer to carry. Its best feature is that the canvas is sturdy and protective, yet can be squished and molded to your body.
The main compartment can hold a DSLR with attached lens and a telephoto lens. The outer pockets zip to expand and can handle an external flash or other accessories. The flap has a zipper pocket for smaller accessories that covers two pockets which hold a smart phone, batteries, wallet, filters, etc. A slim zippered pocket fits a tablet.
The interior of the tablet pocket and main compartment are a soft, no-scratch felt material. The bag comes with a single divider so you may want to purchase a GearProtex Insert System. The patch pocket is convenient for stashing a couple of memory cards.
The external pockets make it easy to grab accessories quickly. The flap is connected with a unique clip that unhooks with a downward squeeze. This is faster than other types of clips and can be done without looking.
Price: $269.95 on Tiffen.com or $219.95 on Amazon
Best Camera Purse: Think Tank Lily Deanne Camera Bags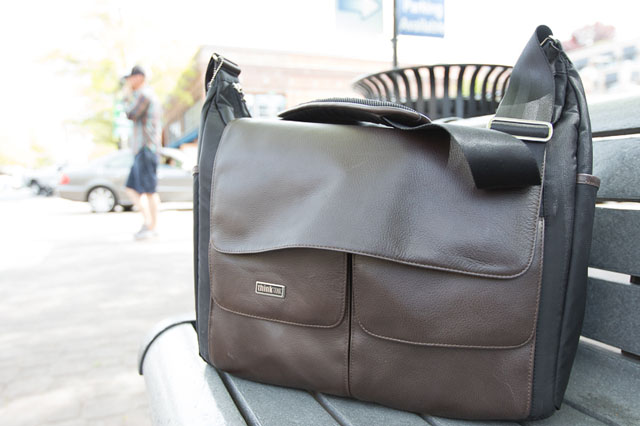 Nothing could ruin a great outfit more than a clunky camera backpack. The Lily Deanne camera bag has sleek lines that look like a purse, made with full-grain Dakota leather leather and high density nylon. But make no mistake, this beauty fulfills all the requirements of a good camera bag. It gets its name from camera bag designer Lily Fisher, and Pulitzer Prize-winner Deanne Fitzmaurice who, after much research designed a bag that combines function, accessibility, protection, comfort and design.
The Lily Deanne comes in three sizes: Lucido (means "sleek" and is the smallest bag), $200, that can carry a tablet with the cameras; Mezzo ("middle") for $250, that can take an 11" tablet or laptop, and Tutto ("everything") for $300, that can carry a 15-inch laptop. Its main compartment is deep to accommodate a camera with an attached telephoto. The Tutto can handle two pro-sized cameras with attached lenses and an extra lens. a\ While the Tutto is quite large, the non-slip padding on the camera strap distributes the weight well. One front pocket can act as a wallet, holding credit cards and pens, the other is perfect for fast access to your phone. Side outer pockets can hold a small lens, flash unit, or water bottle.
It comes with its own rain cover which folds into a turquoise taffeta envelope that matches the inside of the bag. Available in chestnut and black, or all black, you can choose the color and size that's right for you. This will definitely be my go-to bag when photographing the streets of Portland.
Price: starts at $199.75 on ThinkTankPhoto.com or $199.00 on Amazon
Best Sling Camera Bag: Tamrac Corona 20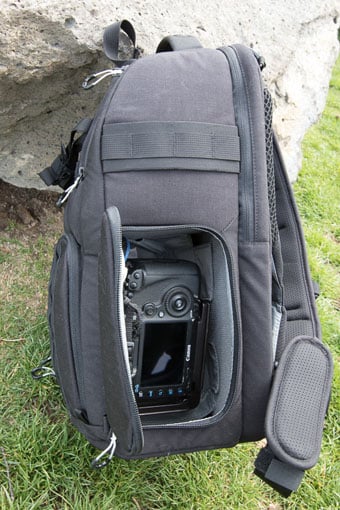 A sling bag has a single shoulder strap that crosses your body with the bag lying flat against your back. This was one of the first types of bags I tried because it could be quickly swung to the front for fast access to a camera. A good sling bag will have side access that faces you when brought to the front.
The Corona 20 is a sling bag but it's actually a hybrid. It has two shoulder straps so it can be worn as a backpack, or either strap can be stowed to be worn as a sling bag. The benefit is that you can choose whether you want to wear the right or the left strap. Zippered side pockets let you access your camera quickly from either side. The bottom section can hold a DSLR with mid-sized telephoto lens and two small lenses or accessories. A back zipper allows access of all equipment when you aren't wearing the bag. There is a roomy top section to carry your lunch, sweater, or more gear.
Price: $174.95 on Tamrac.com or Amazon
Backpack Camera Bags
A backpack camera bag is best for long days walking with your camera—whether its long hiking trails or long blocks in the city. A good backpack will have padded shoulder straps with an adjustable chest strap (particularly important for women's comfort) that hold the shoulder straps on, and adds stability. For long days, a hip support will help distribute the weight.
Best Everyday Camera Backpack: Think Tank Streetwalker Pro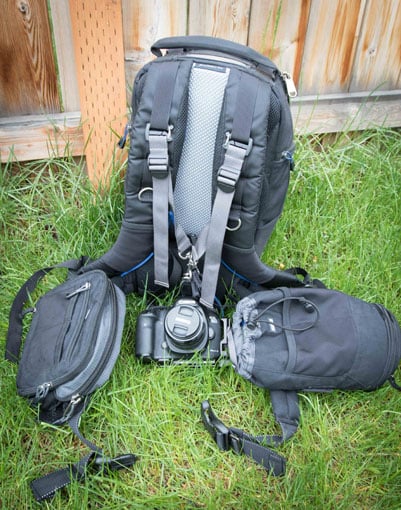 Wherever there is a gathering of photo enthusiasts or professionals you will see at least one of these bags. It is a slim backpack so you won't be smacking people on the street as you turn around and it's easy to pass through doorways. It carries more than it looks like it should as I have been able to fit two cameras, a flash, a telephoto and two lenses.
The Streetwalker is rugged enough for trails but there is no room for anything more than cameras. The main compartment unzips around the whole back to access all of your gear. There is also a smaller zipper pocket for credit cards, pens and other small accessories. While the Streetwalker is a sturdy, attractive bag, you have to take it off and put it down to access cameras and other equipment. A tripod easily connects to the back of the pack, but also blocks access to the main compartment and pockets.
To solve the accessibility issue, Think Tank makes accessory carrying straps and lens bags to make your gear accessible. The camera strap v2.0 ($26.75 on Amazon) replaces your camera strap and can be clipped onto camera support straps v2.0 ($17.75 on Amazon) that are attached to the backpack's shoulder straps. This transfers the weight of the cameras to the backpack and hip support.
Think Tank is known for their camera belts. This modular system can be used alone or replacing the Streetwalker's hip belt. Various lens and accessory bags can be connected to the belt in a way that won't flip or sag with the weight of a lens. Using the camera straps and the belt adds convenience to the comfortable Streetwalker. When I'm done shooting, I can put the gear back into the main compartment to carry for the rest of the day.
Price: $199.99 on ThinkTankPhoto.com or Amazon
Best Camera Backpack for Adventure - Mindshift Gear Backlight 26L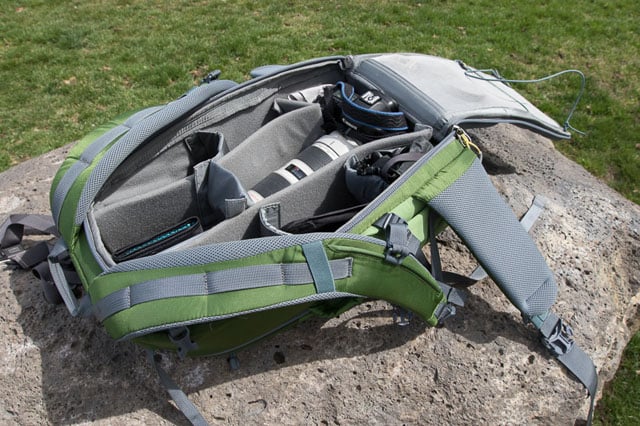 This is the pack I brought with me on my recent photo safari in Kenya. It is comfortable and durable and can carry all of my gear in a slim profile. The Backlight is all about accessibility. The main compartment opens from a zipper on the inside of the back rather than from the outside. When wearing the backpack with the hip belt connected, slide off the shoulder straps and spin the pack to the front to access the main compartment. A cord can be placed around your neck to hold the cover out of the way as you pull out/put away your gear.
I conveniently placed the Backlight on the seat beside me in the safari vehicles and could quickly access any of my cameras, lenses and filters. The other benefit of this "hidden" zipper is that it's harder for a thief to get to your gear when coming up the street behind you.
The Backlight is lightweight but can carry a lot of gear including a 150-600mm monster of telephoto lens. The external padded pocket has a place for both a 15-inch laptop and a tablet. A tripod can be easily connected and retrieved on the side of the pack. For my Kenya trip, I packed 35 lbs of equipment into the Backlight. Surprisingly, the bag showed no signs of strain and while it was heavy, it was comfortable to carry through airports and on short treks.
Price: $249.99 on MindShiftGear.com or Amazon
Best Camping/Hiking Camera Backpack: Mindshift Gear's Rotation Horizon 34L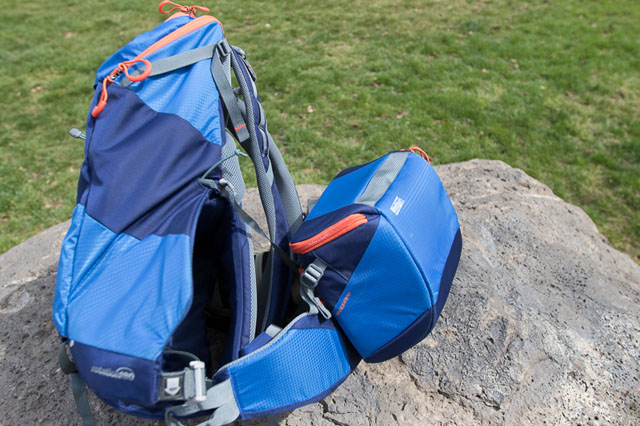 Fast access is the main feature of this camera backpack. If you are scrambling up trails, you'll want to have your camera in a padded compartment so it doesn't bang rocks, etc. As you are walking along, surprise! There's a deer on the trail ahead of you. With the rotation you don't need to take off your pack. With a quick flick of a release on your side, the bottom portion of the pack swings out its little door and the waistband can be twisted to bring the bag in front of you. Pull out your camera, shoot, drop the camera back in, swing it back around and you're on your way again.
This pack also has a pocket and guide slits for up to a 3-litre water hydration system (or it fits a tall hydroflask water bottle). The top portion of the pack can be fitted with an insert for more camera gear or can be used for clothes and food. A number of external connections makes it easy to strap on a light tent and sleeping bag while still being able to access your camera and a few accessories.
The belt pack holds a single DSLR with mid-sized telephoto lens. It has a section for a tablet and I can squeeze in my phone and a couple of filters. There are three Rotation Horizon models. The smaller 22L ($199.99 on Amazon) is best for day hikes and crop sensor or mirrorless cameras. The professional 38L ($390 on MindShiftGear.com) is the best choice if you will be taking up a tent to get those night shots.
Price: $259.99 on MindShiftGear.com or Amazon
Best Waterproof Camera Backpack: LowePro DryZone 200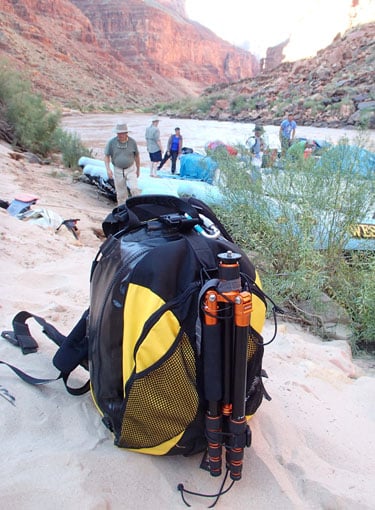 If ever there was a case to have a second camera bag, it's the DryZone 200. When boating, kayaking, walking through rivers or whitewater rafting, the challenge is to keep your cameras and equipment dry. A classic hard-sided Pelican case will do the job, but the LowePro DryZone 200 keeps water away from your gear and it's a backpack that can be worn on side hikes when you are off the water.
The DryZone 200 is more than waterproof, it's a "drysuit" for your camera (better than a wetsuit). It has an internal rubber covered compartment with a water-tight zipper. A mesh pocketed area carries items that don't need protection from the water. I have used this bag twice in wet situations and it has performed perfectly. The first was a 7-day white water rafting trip down the Colorado in the Grand Canyon. Each rapid would splash buckets of water on us and our equipment. My cameras were bone dry. A simple dry bag would not have withstood the pounding (I've tried that too). When we would take hikes up side canyons, the padded shoulder straps and hip support made it comfortable to carry my gear with me. The strap and hip length can be adjusted to fit any sized body comfortably.
The second big test came when I had to walk through a chest-deep river in the Columbia Gorge to get to a waterfall. Although the bottom of the pack was submerged, there was absolutely no leakage. If you like to shoot rivers, lakes, waterfalls, or on small boats, I can't recommend any bag more highly than this LowePro bag. Just remember, anything in the outside pockets will get drenched, so be sure you store memory cards, battery chargers or other electronics in the dry compartment.
These bags are a bit of an investment, but when you experience their comfort and convenience, you will know the joy of a good camera bag. Don't be surprised if, like many photographers I know, you buy more than one for different situations.
Price: $359.95 on LowePro.com
[Image credits: Barb Gonzalez/Techlicious]
Discussion