7 Time-Saving Kitchen Gadgets for Healthier Meals
Techlicious editors independently review products. To help support our mission, we may earn affiliate commissions from links contained on this page.
When you cook at home, you control the amount of fat and types of ingredients that go into the foods you eat. But when you're racing out the door in the morning or coming home after a long day at the office, who feels like cooking? Fortunately, these gadgets can cut prep time down to a manageable amount.
We've collected six great kitchen gadgets that will save you time and effort in the kitchen and make enjoying home-cooked meals easy enough to do every day.
Cook fish (and everything else) perfectly every time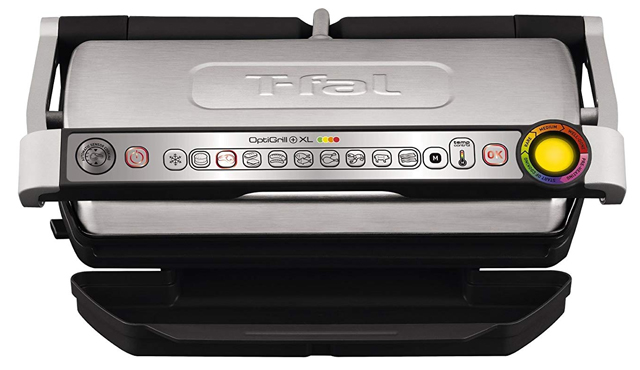 The T-fal OptiGrill XL (price: $129.99 for 4 serving size and $219.99 for the 8-serving XL model, check price on Amazon) takes the guesswork out of grill food to the perfect temperature for you. The indoor grill has auto-cooking modes for buger, poultry, sausage, red meat and fish, among others, and will adjust for fresh versus frozen food. What really makes it unique, though, is the fact that it adjusts for food thickness. An easy-to-read sensor changes color and will beep when the food reaches rare, medium and well-done.

A sous vide machine like the Anova Precision Cooker Nano ($99, on sale for $79.00 on Anova Culinary, check price on Amazon) makes it easy to cook delicate foods like fish without worrying about overcooking and drying out. Simply attach the device to any pot, add water, put your ingredients in a plastic bag or sealed glass jar and press start. Adjust the time and temperature manually, or cook from recipes in the app. The best part is that you can walk away and get other things done while your healthy meal cooks, saving you time and calories.
Cook a healthy meal while you're at work

Home cooks have known for years that a slow cooker is a great way to save time in the kitchen. Just toss dinner ingredients in before you leave for work, and by the time you get home, you'll have a delicious, hot meal ready to serve.
The programmable Crock-Pot 6.0-Quart Slow Cooker with iStir Stirring System ($69.99 on Crock-Pot, check price on Amazon) adds smarts to an already great appliance. Program your cooking time and once it's complete, the slow cooker will automatically shift to keeping your dinner warm. And if your dish requires stirring, there's a lid attachment with paddles (a general purpose paddle and a stew paddle) that will stir your food for you.

For more versatility, the Instant Pot IP-LUX60 V3 6-Quart ($79.95 at Instant Pot, check price on Amazon) does almost everything: a pressure cooker, a slow cooker, a rice cooker, a steamer and a warmer. It comes with 10 preprogrammed settings and has a 24-hour timer to delay cooking, so it starts and finishes right when you want it to.
This smart kitchen gadget also has a microprocessor that constantly monitors pressure, temperature and time to make sure your food is cooked to perfection.
Make a healthy breakfast sandwich

If you're a fan of starting the day off with a fast food-style breakfast sandwich, this easy breakfast sandwich maker will save you calories, time and money.
The handy Hamilton Beach Breakfast Sandwich Maker ($24.99 at Hamilton Beach, check price on Amazon) toasts bread, cooks the egg and heats meat, cheese and anything else you want on your ideal breakfast sandwich. And since the surfaces are non-stick, you can use little or no butter.
Just combine the ingredients for your sandwich in the sandwich maker, and it will cook, toast and heat to perfection. That sounds like breakfast deliciousness to us.
When you're done, all the parts can go right into the dishwasher.
Whip up a nutritious smoothie or soup

Blending a nutritious smoothie for breakfast or cooking a soup for lunch takes just minutes with a high-powered blender like the Vitamix A2300 ($469.95 on Vitamix, check price on Amazon). Unlike regular blenders, high-power blenders generate enough heat while blending to actually cook soups. We've made butternut squash soup in minutes. If you have a sweet tooth, skip the ice cream and easily blend up a healthy sorbet.
While making meals from fresh ingredients is great, cleaning up afterwards can be a chore. With the Vitamix, just drop in dishwasher soap and some warm water, then run it on high for 30 seconds. The 2.1-horsepower motor does the rest.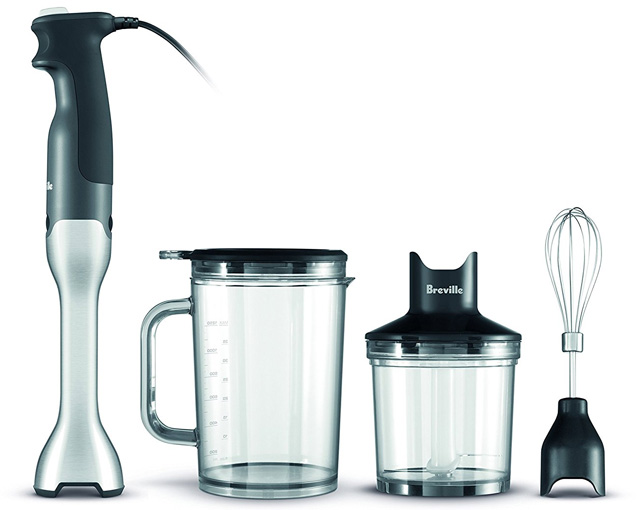 A much less expensive option is an immersion blender like the Breville BSB510XL Control Grip Immersion Blender ($119.99 on Breville, check price on Amazon). While it doesn't have the power required to make hot soups, it makes short work of smoothies, even with crushed ice, and quickly thicken soups with no added calories. The Breville's bell-shaped base and internal ribbing reduces suction to give you greater control and produce more efficient blending.
[Image credits: smoothies via BigStockPhoto, T-fal, Hamilton Beach, Vitamix, Breville, Crockpot, Instant Pot, Anova]
Updated on 6/13/2019 with new products.
Discussion