Brought to You by the Consumer Technology Association

7 Products That Show How VR and AR Are the Future of Tech
Techlicious editors independently review products. To help support our mission, we may earn affiliate commissions from links contained on this page.
Virtual reality may sound like science fiction, so you may be surprised to find it in technology you use every day. But before we can explain just how virtual reality fits into our daily lives, there's a technical point you need to understand: the difference between VR (virtual reality) and AR (augmented reality).
VR refers to complete virtual environments, which you'll often find in video games and other entertainment experiences. AR refers to virtual items that are brought into the physical world, like pointing your smartphone and seeing information overlaying the real world. Because VR usually requires a specialized headset and software, AR is what you're more likely to see day to day, as it's often built into the smartphones and tablets we already have.
Using VR, we can visit all kinds of places we might otherwise be unable to go, taking virtual vacations for stress relief or education. (In fact, some VR experiences have proven to help improve cognitive ailments like Alzheimers's and dementia in seniors.) AR and VR both can be used for education, giving students something more engaging than a textbook to learn from. On a higher level, medical professionals can use the technology to train and improve health outcomes with virtual visualizations for surgery. When we're on the go, AR can help us navigate and translate signs, and when we shop it can show us exactly how things will look before we buy them. VR video games can even provide exercise value.
These are technologies that have the potential to change the world — but they're also technologies you're probably using every day, perhaps without even realizing it.
Here are seven examples of AR and VR that are already making our everyday lives better (or at least a bit more fun).
Bose Noise Cancelling Headphones 700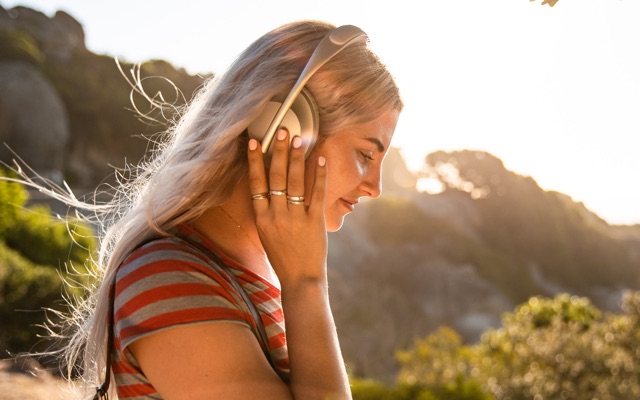 Bose is well-known for high-quality headphones, particularly noise-cancelling headphones. The company's latest set offers the excellent noise cancellation you'd expect, complete with 11 different levels of noise cancelation allowing you to block the world out or let the world in to maintain situational awareness.
But what really impresses us about these headphones is their AR abilities. The 700 series has motion sensors that can tell which way your head is pointing and detect body movement. When paired with compatible apps, this opens up all sorts of interesting AR possibilities. Apps can offer navigation information depending on which way you're looking, let you play audio-based games, or even improve your golf game by offering advice as you traverse the course.
Price: $399.95 from Bose
Bose Frames Audio Sunglasses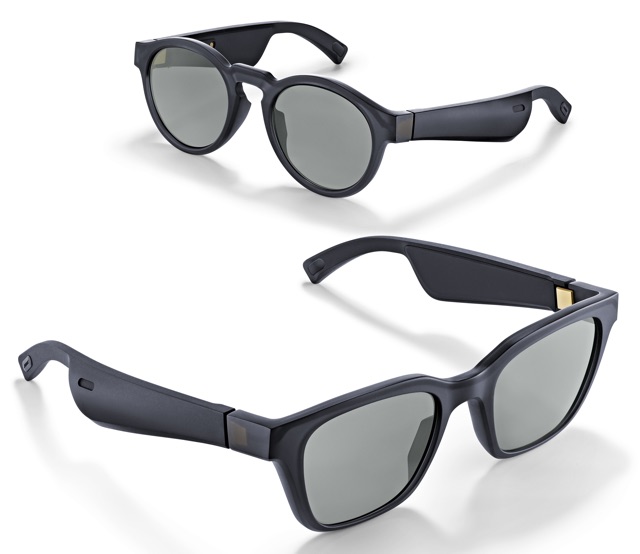 These unusual headphones look exactly like stylish sunglasses, complete with a sleek, classic style. But actually they're a unique new style of headphones, featuring Bose technology hidden in the temples to give you a personal sound system that other people may not even notice.
You shouldn't expect the same sound quality from these as from Bose's high-end noise cancelling models, like the 700 series headphones we talked about above. However, they do include one feature from Bose's more traditional headphone designs: AR. Bose Frames let you access all of the same AR experiences without wearing bulky (and obvious) headphones.
Price: $199.95 from Bose
Healium Mindfulness App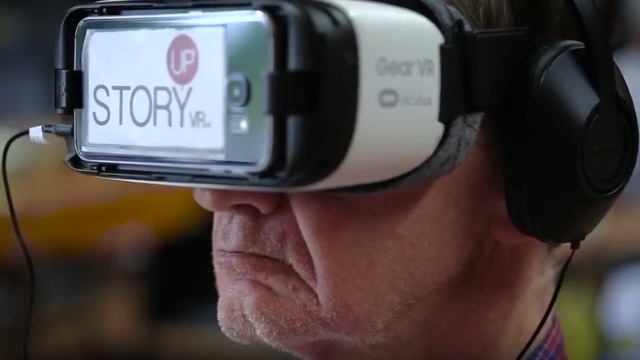 Anxiety is a huge health problem that affects 40 million Americans — and calming that anxiety is one of the reason mindfulness and meditation apps have become so popular. But Helium isn't your average meditation app. Instead of walking you through static breathing exercises or meditation programs, it uses VR and AR simulations based on your own brainwaves and heart rate — sensed with a headband and smartwatch — to create a calming virtual environment.
In Healium's virtual world, the environment changes based on your stress levels, encouraging you to calm down in order to change the world you see around you. For example, you may make a butterfly hatch from a chrysalis or make flowers bloom by keeping your cool. The latest research says this type of VR-powered mindfulness therapy can offer genuine stress reduction — something you can't say about every meditation app.
Price: $500 for hardware kit, plus $29/month subscription from Healium
Amazon Shopping App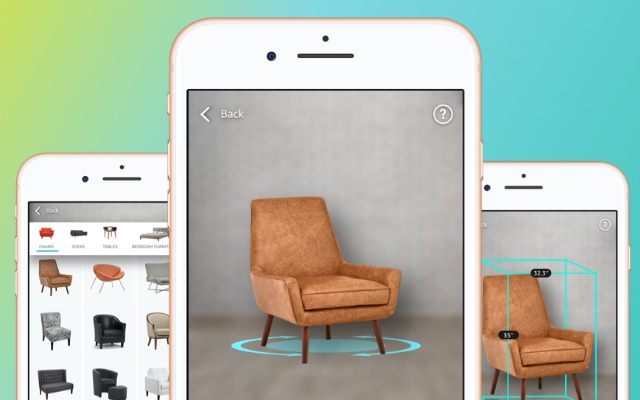 For all the conveniences of online shopping, there's nothing quite like seeing what an item looks like in person — and AR can give you that without ever having to walk into a store. On most smartphones (phones with iOS 11 and newer, Android 7.0 and newer), the Amazon app can use AR to show you what furniture and home decor items look like in your own living room, helping you get a feel for their size and style compared to the rest of the room.
All you have to do is fire up the Amazon app on your phone, click the camera icon in the upper right, scroll to "View in Your Room," and select a product. Then just point your phone to see how that new chair will fit into the living room. Even though the product page gives you lists of measurements, there's nothing like seeing how an item will look, to scale, right where you want to put it.
Price: Free from Amazon
Lenovo Star Wars: Jedi Challenges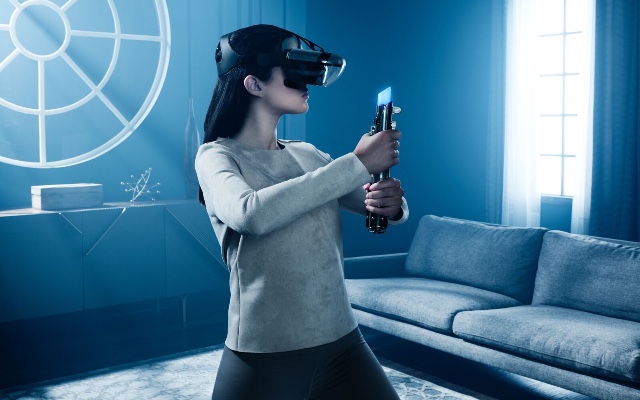 There's a good chance that everyone who's watched Star Wars has dreamed about swinging around a lightsaber, and Star Wars: Jedi Challenges lets them do just that. This relatively inexpensive AR kit — it's just $62.99 — comes with the Lenovo Mirage headset, a lightsaber handle (used as a game controller) and a tracking beacon to translate your actual movements into game movements. Your own smartphone provides the brains of the operation: compatible phones slot into the headset and use an app (for Android and iOS) to run the game.
Once you're set up, you can have lightsaber battles against virtual opponents like Darth Vader or against your own friends (though both will need a Jedi Challenges AR kit). You can even command troops and ships in epic battles across all Star Wars eras or play a low-key game of holochess. Everything takes place in your own living room, with virtual objects appearing through the headset — just like you were in the movies yourself.
Price: $62.99 from Lenovo
Froggipedia Biology App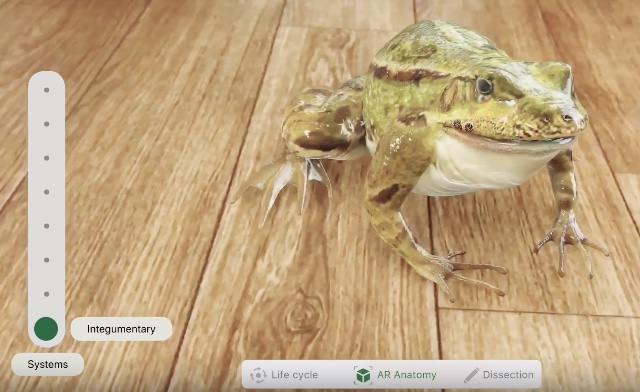 Biology class gets a lot more interesting (and a lot less messy) with Froggipedia, an AR app for iPhone and iPad that teaches kids about the lifecycle of a frog. Instead of reading a textbook or dissecting an actual frog, AR lets students examine the 17-week transformation from a single-cell egg all the way up to a fully-formed frog.
Just point your iPhone or iPad, and you'll see a virtual frog, letting you watch how it moves and examine its anatomy like it was right in front of you. Froggipedia even lets you virtually dissect a frog, which is a great way to learn biology without the smell of formaldehyde.
Price: $3.99 on iOS
Modiface Style Apps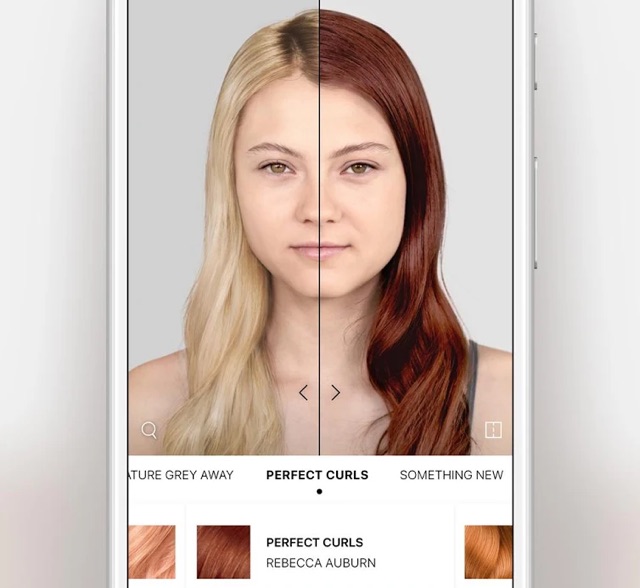 This collection of apps brings AR to the world of fashion. Ever wondered how you'd look with a different hair color or a dramatic makeover? Modiface uses AR so you can see what you'll look like before you decide to make any drastic changes.
All you have to do is point your phone and click your way to a new look. The results on screen are startlingly realistic, meaning you can get a real sense of how a hair color or makeup style will suit you before you give it a try. Modiface offers apps for hair color, makeup styles, and eye color for both iOS and Android, with an additional nail color app for iOS only. All of them are free, so there's no reason not to give them a try.
Price: Free on Android and iOS
[Image credit: augmented reality travel concept via BigStockPhoto, Bose, Lenovo, Amazon, Modiface, Froggipedia, Healium]
Discussion