5 Wet Dry Vacs Designed to Tackle All Your Messes
Techlicious editors independently review products. To help support our mission, we may earn affiliate commissions from links contained on this page.
Wet-dry vacuums are the workhorses of the vacuum world. And though they may be better known more for helping contractors clean up a job, there are easy-to-use models that are designed to assist you with those messes at home. That's right, you can vacuum and mop at the same time—and all without having to lug around a large, heavy unit.
Want to add one of these wet/dry vacs to your household? We researched the options to find the best-reviewed products — and our editors got hands-on time with most of them. Based on that experience, my suggestions range from a cordless, lightweight hand vac to a high-capacity shop model, and, of course, a model that's designed for pets.
Why you should trust me
I have been reporting on technology and consumer electronics for over 20 years. I was the Technology Editor of Popular Mechanics for eight years, where I covered the launches of major products like the iPod, DVD player, the DVR, and the first cell phones. Since then, I've written about the latest and greatest consumer technology and lifestyle products for Gizmodo, InStyle, Sports Illustrated, Details, Men's Journal, Family Circle and Techlicious.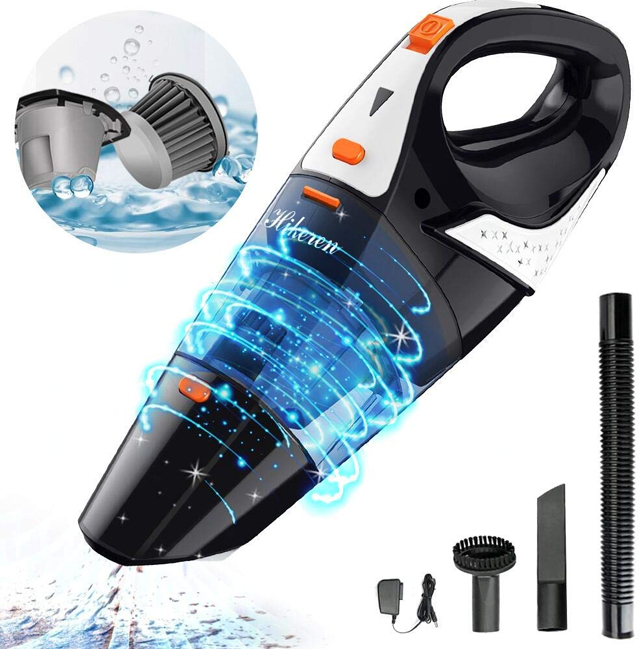 For small messes: Hikeren Handheld Vacuum
This little wonder goes anywhere you do. Got a mess in the car? No problem. Need to clean up after a baby or your kid's birthday party? Whip it out. The Hikeren Handheld vac is both tiny and cordless, with a 100-watt motor and a removable, stainless steel filter and three attachments for wet and dry cleaning—along with a handy carrying case. One charge allows for 30 minutes of high-powered runtime.
A dirt cup replaces a vacuum bag, which you can then open and shake straight into the garbage. We also especially appreciated the Crevice Tool, which helped get into hard to reach corners and niches where all those crumbs always tend to fall. And of course, it's so easy to use, your whole family can take a turn cleaning up. Always a plus.
Price: $39.99 at Hikeren Shop, check price on Amazon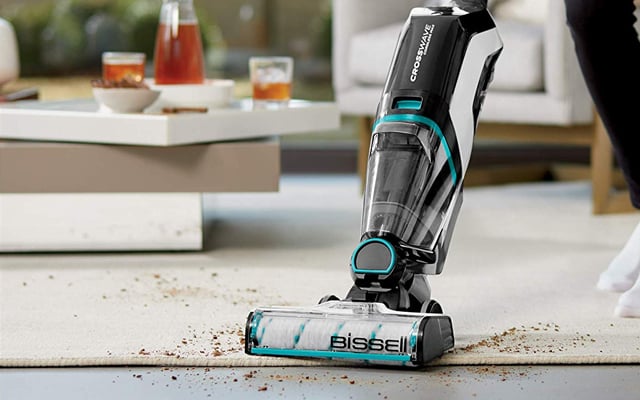 For everyday messes: Bissell CrossWave Cordless Max
The Bissell CrossWave Wet Dry Vac will save you loads of time as it lets you wash and vacuum at the same time. And because it's cordless, you can easily get it up and down the stairs for a quick deep clean.
From tile and wood floors to carpets and rugs to linoleum and even rubber floor mats, this vac will suck up any mess you throw at it. In our demo, we sucked up a variety food and sparkly decorations in a single pss. The vac comes loaded with two tanks in its body, keeping the clean liquid away from the dirt and debris. Just one charge in the included docking station allows the 36-volt lithium-ion battery to run for up to 30 minutes. A One-Touch Clean Out Cycle lets you easily clean the vacuum using only water—after you scrub up your mess.
Price: $399.99 at Bissell, check price on Amazon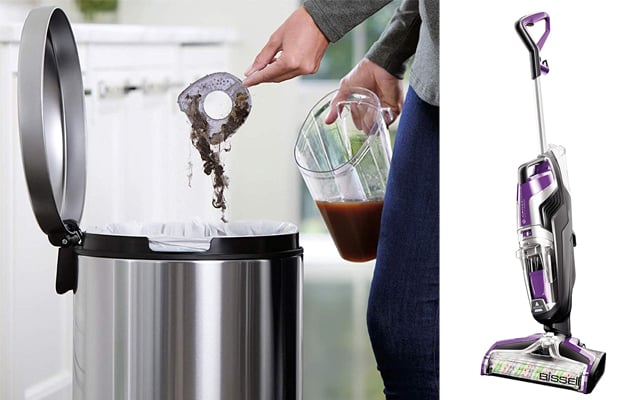 For pets: Bissell CrossWave Pet Pro Multi-Surface Wet Dry Vac
Got pets? Try Bissell's CrossWave Pet Pro Multi-Surface Wet Dry vacuum – a corded model. Yes, it'll suck up a wet or dry mess, but it also comes with a tangle-free brush roll to ward off the worst pet hair by pulling dirt into the included dirty water tank, safely kept apart from the clean formula tank, all while minimizing hair wrap. And if you're a pet owner, you know that's quite a feat. A pet hair strainer is also included, separating hair from the dirty water when you clean it out, which means minimal sink clogging (reviews are mixed on how well it works with longer hair, but it works well for a lot of reviewers).
The vacuum can be used on all kinds of surfaces and just a press of a button lets you easily switch from rug cleaner to hard wood mode. Need to get clean a certain spot? Use the on-demand trigger to aim at any offending muddle. The included Rinse & Clean Out Storage Tray gives you a safe place to keep your vac as well as clean it out after you're done using it.
Price: $319 at Bisell, check price on Amazon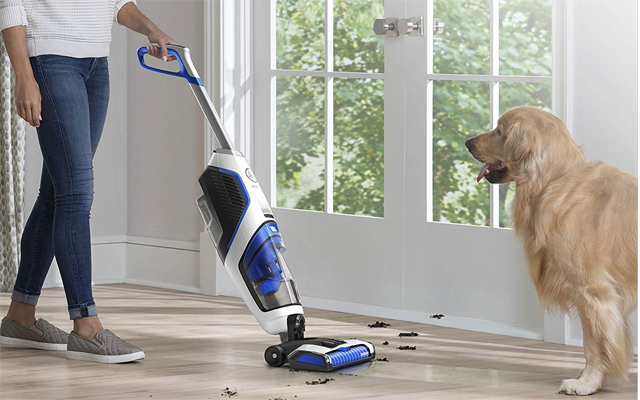 For delicate surfaces: Hoover ONEPWR FloorMate Vacuum
Hover's ONEPWR FloorMate vac offers wet/dry cleaning on all kinds of sealed surfaces. The ONEPWR 3.0 Ah Battery delivers up to 25 minutes of vacuuming on one charge. The battery works with any of the ONEPOWER line of products, which include a handheld vac, a shop vac and more.
The ONEPWR FloorMate comes with two brush rolls loosen dirt before it's sucked up – a regular bristle roll for most surfaces and a soft microfiber brush roll for floors that are prone to being scratched. The SprayClean nozzle and trigger system lets you target specific areas for cleaning as you vacuum. It made short work of a spilled bowl of cheerios in our testing. A two-tank system keeps your clean and dirty water separate.
Price: $299.99 at Hoover, check price on Amazon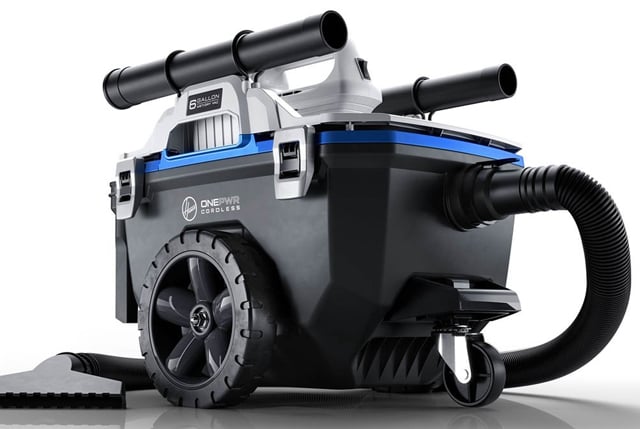 For big messes: Hoover ONEPWR Cordless High-Capacity Utility Vacuum
For life's big messes that come from having a garage or basement, a high capacity ShopVac is a necessity. We like the Hoover ONEPWR Cordless High-Capacity Utility Vacuum because of its 6-gallon tank size and unique No-Tip wheel design. There's not much worse than knocking over the gallon of water you just cleaned up! But when we put this Hoover to the test, it made short work of our mess. Because its cordless it's easy to maneuver around obstacles, indoors or outside, and the 7-foot hose helps to reach the corners of larger areas.
The tank itself is easy to empty and we appreciate the way Hoover attaches the extra tools to the unit so they won't fall off as you move around the area. This Utility vacuum works with a 4.0Ah Max removable Lithium-Ion battery so if you have other cordless Hoover ONEPWR products, like an indoor vacuum or leaf blower, they all share the same battery. Runtime is 11.5 minutes per charge.
Price: $199.99 on Hoover, check price on Amazon
[Image credit: Hoover, Bissell, Hikeren]
Discussion