We may earn commissions when you buy from links on our site. Why you can trust us.

What Amazon Alexa Can Do & How to Get It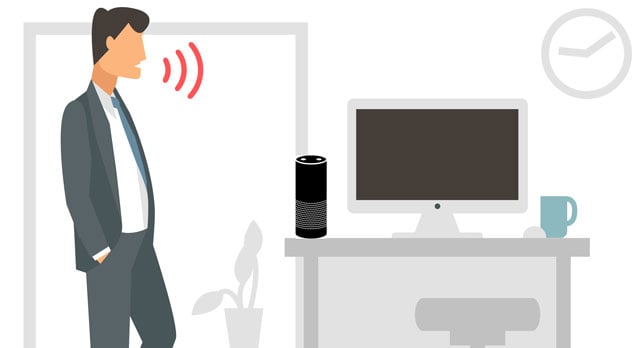 Siri, Google Now and Cortana aren't the only voice-activated virtual assistants in town. Alexa, Amazon's voice-activated virtual helper in the Amazon's Echo, Tap and Dot, has tricks of her own up her sleeve, all intended to make your life easier, more convenient and more productive.
What Amazon's Alexa Can Do
Like other voice-activated assistants, Alexa waits for you to call on her to perform tasks. To get Alexa to do something, first wake her up by calling her name: "Alexa." Once activated, Alexa is ready to obey your spoken orders.
Many of the things Alexa can do are built-in, but the scope of the tasks Alexa can perform continues to expand at a rapid rate, thanks to support from third-party developers. Called Alexa Skills, third-party apps use Amazon's Alexa Voice Service to give Alexa new functionality and you can easily enable them through the Skills tab in the Alexa app.
Answer your questions and get updates
While Alexa can't compete with Google and other traditional search engines, but she can answer a wide range of questions. For instance you can ask:
"Alexa, how tall is Mount Everest?"
"Alexa, when is Labor Day this year?"
"Alexa, how many ounces in a cup?"
For information on a broader topic, you can access Wikipedia. So you could say "Alexa, Wikipedia Fantasy Football."
For timely information, you can ask for the latest sports scores and game times for professional and select NCAA sports teams (set your favorite teams in the Alexa app) and hear the latest news from CNN, BBC, Bloomberg, NPR and other sources (you set your sources in the Alexa app).
When you input your home and work addresses, you can ask Alexa for traffic on your commute or the weather forecast for the day.
Based on your home address, Alexa can tell you about nearby restaurants, businesses and shops.
She can also help you find movies and when and where they're playing in local theaters.
Manage your calendar, to-do list and shopping list
Besides finding information, Alexa can be your personal assistant. She can remind you of upcoming appointments in your Google Calendar and help you create lists of things to do. Link your Google account with the Alexa app (only one account can be linked. But if you share a Google calendar with someone, you can add events to their calendar as well.). Once it's linked, you can ask Alexa to check upcoming events or add new events to your Google Calendar.
Alexa can create a new to-do list or add a new item to an existing list. She can also remind you of what's on your to-do list.
You can add items to your Alexa Shopping List. They can be everyday household items, like milk, or products you'd typically buy on Amazon. When you visit Amazon.com, you can see what's on your Alexa Shopping List and delete or mark items as "completed."
Set alarms and timers
Alexa can tell you the time, date and set an alarm. You can set alarms to sound once or repeat based on days of the week. Because everything is voice-based, you don't have to fumble with device controls when you're busy or sleepy. To dismiss an alarm, say, "Alexa, stop." To snooze it, say, "Alexa, snooze." No swiping, tapping or pushing buttons. Not sure if you set the alarm? You can ask Alexa if there are any alarms set.
You can also set a timer and check how many minutes are left on a timer. Or, if you like drifting off to music, you can set a sleep timer.
Play and buy music
Music you play on your Alexa device can also be controlled with voice commands. Tell Alexa to play, pause, skip, resume or jump to the next song. You can access your Amazon Prime Music library through Alexa. Just ask Alexa to play a certain song, or ask her to play a certain type of music from Prime Music ("Alexa, play some relaxing Prime Music").
You can also wirelessly control services like Pandora, iHeartRadio and Spotify this way. Just sign into your account with your Alexa app. Once your account is linked, you can control playback through Alexa voice commands. For instance you can say "Alexa, play Purple Rain on Spotify." You can also "like" or "thumbs down" songs.
Alexa makes it easy for you to add new tracks to your music collection. When you hear something you like, simply say "Alexa, buy this song/album."
Other convenient commands Alexa can perform include pausing what's currently playing, skipping tracks and turning the volume up or down (or setting it to a fixed level).
Alexa can also help you with controlling Bluetooth speakers paired to an Alexa device. She can help you pair your speaker to your Alexa-equipped device ("Alexa, pair my device" or "Alexa, pair Bluetooth") and then control media playback via Alexa.
Read Kindle books and play audiobooks
If you're a bookworm, Alexa can read books from the Kindle Store, Kindle Owner's Lending Library, Kindle Unlimited or Family Library. To start, just say "Alexa, read [Kindle book title]" or "Alexa, read my Kindle book." You have full control over Alexa's reading. Tell her to pause, resume or go forward or backward. You can also tell Alexa to play audiobooks from Audible or Kindle Unlimited on your Alexa device.
Control smart home devices
Another of Alexa's abilities is interacting with and controlling supported smart home devices. For instance, if it's too hot in the room, tell Alexa to lower the room's temperature. Lights too bright? Ask Alexa to dim them. You can even ask Alexa to turn on your coffee maker, if it's plugged into an Alexa-compatible plug. Alexa manages this with the help of your Alexa-equipped device and supported third-party smart home devices devices.
Make purchases
Alexa can be used to buy more than music. Buy enabling access to specific merchants, you can buy pizza and flowers or even book a ride. To access these services, make sure to enable and set up the Domino's Pizza Skill, 1-800-Flowers Skill and Uber Skill in the Alexa app.
And, if you have an Amazon Prime account, you can reorder items from your order history using your Alexa device. Just tell Alexa what you need and you're good to go. You can also ask Alexa to add an item to your Amazon shopping cart.
Take a fitness class
Need a little inspiration to get moving? You can take a voice-driven exercise classes, including a pilates class and a 7-minute workout.
You can teach your Amazon Alexa new tricks
The scope of the tasks Alexa can perform continues to expand at a rapid rate, thanks to support from third-party developers. Called Alexa Skills, third-party apps use Amazon's Alexa Voice Service to give Alexa new functionalities like getting updates about upcoming concerts, playing games.
To enable Skills, open the left navigation panel in the Alexa app and select Skills. Browse the list of available skills and select the skills that you want to teach Alexa. Developers may take advantage of Alexa's prowess and sign up for an Alexa Skills Kit to develop new skills for Alexa.
And there are still more awesome things you can do with Alexa. Read Amazon's page of things to try with Alexa.
How to Get Amazon Alexa
There products that have Alexa built into them that can hear your commands and act on them, and there are Alexa-enabled devices that can't hear your commands unless they are connected to a device that has Alexa built-in. There are only a handful of devices that have Alexa built in, but there's a wide variety of products that can be controlled by Alexa. Most of the Alexa-enable products rely on a central hub to interact with Alexa, but there are a few stand alone solutions as well. We picked our favorites.
Devices with Alexa built in

Amazon Echo
The Amazon Echo combines a hands-free speaker and virtual assistant (Alexa) in one device. Just place it in one corner of the room and speak your commands. Amazon Echo will actively listen to every word you say to await your bidding. Use it to play music, listen to audio books, purchase songs, repurchase items from Amazon, get the latest game scores or news and more. In addition to its Alexa capabilities, the Amazon Echo's speaker plays music in 360 degrees to literally fill your room with sound. Price: $179.99 on Amazon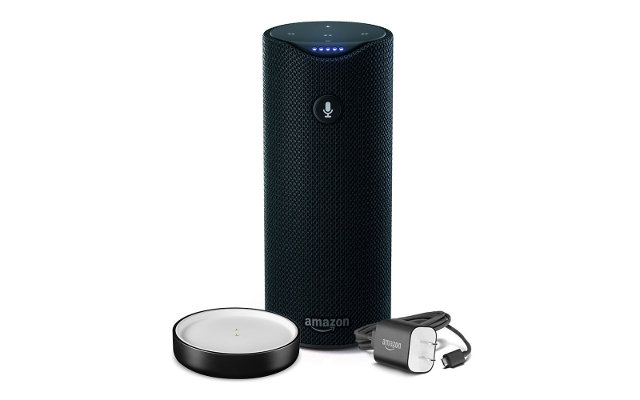 Amazon Tap
Another Alexa-bearing Amazon device is the Amazon Tap, which is similar to the Echo but smaller and more portable. It's a Bluetooth speaker that can pair with your tablet or smartphone to play streamed audio. Unlike the Amazon Echo, the Tap requires you to tap the mic button to make a voice command. Price: $129.99 on Amazon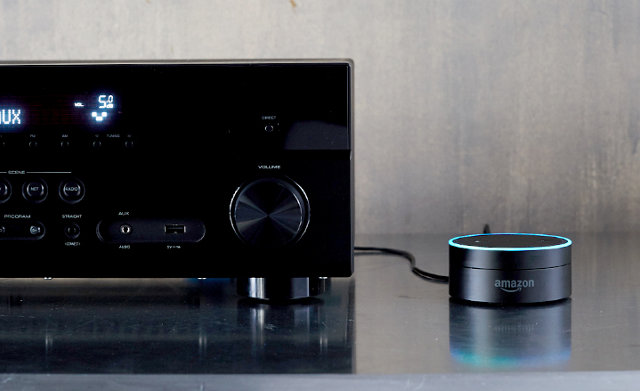 Amazon Echo Dot
The Amazon Echo Dot is a miniaturized and portable version of the Echo. While Alexa resides inside, it lacks the Echo's 360-degree speakers but can pair with a Bluetooth or wired speaker. The Echo Dot is available only to Amazon Prime subscribers through Alexa Voice shopping. Just say, "Alexa, order an Echo Dot" to your Amazon Echo or Amazon Fire TV. Price: $89.99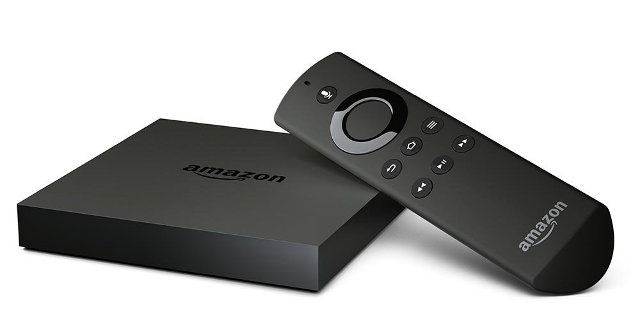 Amazon Fire TV
The Amazon Fire TV, Amazon's 4K streaming video, music and gaming box, also comes with Alexa functionality through its wireless remote. Simply press the microphone button on the remote and you can start asking questions and issuing commands. The Fire TV provides access to Hulu, Netflix, Amazon Instant Video, Pandora, iHeartRadio, YouTube, Sling TV and a number of other popular streaming media services. A voice search feature lets you quickly find individual shows. Price: $99.99 on Amazon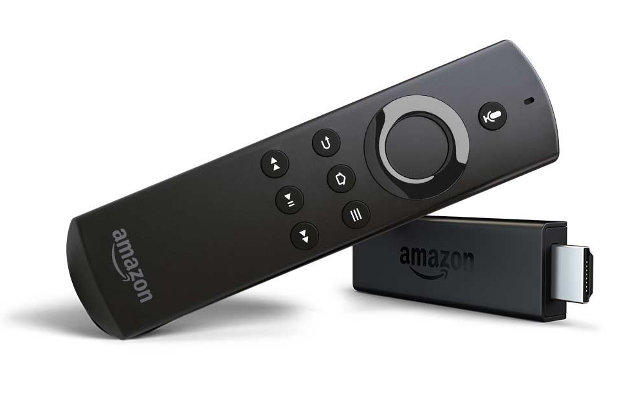 Fire TV Stick with Voice Remote
The Amazon Fire TV Stick with Voice Remote, packs most of the streaming media capabilities of the Fire TV into a small stick you plug directly into your TV. You'll still get all of your streaming media channels, but only in Full HD, not 4K . And, you'll have a bit less processing power for gaming. And, of course, you'll have full access to Alexa through the Voice Remtoe. $49.99 on Amazon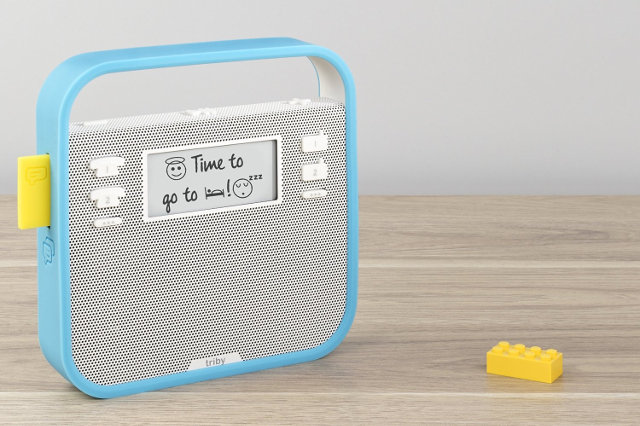 Triby
The family-oriented Triby speaker is the first third-party gadget to include Alexa. A speaker that sticks to your refrigerator door with magnets, it's meant to be a communications hub for the family, letting you keep in touch with the rest of the family via digital messaging and internet calling. Starting at $199.00 on Amazon
Alexa-Enabled Products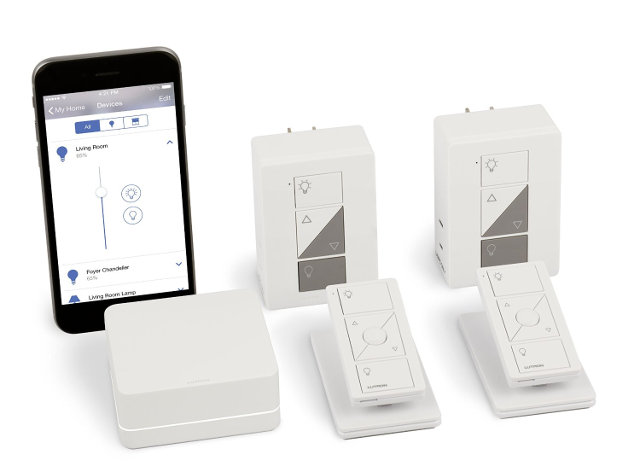 Caseta Wireless by Lutron
Caseta Wireless by Lutron offers plug-in lamp dimmers, in-wall dimmers and switches that let you control the lights using a companion app on your tablet and smartphone or by voice using Amazon Alexa. Caseta Wireless uses a Wireless Smart Bridge for wireless communication between Caseta's plug-in dimmers and Alexa. Price: $99.99 for the Dimmer kit (1 dimmer) on Amazon, $189.95 for the Plug-in Lamp Kit (2 plugs)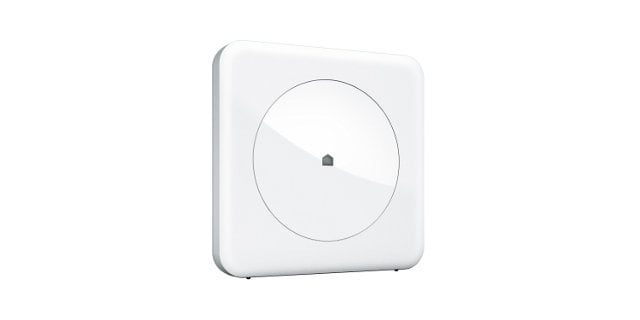 Wink Connected Home Hub
The Wink Connected Home Hub already controls a wide range of dimmers, light bulbs, switches, outlets, plugs and thermostats through the Wink app. Now, with Alexa support, the Wink Hub can relay your Alexa commands to anything it controls. Price: $69.91 on Amazon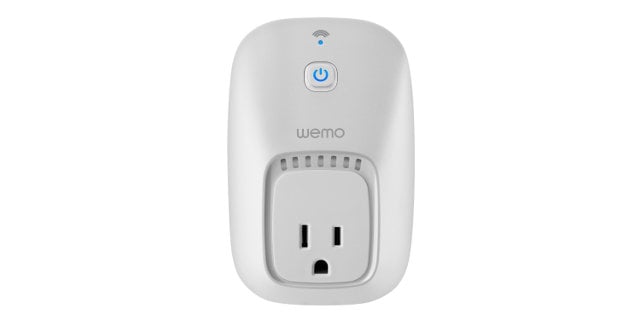 WeMo Switch
The WeMo Switch offers Alexa compatibility without needing a hub. Just plug any device into the Switch and you can turn it on and off through Alexa. WeMo's companion app also allows you to remotely control the switches using your mobile devices from anywhere. Price: $39.99 on Amazon

Insteon Central Controller Hub
Like Wink, the Insteon Central Controller Hub allows you to control its switches, dimmer, thermostat and light bulbs using your voice with Amazon Alexa or with its companion app on your mobile device. Price: $ 99.99 on Amazon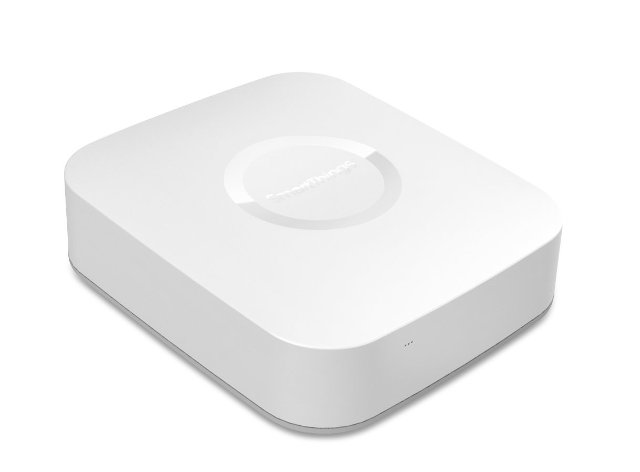 Samsung SmartThings Hub
Another central controller for smart home devices, the Samsung SmartThings Hub makes any outlet, light bulb or thermostat it controls Alexa compatible.The SmartThings Hub can control much more than just lights, thermostats and outlets. With motion sensors, door and window sensors and a camera, the Hub can also serve as your home security system. $99.00 on Amazon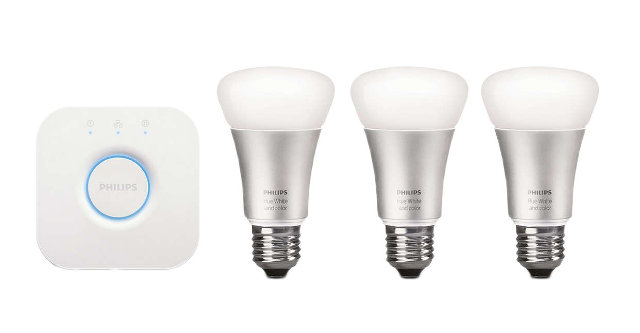 Philips Hue White and Color Ambiance Kit
No need to manually switch the lights on or off. You can control them using your voice with Alexa-compatible Philips Hue smart light bulbs. Philips Hue comes in a kit that includes the connected light bulbs and a central hub that wirelessly connects the light bulbs to Alexa. Light bulbs can also be controlled using the companion app and set to turn on a specific times of day or be grouped for easy management. Price: $188.47 for a 3-bulb starter kit on Amazon
[Image credits: Amazon; Lutron; Wink; Belkin International; Insteon; Samsung; Philips; Invoxia; Amazon echo via Shutterstock shown in Voice control concept via Shutterstock]
---
Discussion