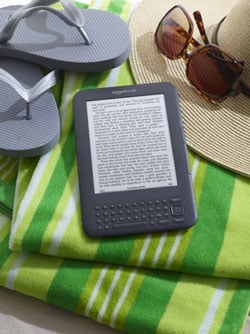 Amazon's free self-publishing services, Kindle Direct Publishing and CreateSpace, let you unleash your manuscript on the market and get up to 70% royalties.
For eBooks, the Kindle Direct Publishing process is reasonably simple. You need a book manuscript in Microsoft Word format. and a cover design, saved as a JPEG or TIFF file. (I created one, with a $15 photo from istockphoto.com and Photoshop Elements, in about half an hour.) At that point you follow the steps provided by Amazon to convert and preview your book, then upload it.
You set the pricing, within minimal size and policy guidelines. If your price is between $2.99 and $9.99, you are probably eligible for a 70% royalty rate. For higher-priced books, you get 35%.
Within a few hours, your work will be available for sale in the most popular eBook format out there. And given the broad reach of Kindle apps, readers can enjoy the fruits of your labors on iPhone, iPod and iPad, Android, BlackBerry, Windows Phone 7, Windows PC and Mac.
If you still crave the feel of a real printed book in your hands. Amazon has a separate service to meet that need, called CreateSpace. This is a print-on-demand system, where books are printed and bound as they are ordered. Royalty rates are lower than with Kindle, and the setup process is more complicated (but still free).
The end result: your book is available via Amazon, right up there with the Tom Clancys and Stephen Kings of the world. Authors get substantial discounts for copies they buy themselves, a key consideration if you're planning to use your book as a business-building tool. And you retain all rights to your work, so if your brilliant self-published novel develops a following, you're entirely free to sign that big contract with Random House.