The Best DSLR Under $800
Techlicious editors independently review products. To help support our mission, we may earn affiliate commissions from links contained on this page.
The Nikon D5200 balances ease of use and beginner-friendliness with power and performance.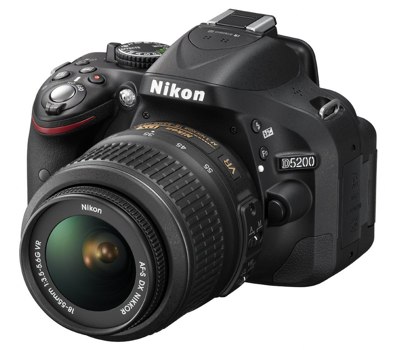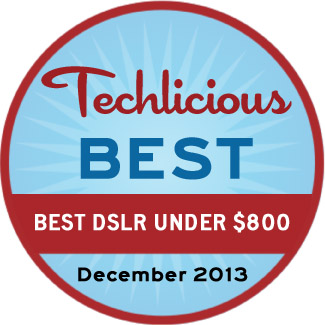 The majority of the people I see carrying DSLRs or other interchangeable lens cameras (ILCs) aren't professional or even aspiring photographers. Most are people who take pictures casually while on vacation or at special occasions with the purpose of sharing with friends and family. They still want those pictures to be really good--better than what you can get with a smartphone or a cheap point and shoot--so they buy a more serious-looking camera.
The choices in this realm are vast, and even when you limit your budget to under $800 there are a wide array of cameras with good reviews to choose from. However, until you have the time to read the manual or take that beginner class you've been meaning to since forever, you want a camera that gives you the most versatility and functionality without needing to know ISO from aperture. For that, my pick is the Nikon D5200.
The D5200 isn't the lightest or most compact, and at just under $800 with the kit lens (on Amazon before discount), it's not the least expensive, either. The camera makes up for that by balancing ease of use and plenty of pre-sets with the power and functionality more advanced photographers crave. Plus, the D5200 is compatible with up to 79 different lenses (and counting), so it can grow along with your skill.
Shoot settings make the difference
Over the past month I've tested several cameras for ease of use in Auto mode. All of the models I shot with are capable enough to work in a variety of shooting conditions--low light, no light, fast movement, tight spaces, indoor, outdoor, etc.--though usually only if I delved into the advanced settings and functionality. Once I started testing the Nikon D5200 the options opened up.
For example, I went on a night sail around the southern tip of New York City on a sailboat built in the 1800s. Even in somewhat calm water the boat bounced around enough that getting a good shot of the Statue of Liberty or the beautifully-lit skyline was almost impossible with Night mode active. We bobbed around too much. I switched to an Effect on the D5200 called Night Vision that bumps the ISO up very high while keeping the shutter speedy. The pictures are black and white and sometimes a bit noisy. Still, they're good, usable shots that didn't require any special knowledge on my part to take.
The D5200 includes a slew of settings, scenes, and effects like this that are easy to find, switch to, and understand. Yes, you'll have to click the control wheel away from Auto to get to them. But once you get to Scene, Portrait, Landscape, Child, Sports, Macro, or Effect a short and simple explanation of each appears on the LCD. Notable options: Candlelight, Autumn Colors, Food, Sunset, Silhouette, and Selective Color. In short, there are few situations that you won't be able to find a pre-set for on this camera.
Physical features of the D5200
The multitude of automatic settings isn't the only reason I liked the Nikon D5200 more than all the other great cameras I tested. I also prefer the way it feels in the hand. With the kit lens attached the camera is noticeably heavier than the Canon Rebel SL1, just not so much that it's a pain to carry around. The grip on the front is deeper and much more comfortable than the SL1.
The 3-inch LCD on the back is not touch-enabled, but I forgive that because it does swivel out, meaning you can frame pictures from almost any angle and you can see the screen while standing in front of the camera. I'm also glad that you can swivel the display around so it faces inward, turning it off during those times when you just want to deal with the viewfinder.
Since this is a true DSLR the viewfinder is optical. There are some display elements visible here, such as an auto-focus indicator, though not as many as you get with an electronic viewfinder. Using the optical viewfinder saves battery and makes taking pictures much faster. Overall, the D5200 is a speedy system and autofocus is snappy. Switching to Live View on the LCD slows things down enough to be annoying, which is typical for DSLRs in this price range.
Finally, there's the 24.1 megapixel sensor, the heart of what makes for a great picture. With it, the D5200 is able to produce great quality images full of detail and color accuracy. Sensors like this are the reason why people step up to DSLRs and the D5200's definitely delivers.
What other reviewers say
The Nikon D5200 is at the top of many reviewer's lists for cameras in this price range, mostly due to the image quality. CNet found that the camera "reproduces colors with solid accuracy, and the default color settings don't push contrast or saturation overmuch." The Phoblographer also praised the "overall excellent image quality" and noted the "good high ISO results." DPReview's detailed analysis concluded that the "noise performance... is the best that we've seen from a DSLR at this price point. Noise reduction is very effective... Image quality is certainly one of the D5200's greatest strengths."
Performance-wise, reviewers praised the speed and accuracy of the camera's focusing. The Phoblographer called the focusing system "extremely advanced" and Photography Blog said that the Face-priority Auto Focus "had no problem finding and keeping track of human faces." CNet noted "excellent continuous-shooting performance for its class" and DPReview finds the D5200 very suitable for "casual action shots like recreational sports." DPReview also noted that when taking pictures in varied and challenging lighting, the auto white balance "does a fine job of rendering accurate colors in all but the more extreme lighting conditions."
The D5200 also shoots video at 1080p and most reviewers agree with PCMag's assessment that the footage "looks excellent, with accurate colors and smooth motion." Video requires using Live View, which makes focusing slower. In PCMag's testing the camera "refocuses quite quickly during recording."
Cons
I didn't have as easy a time with video recording as most reviewers, though my test involved close up/macro shots and extreme bright and dark lighting. For situations like this, you're better off with a camcorder, anyway. But with balanced lighting and with subjects that aren't close enough to require refocusing, this camera does well enough.
Live View, which uses the LCD display in back to frame shots (instead of the viewfinder), may seem a more natural way to use the camera if you're coming from shooting with a smartphone or point and shoot. However, autofocus speed--thus overall picture-taking speed--is slower.
For all the great effects and scene modes it has, the D5200 lacks a few extras that smartphone owners are used to, such as panorama mode and easy-access HDR. HDR is available, it's just too buried in menus to be really useful. CNet found this "annoying" and didn't think the resulting pictures worth the effort.
PCMag specifically noted the lack of built-in Wi-Fi and GPS. Though these features are standard on many compact cameras, they're not common on DSLRs in this price range. You can get connectivity and geo-tagging via add-ons, but they're expensive.
Nikon D5200


Runner Up: Canon EOS Rebel SL1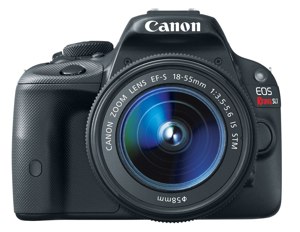 The Rebel SL1 is a close runner up to the Nikon D5200 due to the compact, lightweight body, image quality, and speedy autofocus in Live View. That last feature makes it better for video, so if that's just as important to you as images, the SL1 is worth considering over Nikon's offering.
The size and weight are also major considerations if you want to carry it around in an already heavy bag. However, the grip isn't as comfortable, particularly if you have long fingers, and there aren't as many useful and wide-ranging pre-sets. This is mitigated somewhat by the touchscreen LCD which makes getting into menus a lot easier.
Canon EOS Rebel SL1

Discussion