The Best Soundbar: JBL Cinema SB400
Techlicious editors independently review products. To help support our mission, we may earn affiliate commissions from links contained on this page.
The JBL Cinema SB400 wins our award for Best Soundbar with excellent surround sound effects and the best deep bass we've heard from a soundbar.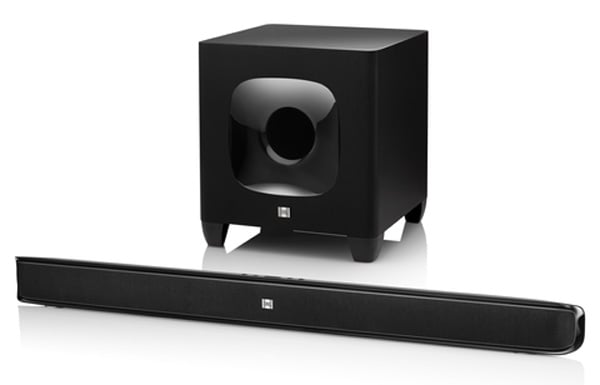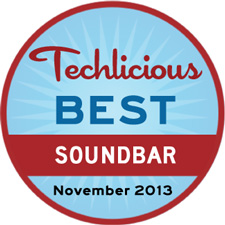 Soundbars are the easiest way to get better sound from your TV. Most of them are comprised of a single, slim speaker that sits under the TV and a wireless subwoofer you can put wherever you have room for it. Simple enough? There's even more good news: Most soundbars cost less than $300.
While you can get a great soundbar for under $300, you only get so much sound system for that price. What if you want something a little better —and you're willing to pay for it? Thanks to a new generation of soundbars built to higher standards, well-heeled soundbar buyers now have more options. These new soundbars cost anywhere from $300 up to about $750, and most offer features you can't find in under-$300 soundbars.
But do high-end soundbars really sound better than the inexpensive ones? I tested just shy of 50 soundbars and solicited opinions from and researched reviews by other audio experts. While a few of these higher-end soundbars offer appealing combinations of features and performance, my pick is the JBL Cinema SB400 at $549.
Why the JBL Cinema SB400?
Right away, you'll notice that the 2.5-inch Cinema SB400 is slimmer than most of its competitors. But it's no lightweight. Even in my large, 350-square-foot living room, the SB400 has plenty of power to play action movies at loud volume without sounding strained or distorted, as many less expensive soundbars do. Voices sound much clearer than they do from most soundbars I've heard, and the SB400's Harman Display Surround Technology produces a big, enveloping surround sound effect without ever sounding gimmicky or unnatural.
But the most notable selling point of the SB400 is its included subwoofer. It has an 8-inch woofer cone, as compared to the 6.5-inch cone of most soundbar subwoofers, and a 200-watt amp that delivers double the power of a typical soundbar sub. In my tests, it delivered an average of 5.4 more decibels of bass power than the next best competitor.
What does that mean to you? A more realistic, captivating sound that's closer to the effect of a full home theater. The SB400 even has enough power to shake your chair a little. (Don't worry, you can always turn the subwoofer down if the neighbors complain.)
The SB400 also adds an HDMI input, something found on few (if any) inexpensive soundbars. The HDMI input lets you connect the SB400 to your TV with a single inexpensive HDMI cable. If you use the HDMI connection, the SB400 works more or less like part of the TV. The TV's remote will control the volume and mute on the soundbar, and it will all work automatically with no programming required. If your TV has Audio Return Channel (ARC) — and most TVs made in the last few years do — the sound from your TV and all the devices connected to it will be automatically routed into the soundbar.
What if you have a 10-year-old TV without HDMI? No problem. The SB400 can "learn" the commands from your TV remote. That's important, because the SB400's little credit-card-sized remote is one of the unit's only downsides.
As with most new soundbars, the SB400 incorporates Bluetooth wireless technology so you can stream music, Internet radio, Pandora and so on from your smartphone, tablet or laptop computer.
The sound of the SB400 isn't perfect, but no soundbar is. I thought it sounded just a tad too trebly.
Other reviewers on the JBL Cinema SB400
Fellow audio writers Geoff Morrison and Lauren Dragan, who recently helped me out with a soundbar shootout for Sound & Vision magazine, agreed that the SB400 sounded great, if just a little too bright in the treble.
There's probably no other soundbar that's been so enthusiastically reviewed. British mag What Hi-Fi? gave it 5 out of 5 stars. In the 24 user reviews posted to date on retail site Crutchfield.com, the SB400 averages 5 out of 5 stars. Among Amazon.com's 21 user reviews, it averages 4.5 out of 5 stars. Men's Journal called it "a solid choice in a sub-$600 system."
Downsides of the SB400
It's hard to think of a feature I'd want to add to the SB400. Some soundbars offer multiple HDMI inputs instead of the SB400's single HDMI input, which might come in handy if you want to plug all your sources (video game system, cable box, Blu-ray player, etc.) into the soundbar, then run a single HDMI to the TV. Personally, I prefer to connect everything to the TV, then run a single HDMI to the soundbar.
Also, if for some reason you insist on using the soundbar's remote to control the soundbar, you'll likely hate (and possibly lose) the little credit-card-sized one JBL supplies.
[EDITOR"S NOTE 6/29/15: The price of the JBL SB400 has come down to $499 on Amazon.]
JBL Cinema SB400


Discussion