Best Soundbar under $300: Vizio S4221w-C4
Techlicious editors independently review products. To help support our mission, we may earn affiliate commissions from links contained on this page.
The Vizio S4221w-C4 wins our award for Best Soundbar under $300 for delivering superior surround-sound audio for everything from whispered dialogue to powerful bass.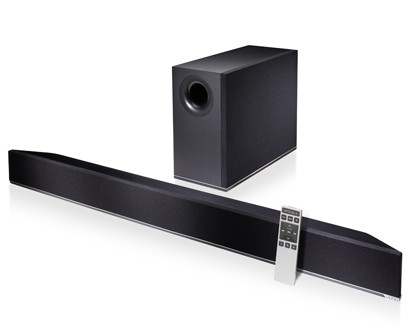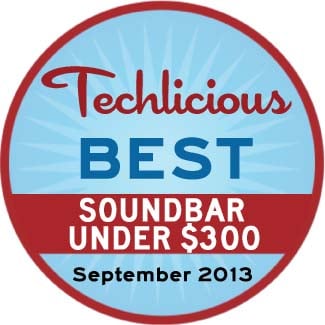 Today's inch-thick TVs simply have no room for engineers to put in good speakers. If you want good sound when you're watching TV, you've got to add an external audio system.
Fortunately, there's an easy fix: the soundbar. A soundbar is a long, slim speaker with amplifiers and surround-sound processing built in, usually accompanied by a wireless subwoofer to pump up the bass. Place a soundbar above, below or in front of your TV, and the subwoofer wherever you can fit it, then plug in a cable or two, and you get a nearly instant sonic upgrade.
Most soundbars cost less than $300, but it's hard to find stores that demo them. So how do you know which one's the best?
We've got that figured out for you. I've personally tested 48 soundbars at last count, including several of the very latest models, and researched reviews of the best sub-$300 soundbars from other audio experts,
My pick? The Vizio S4221w-C4 coming in at $249.
Why the Vizio S4221w-C4?
At a time when other companies are slimming their soundbars down to less than 2 inches thick, Vizio's S4221w-C4 looks pretty porky at 3¼ inches. The no-frills styling looks like it was done by and for engineers. But what's special about this soundbar is the sound.
I've been listening to the S4221w-C4 in my home for the last week and have been blown away by the sound quality it delivers for $249. Dialogue in movies and TV shows sounds extremely clear and natural. Even without the SRS TruSurround surround-sound mode activated, it was as if there were surround speakers on the sides of my room. The subwoofer delivered surprisingly powerful and punchy bass, a very different and far superior experience than I've had with the boomy-sounding subwoofers included with most soundbars. The overall experience was very much like have a full surround-sound system – and that's even before I made any adjustments to it.
I thought it sounded nice with music, too: Loud enough for parties, yet refined enough even for more delicate genres like folk and classical.
What do other reviews say?
While there were no professional reviews of the brand-spanking-new S4221w-C4 posted at the time of this writing, I was able to find a few consumer reviews on BestBuy.com, where user ForestHills wrote: "This soundbar is perfect. It sounds great and I can hear it all throughout the house. It gets loud! … I mostly bought this for my music, but it sounds great with our LG TV, too. I am very pleased to have spent my money on this product."
CNET hasn't reviewed the S4221w-C4, but liked the S4251w-B4, its more sophisticated brother. However, the S4251w-B4 requires you to set up two extra surround-sound speakers. That'll give you better sound, but it makes the setup more complicated.
The features that make a difference
With a few exceptions, it's hard to knock the S4221w-C4 on features. It has Bluetooth wireless, so you can stream sound from your smartphone, tablet or computer. The sleek remote has a built-in alphanumeric display, so it's much easier to make adjustments than it is with soundbars that have only blinking lights to tell you what's going on.
The S4221w-C4 can also accept the volume up, volume down, and mute commands from your TV remote, so the soundbar will work almost like it's part of your TV. You'll still have to remember to turn the soundbar on and off, though.
Features the soundbar lacks
What does the S4221w-C4 lack? Mainly, an HDMI connection. HDMI is the standard connector for TVs, cable and satellite boxes, most videogame consoles, Internet streaming boxes and Blu-ray players. Instead, the S4221w-C4 uses an optical (Toslink or Coaxial) or analog (RCA or stereo mini jack) audio connector. In many cases, the HDMI connection will make the TV and soundbar work completely in sync, using just the TV's remote for control. However, unless the soundbar has multiple HDMI inputs (the ones in this price range generally don't) HDMI doesn't offer such a big advantage.
The S4221w-C4 is also tall enough to block a TV's infrared sensor if the soundbar is placed in front of the TV and the TV's infrared sensor is mounted low (many are). The infrared light signals from the remote control may be blocked, possibly requiring you to hold the remote way up high to get it to work.
Vizio S4221w-C4


Runner-up: Sony HT-CT260H

Although I prefer the sound (and the simpler remote control) of the Vizio S4221w-C4, the Sony HT-CT260 also sounds very good, just not quite as robust and powerful. CNET loved the HT-CT260's combination of sound quality and features, and PCMag.com gave it an Editor's Choice award.
What's the HT-CT260 got that the Vizio doesn't? The new CT-260H version adds an HDMI input. CNET didn't review the "H" version and I haven't heard it, but Sony says that beyond the added HDMI input, it's the same product.
The HT-CT260 (both the regular and "H" versions) also has an infrared repeater in back. The advantage of this feature is that it assures the soundbar won't block operation of your TV's infrared remote control, as can be the case with the S4221w-C4. The HT-CT260 picks up these signals from your TV remote and sends them out again through a flasher on the back of the soundbar.
Whether you prefer the Vizio S4221w-C4's simpler look or the Sony HT-CT260H's flashy hexagonal design is, of course, something you'll have to decide for yourself.
Sony HT-CT260H


Discussion