Ecovacs Winbot W1 Pro: An Excellent Cleaner Held Back by Its Cord
Techlicious editors independently review products. To help support our mission, we may earn affiliate commissions from links contained on this page.
It's been over 20 years since iRobot introduced its cat-carrying Roomba robotic vacuum. Since then, there's been a bevy of imitators – and even a few that do windows. However, the initial attempts at robotic window washers – even earlier versions from Ecovacs – weren't entirely satisfactory. Some models required their human owners to manually wet the washer pads, while others used rotating brushes that tended to leave streaks. Finally, with the Winbot W1 Pro, Ecovacs has hit on the right combination of convenience and performance with a model that can motor along vertical glass surfaces high above the ground without complaint – and without streaks.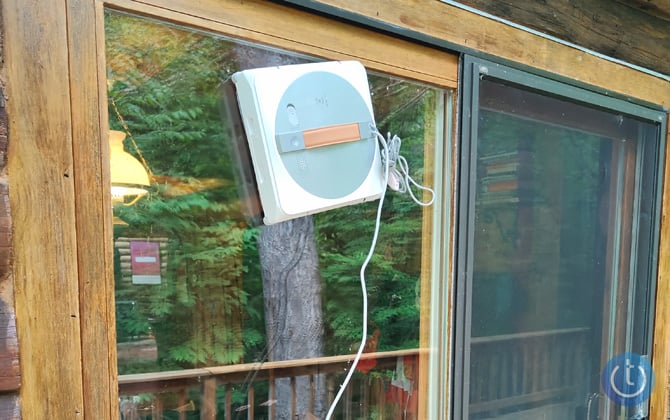 To be clear, the Winbot W1 Pro is not a vacuum – it only does windows. But for $399.99, it's an impressive cleaner that takes all the hassle – and risk – out of wiping windows whether they are on the ground floor or four flights up. In my tests, it handled everything from soot to guano and was so efficient and effective that I kept looking for more windows to clean.
Who Should Buy
+ Pros

– Cons

Streak-free window cleaning
Excellent suction adhesion
Automatic spraying

Requires being plugged in during use
Won't work on mullioned windows, decals, or curved glass
Anyone with large windows, including sliders and French doors, will appreciate the cleaning skills of the Winbot, making it an excellent investment. It uses plain tap water, so there's no expensive special cleaning fluid you have to purchase. More important, it means you don't have to dangle yourself outside windows on upper floors, making it an excellent, safe way to keep your glass clean.
Window Washer Basics
Ecovacs already makes a line of robotic vacuums and floor-scrubbing bots, so the company has experience in the cleaning arena. The Winbot fills a gap in such devices by automatically cleaning glass windows without leaving visible lines on your windows after it's done.
The Winbot robot is 10.6 by 10.6 inches square and weighs about 3.4 pounds, so anyone can wield it. The device uses a detachable microfiber cleaning pad (two are included) on its underside and two spray nozzles to dispense water from a 60 ml reservoir that lasts for about an hour of cleaning; typically, that will cover about seven 25.5-by-66-inch sliding glass doors, depending on how dirty they are. Also underneath the machine are two rubber tractor treads to propel it along your windows and a suction fan for keeping it adhered to surfaces. Rubber bumpers prevent it from damaging window frames, and sensors at each corner keep it from running off the edge of frameless glass (such as a shower door).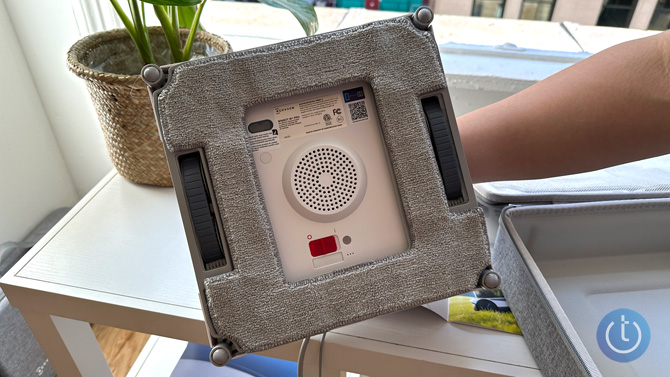 For power, the Winbot W1 Pro has to be plugged in. The machine comes with a 15.4-foot power cord, but I had to use an extension cord for some second-floor windows that didn't have a nearby outlet. The main power switch for the robot is underneath so that you don't inadvertently cause it to fall off a window by hitting the wrong button. The Winbot also has a 4.9-foot safety tether. Attaching it to a curtain rod will prevent the washer from falling should the power fail, but I would recommend keeping people clear of any windows while the robot is in operation.
Performance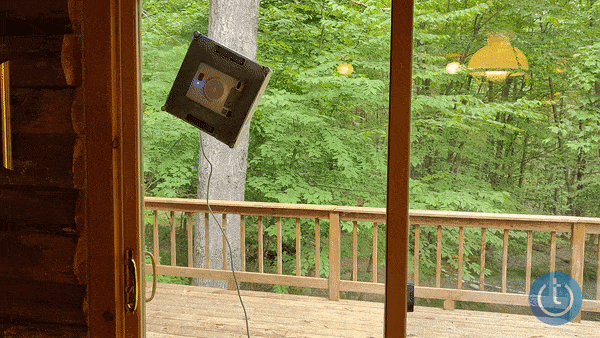 Like most electronics today, you can set up the Winbot with a smartphone app (Android or iOS). The app allows you to select a fast, deep, or spot clean. The first two modes run autonomously, with the latter allowing you to remotely control it to remove a stubborn mark. You can spin the robot, drive it up or down a window, as well as spray water. The tractor treads have small self-cleaning brushes to prevent them from leaving a trail, and the micro pads should be removed and washed by hand after use.
When you place it on a window holding down the start button, the Winbot makes an easily discernible change in motor tempo as it suctions onto the glass (so you know when to let go). A voice prompt can also be set to let you know you're good to go. According to Ecovacs, the Winbot generates 2,800 Pa (Pascals) of suction power, which delivers enough adhesion to let us confidently operate it on second-floor windows.
In my initial testing, I used the Winbot to clean seven full-sized sliding doors inside and out on both the ground and second floors of our test house. Truth be told, the windows had not been cleaned since mid-pandemic, and so presented something of a sordid mess. It turned out the Winbot was up for the challenge.
The Evcovacs device cleaned dirt, grime, and smudges (how did those get there?) off of all the windows. Better yet, it removed the remnants of bird droppings on my front slider, where an intrepid sparrow decided to build a nearby nest. On the inside of the windows, the robot even dealt with the remains of bugs whose lives I prematurely ended with a fly swatter. And the Winbot got into corners without leaving a single streak behind.
Granted, the Winbot's water and micro pad combination will not strip everything off a glass surface. For example, it could not get some polyurethane overspray off of one window, but the only thing that can do that is a razor blade and some elbow grease.
During operation, I found the Winbot usually generated about 68dB of motor noise, about the volume of a normal conversation. In deep cleaning mode, it takes about 8 minutes to clean one side of a 25.5-by-66-inch window. When the bot is finished, you push a button on the top side and grip the handle; it takes a couple of seconds to wind down, so if you forget, you've got a second or two to still grab its handle before it falls.
Some Limitations
The Winbot does an impressive job cleaning, but it does have some limitations. It can't be used on mullioned windows (which are too small) or on curved glass, where the suction system would fail, or on windows festooned with decals. I also found that lever handles on a pair of French doors prevented the 3-inch thick Winbot from completely squeezing underneath them to clean. Ecovacs notes that the Winbot also should not be used in rainy conditions, where a wet window would prevent traction, or when the temperature falls below 32 degrees Fahrenheit.
I also wish there was a cordless, battery-powered version so I didn't have to use an extension cord when the windows were far from a power outlet. And while its noise level was below 70 dB, I wish it were even quieter.
Bottom Line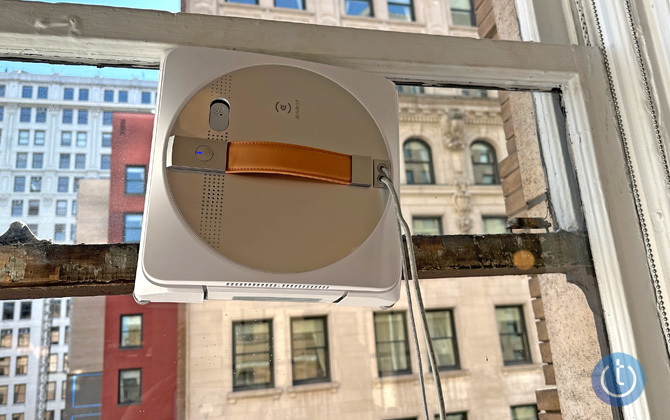 Once you reach a certain age of maturity, it becomes obvious that hanging out of windows and risking defenestration just to improve the view isn't the most prudent use of your time. The Ecovacs Winbot W1 Pro does an excellent job of relieving people of this onerous and dangerous task. It's reasonably priced for what it offers, and it should be a standard piece of cleaning equipment for any homeowner with second-story windows. The only improvement that could be made is to deliver the same streak-free cleaning skills in a cordless model.


[Image credit: Techlicious]
John R. Quain has been covering science and technology for over 20 years. His work has appeared in Rolling Stone, PC Magazine, Esquire, and U.S. News & World Report. He was the on-air technology contributor to the CBS News Up to the Minute television show for 17 years and is a regular contributor to The New York Times.
Discussion