Review of the GoPro Hero10 Black - the Best GoPro Camera Yet
Techlicious editors independently review products. To help support our mission, we may earn affiliate commissions from links contained on this page.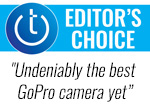 The GoPro Hero10 Black ($549) is the latest state-of-the-art action camera from the company that created the genre and continues to dominate it. The Hero10 Black is complementary to any other camera you might own, going places and doing things that smartphone cameras and full-size cameras are unable to. Conversely, the Hero10 lacks many features and capabilities found on other camera types.
Some aspects of the GoPro formula remain consistent from model to model, like the fixed-focus and fixed aperture lens. With the Hero10 Black, the physical camera is the same as the Hero9 Black: It's the upgraded processing that separates the new model from what came before.
GoPro Hero10 Black compared to Hero9 Black
Put a Hero10 Black ($549) and Hero9 Black ($449) side-by-side and the only obvious way to tell them apart is the color of the lettering spelling "GoPro." There is one other way to tell them apart: if you look at a reflection off the lens protector, the Hero10 Black clearly uses a better optical coating that cuts down the reflection/glare considerably. But that's not all, if you get the lens covers wet, you'll see that the Hero10 Black sports a hydrophobic coating, not a bad idea for a waterproof camera! Also, you can upgrade the lens cover of the Hero9 Black to the Hero10 Black cover for $20.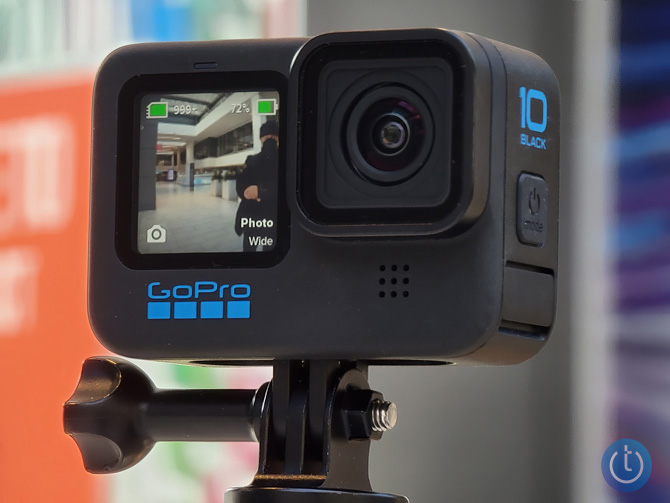 But aside from the lettering and lens cover, the Hero9 Black and Hero10 Black are doppelgangers. The defining design attributes that debuted with the Hero 9 Black and are carried over include: Dual screens, including a smaller color display on the front of the camera. Integrated mount, negating the need for a camera cage to mount the camera on a helmet, selfie stick, tripod, etc.
A primary difference between the two cameras is the more capable GP2 processor (vs the G1 in the Hero9 Black). It supports higher resolutions and frame rates, as well as faster photo processing and menu operations. The result is a camera that may look the same as its predecessor but is capable of producing video that looks a lot better.
The Hero10 Black also introduces new color modes. The Hero9 Black and previous GoPro cameras offered GoPro and Flat color. GoPro color has punchy contrast and vibrant color, at the cost of some highlight clipping and less flexibility to change the look when editing.
With the Hero10 Black, you get a choice between Vivid, Natural and Flat color profiles: Vivid is the same thing as GoPro color used to be, and Flat is also the same, and creates footage with maximum dynamic range and a visually flat look to it, which can appear dull if left untouched, but the idea is it's easy to color grade Flat profile when editing.
The new Natural color setting is a game-changer. It is for those times when you want your video to look natural and match footage from other cameras but not have to mess with color correction or grading. This profile preserves a greater dynamic range than GoPro color but applies a well-tuned contrast curve that results in a punchy image but is not exaggerated. When used in conjunction with the Medium sharpness setting, Natural creates ready-to-share video that lives up to its name.
Thanks to the GP2 processor, the Hero10 Black can apply in-camera HyperSmooth electronic image stabilization to video, regardless of which recording mode you use. The stabilization performance is similar to the Hero9 Black; it's just available in more video modes, including 4K/120 FPS and 5.3K/60 FPS (FPS= frames per second). But another difference pops up when using HyperSmooth and Horizon Leveling; the Hero10 Black can rotate a lot more while keeping the horizon line straight.
While the Hero10 Black is a step forward in its supported video resolutions and frame rates, it has dropped support for 1440/120 FPS 4:3 capture, which I found useful for capturing slow motion in the past. But the Hero10 Black does offer 2.7K/120 FPS 4:3 (Hero9 Black is limited to 60 FPS).
The Hero10 Black shoots 5.3K video versus 5K for the Hero9 Black. That translates to 5312 x 2988 pixels instead of 5120 x 2880, a marginal difference that's hard to see.
In addition to beating the Hero9 Black in video prowess, the Hero10 Black produces slightly larger JPEG photos (23 megapixels vs. 20). But that does not mean the Hero10 Black has a larger sensor! Suppose you take and process RAW files from both cameras. In that case, the pixel count is identical (23.3 megapixels) and images shot with the two cameras side-by-side show essentially identical levels of detail.
There was one highly notable difference between the two cameras when shooting either RAW or JPEG (and GoPro "SuperPhoto"). The Hero10 Black is much faster at processing each shot, to the point where it makes the Hero9 Black feel laborious to use in this manner. The resulting images are just about identical, even with the resolution difference. But the speed and ergonomics of shooting are superior with the new GoPro Hero10 Black.
Best uses for the GoPro Hero10 Black
Sports/Action
GoPro is the most famous brand in this category. If you want to film your skating or mountain biking or hiking or swimming or mountain climbing or skydiving or running a triathlon; whatever it is you do that's sports-oriented and active, GoPros are born to capture it.
Family/Friends
This may seem like a lot less obvious use, but GoPros are robust, capable cameras that anyone can use, even kids. The built-in HyperSmooth stabilization is so unbelievably effective; you can capture special moments like never before. In a pool. On a trampoline. Just give the GoPro to the kids and see what they do with it.
Helmet cam
This is an absolute classic application, relive the highlights of your rides. Stick a GoPro on a helmet and go out on a trail; the resulting footage looks like a floating camera. What better excuse to take a scenic excursion on your bike or motorcycle or electric skateboard or whatever it is you like to ride on for leisure than to go out and capture a beautiful day in 4K.
Vlogging
You can outfit the Hero10 Black with mod accessories that convert it into a vlogging powerhouse. This is primarily possible because of the front-facing screen, which the Hero10 Black carries over from the Hero9 Black. The Camera Media Mod ($79) is compatible with the Hero10 Black and Hero9 Black; it adds a front-facing directional microphone and dual cold shoe mounts for a light, external monitor, external mic, etc. It has a 3.5-millimeter microphone port and an HDMI output for monitoring and playback.
You can use the media mod concurrently with the Display Mod ($79) that offers a larger front-facing screen than what is built into the camera. When using the "display" mode, the front screen on the Hero10 may show data such as battery level, record mode, and time or pictures remaining.
GoPro also offers a Light Mod; it's a $49 super compact LED light. Fully equipped with these mods, the Hero10 Black transforms into a potent vlogging tool.
Architecture
This may seem counterintuitive, but the GoPro Hero10 is an excellent camera for shooting architecture, especially when there's good lighting or you have a spot to rest it. The trick is to use a low ISO so that the image is clean. And ideally, to shoot in RAW format and process the picture in a RAW converter (like Adobe Camera RAW). With the latter approach, you can get the maximum quality out of the camera, and I found that GoPro RAW has a surprising amount of recoverable highlight detail.
But you can also shoot architecture as a JPEG; be sure to use the Linear lens mode (with RAW, you apply the lens correction in post, with JPEG, you may also compose in Linear lens mode that eliminates barrel distortion). The point is that when you are shooting architecture, you want a wide lens with straight lines and infinite focus, all qualities that this GoPro possesses. And thanks to the 23-megapixel resolution, the images that come out are quite detailed and appear tack sharp as 8 x 10 prints and hold up even in poster sizes.
Time lapse
Regardless of the context, whether you are walking through a big city downtown, or a fantastic neighborhood, biking down a beach or hiking through a trail, or if you want to capture a sunset in time-lapse, GoPro makes it easy. There are dedicated settings that help you create Time Lapse as well as TimeWarp (i.e., motion lapse) video.
Slow motion
The flipside of Time Lapse is Slow Motion. And if you want to capture high-quality slow motion, the GoPro Hero10 is a perfect tool. It'll blow away the slow-motion that your cell phone captures, allowing for 240 FPS 2.7K and 120 FPS 4K, which translates to 8X and 4X slomo when converted to standard 30 FPS video, or 10X and 5X slow motion if turned into cinematic 24p.
What does this mean for the average person? If you want to capture friends or family bellyflopping in glorious slow motion, get a GoPro Hero10 Black.
Features and Specifications of the GoPro Hero10
Resolution
The GoPro Hero10 Black takes photos with a resolution of 23.3 megapixels and videos with a resolution of up to 5.3K
ISO Range
The IOS range is100 - 6400
Video Compression
H.264 (1080p, 2.7K/60p, 4K/30p) and H.265 (all supported resolutions). The H.265 bit rate is 60 Mb/s in the Standard setting and 100 Mb/s with bit rate set to High.
Video options
1080p (16:9) 24-240 FPS, 2.7K (16:9) 60-240 FPS (4:3) 60-120 PS, 4K (16:9) 24-120 FPS (4:3) and 4:3), 5.3K (16:9 and 4:3). All video modes now support Linear and Wide lens settings. 16:9 aspect modes also support SuperView (taking a 4:3 ratio video and stretching just the sides to produce a 16:9 video).
Photo options
JPEG, RAW, SuperPhoto. You can develop GoPro RAW files with Lightroom and Photoshop, including removing the fisheye effect. SuperPhoto is an automatic mode that chooses the processing type depending on the camera's senses, including HDR, tone mapping, multi-frame noise reduction, and no processing (same as JPEG).
GoPro allows for longer exposures with a dedicated Night Photo mode.
Time-lapse options
GoPros are an excellent tool for time-lapse photography. The Hero10 Black offers options for standard time-lapse, which is for daytime time-lapses with a stationary camera. It has a dedicated Night Lapse mode to take incredibly moody urban vignettes and the trademark trailing car headlights.
The most exciting time-lapse mode is TimeWarp, which applies robust stabilization and allows you to take moving time-lapse images. You can even shift into and out of real-time as you capture, making for exciting b-roll footage.
Water resistance
One of the great things about GoPro's Hero10 Black is that you can take it into the water. Even without a protective enclosure, it's able to handle up to 33ft of submersion. You can add to the Protective Housing and Waterproof Case by GoPro ($49.99) that extends the waterproof limit down to 196 feet, so you can take the camera with you if you are a diver. When not diving, the same case can also protect the camera lens from damaging debris or even save the whole camera from an impact.
Compatible accessories
Because the Hero10 Black is the same design as the Hero9 Black, it shares accessories and there are many to choose from right from its introduction. While GoPro sells many accessories that are compatible with all of its cameras, such as grips and mounts, what's specific to the Hero10 Black (and Hero9 Black) are the various mods mentioned earlier, extra batteries, and GoPro's The Remote, a rugged smart remote that connects via WiFi to one or more GoPros concurrently and offers in-depth control of the camera settings.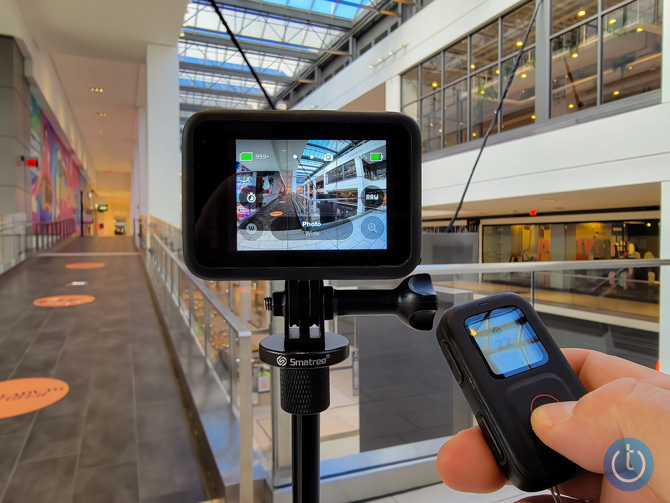 Unboxing, Setup, and First Impressions
I purchased Hero10 Black for personal use directly from GoPro, so this is not a review sample. I found a hard case inside the box containing the camera, battery, quick release helmet mounting bracket, and USB cable. Charging the battery is just a matter of plugging the unit into a USB charger. I added a 256 GB Samsung Evo Select microSD card with a U3 rating that's both large and fast enough to handle the high bitrate 5K video.
Some quick background: I started buying GoPros with the Hero7 Black, which was the camera that came out along with the ill-fated Karma drone. I liked that model because GoPro made a compatible gimbal, the Karma Grip, which worked very well (and I still have it). Anyhow, since then, GoPro has chased electronic stabilization, and anyone who wants to use a gimbal needs to set up the camera on a third-party option—I used a Zhiyun Crane M2 ($179 on Amazon) for some of the content I created in the context of this review.
I already have the Hero9 Black, so making a direct comparison was as easy as mounting the two cameras side-by-side and connecting both of them to The Remote.
It didn't take long to realize that the Hero10 Black is the superior camera. This is a true testament to what a difference a processor can make. Take the exact same camera platform in terms of lens and sensor, add a processor with 2X the power, and suddenly you have a more capable camera. It takes more pictures faster, regardless of what mode it's in, and it's able to handle more processing, higher frame rates, and higher resolutions.
The main tests of the Hero10 Black were related to press events that I also photographed with a professional mirrorless camera and my Samsung S21 Ultra smartphone.
One setting was a restaurant's grand opening that took place in the evening, and everything I shot video-wise was handheld. This is a torture test because the ambiance is relatively dark, and electronic image stabilization cannot fix the motion blur that occurs with slow shutter speeds. Electronic image stabilization works best with high frame rates and high shutter speeds. For all of the video, I used built-in stabilization and the Linear lens mode, the idea being to see if the GoPro could create a usable collection of b-roll.
This experiment produced mixed results. The video is good enough for sharing on Instagram, but I would not upload it as a 4K video on YouTube; the quality suffers too much from the darker setting. High ISO noise eats away at the overall resolution. But that's only when viewed as 4K on a large screen. You don't see the micro-jitter on the phone, and you do see a nice, sharp, stable image! There's a little bounce from the walking, but I was not trying to emulate a Steadicam operator. Color is excellent, so's the sound, no complaints here; be realistic about what the Hero10 Black can do in a darker setting, and you'll love it. In retrospect, I should have brought a gimbal with me.
The other setting was the opening of the new segment of trail along with Schuylkill River in Philadelphia. The mayor was there, so were a bunch of people and their dogs and their bikes. After doing the photography of the ribbon-cutting (using a Lumix G9), I took my Onewheel and rode up and down the trail with the GoPro mounted on the Crane M2, shooting video destined for ReelSteady Go processing. I know you're asking, "wait, ReelSteady? What?". Let me explain.
GoPro purchased a company and product called ReelSteady Go ($99). This software takes footage from the GoPro shot without internal processing and stabilizes it on your PC. How does it do this, and why would you do it? The stabilization quality, including being able to control how much is applied, and the gain in resolution plus a wider field of view, are all arguments for it. The video coming out of the Hero10 Black contains the gyroscope data from the camera, so even though it looks shaky before running it through ReelSteady, afterward, the stabilization achieved is unparalleled, in my view. So, suppose you want the very best result from your GoPro and are willing to have a post-processing workflow to accommodate. In that case, you can get genuinely cinematic smoothness, the likes of which I struggle to get from other camera systems, even when using a gimbal.
Of course, the Hero10 Black's built-in stabilization is also highly effective, especially when the subject is outdoor action. In many situations, it's all you need and makes for footage that's ready to share. Compared to even the best camera phones, at least in bright light, the GoPro Hero10 Black can use better stabilization to create higher quality video than I have yet to see come from any phone. But, notably, this advantage is exclusive to ultra-wide perspectives; if you want a more zoomed-in look to your video, then GoPro is not the way to go.
I took the Hero9 Black and Hero10 Black to one of the most impressive fountains in Philly, the Swann Memorial Fountain, where I put them side-by-side on a pole and took various photos and videos, covering many of the modes, to glean what the difference is in quality between the two. And it comes down to this: Up until and including 4K/30p video, the two cameras perform nearly identically. And photographically, the same, near-identical images. Sure, the JPEG from the Hero10 Black is a little larger, but it's a token difference.
But what the Hero10 Black can do is go beyond the Hero9 Black when it comes to ultra-high-definition video. The most significant advancement, in my view, is found in the various 4K modes, and in particular 4K/60p, which is a fantastic format for shooting action. The Hero9 Black crops into the image when shooting 4K/60 and the resulting image quality suffers compared to 4K/30p. But the Hero10 Black does not do this; it shoots 4K/60p with the same field of view and quality as 4K/30p. The resulting video looks a lot more detailed from the Hero10 Black. And if you need to push the camera to its limit, there's even the option to shoot 5.3K/60p 16:9 linear, which yields superb quality and allows you to crop to 4K for some flexibility in composition. The Hero9 Black is limited to 5K/30p.
Another trick up the Hero10's sleeve is 4K/120p, 4X slow motion (5X if you render to 24p). I find this is the best-yet slow-motion setting from a GoPro, mainly because it also incorporates image stabilization.
On my way home from the fountain, I tried out the TimeWarp feature, available in resolutions up to 4K 16:9 or 4K 4:3. It worked as expected and produced a video that I'd gladly upload without any further edit, buttery smooth. You can manually adjust the speed of the TimeWarp effect or allow the camera to do that for you.
I used the GoPro as a helmet cam on a different day as I rode my Ninebot Segway Max scooter. The camera can do an excellent job with stabilization, despite the somewhat rough ride of the scooter. While it's not quite as buttery and perfect as the footage from the OneWheel and gimbal, it's still very smooth, and nobody gives a second thought about helmet-mounted GoPros since many people wear them just for the sake of security (which is a valid application). But what's awesome is that the footage the video GoPro Hero10 Black captures is of such high quality that even video of riding around your neighborhood looks epic.
GoPro Hero10 Black Sample Still images
The four following photos show the difference between RAW capture and JPEG capture, as well as the difference between using ISO 100 and ISO 1600 sensitivity. Regardless of ISO, the first thing to note is the reduced field of view when shooting in-camera JPEG; the RAW conversion looks like a true wide-angle architectural photo, the JPEG is a bit too cropped. Another feature of the RAW versions is higher dynamic range, which you can see clearly by looking inside the stores near the bottom of the image. Note how the RAW version has a lot more detail in the shadows, and you can also spot a little bit more highlight detail in the skylight.
When comparing the ISO 100 images, JPEG versus RAW, you can see the RAW conversion has an edge-to-edge sharpness that's missing from the JEG. But, both images are largely free of excessive noise. When comparing the ISO 1600 versions, it is readily apparent that the in-camera JPEG suffers from a lot of noise, while the RAW conversion is nearly noise-free, thanks to the use of denoise in Adobe Camera RAW. When comparing ISO 100 and ISO 1600 RAW files, there's a clear loss of detail, but I'd argue that the ISO 1600 RAW looks almost as good as the ISO 100 JPEG.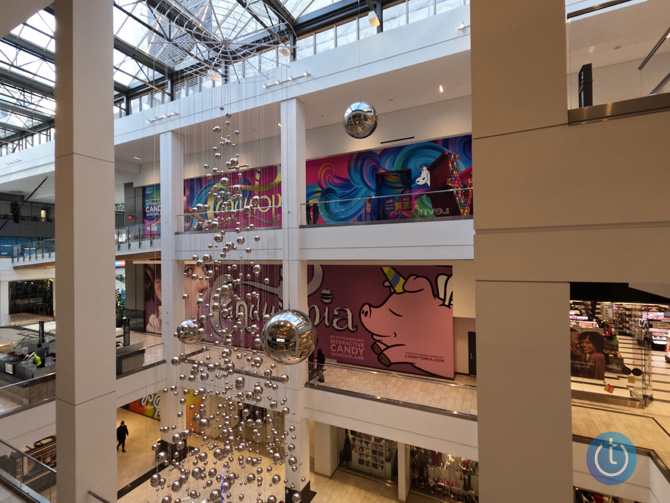 Image taken by GoPro Hero10 with ISO 100 and saved in the camera as a JPEG file. Click on image to view the high-res.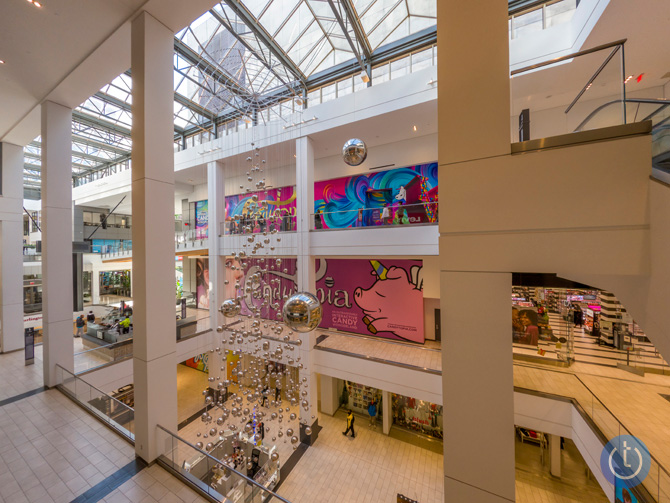 Image taken by GoPro Hero10 with ISO 100 and saved in the camera as a RAW file. Click on image to view the high-res.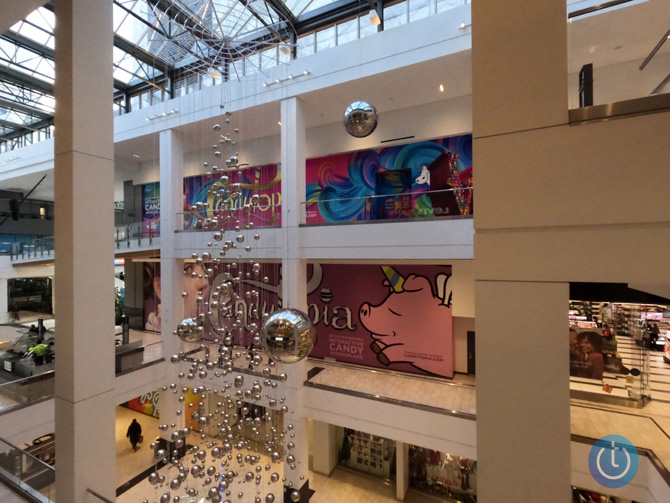 Image taken by GoPro Hero10 with ISO 1600 and saved in the camera as a JPEG file. Click on image to view the high-res.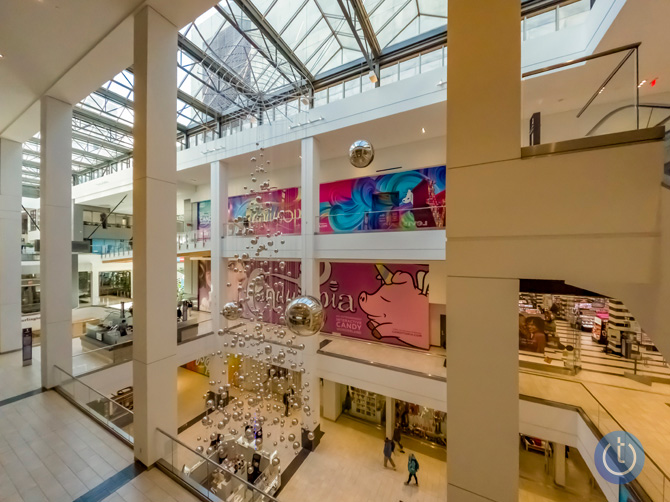 Image taken by GoPro Hero10 with ISO 1600 and saved in the camera as a RAW file. Click on image to view the high-res.
There's one more image to compare to the others, an in-camera HDR JPEG. With this mode, you cannot select the ISO; the camera does it for you (EXIF data claims ISO 390). The HDR JPEG has the narrower field of view of the regular JPEG and is also somewhat noisy—noisier than either RAW conversion. But, it does offer an improved dynamic range that is roughly similar to what you get from RAW conversion.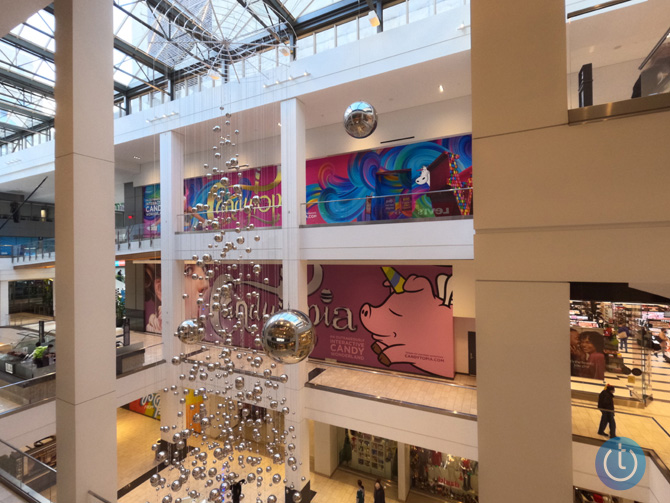 Image taken by GoPro Hero10 with HDR turned on and saved in the camera as a JPEG file. Click on image to view the high-res.
The upshot? The GoPro Hero10 Black is an action camera, and JPEG shooting is not its strong point. That's what phones are for! But, if you shoot RAW, the Hero10 Black is capable of surprisingly great picture quality with a wide perspective that's suitable for architecture and landscapes, in a camera that's incredibly smaller than a mirrorless or DSLR equipped with a wide lens.
GoPro Hero10 Black versus the competition
The new DJI Action 2 ($519 on DJI and Amazon) is perhaps the most robust competition yet for GoPro. It offers a larger sensor and a radically small form factor, with similar support for video formats. It's also modular, much like the other main competitor for GoPro, the Insta360 One R. This product is new to the market. It is an intriguing design due to the magnetic attachments and the ultra-wide field of view of its lens (150 degrees, equivalent to a 12.7mm lens, which is quite impressive).
Insta360 One R ($549, on sale for $467 on Insta350 and Amazon) is a modular action camera system that can accommodate various lenses, from standard 4K action to 360 and including a module with a Leica-branded lens and 1" sensor. It's an ambitious system but hampered by the small size of the screen and clunky controls; though it scores points for versatility. The 1" sensor module does offer something the competitors do not.
Sony RX0 II ($699 on Sony and Amazon) is not marketed as an action camera but rather an ultra-tough production camera with a 1" sensor and a not-so-wide lens. But it is similar in size to the other action cameras, offers 4K/120p capture, and is, in fact, waterproof (33 feet), dustproof, shockproof (6.5 feet), and crushproof (440 lb). So yeah, it can take it like the others. The most significant difference in the field of view is that this camera has a tighter 24mm equivalent lens while the GoPro Hero10 Black's standard Linear photo mode offers a 19mm field of view and has some fisheye-effect 16mm equivalent FOV.
The bottom line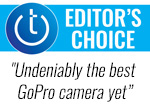 The Hero10 Black is undeniably the best GoPro camera yet. It takes a well-defined formula and tweaks it for maximum performance and usability. But there's no question that Insta360 and DJI are hot on their tail to grab a slice of the action camera market the GoPro dominated for so long.
The main thing about action cameras in 2021 is they take quite remarkable videos and even good photos. But aside from Sony's offering, they are distinctly wide-angle creatures. The Hero10 Black's standard Linear 19mm equivalent lens is very much a case of "not too wide, not too narrow," and I can tell you from experience, that's a prevalent focal length for architectural photography, but it also works for vlogging.
The critical thing is the Hero10 Black likely does many things you can't do with a traditional camera, and you might not want to do with your phone, like go swimming with it or hook it up to your helmet. But a GoPro does not need some crazy outdoor adventure to justify its existence.
You can slip a GoPro into a soft case and give it to kids to play with. If you leave horizon leveling turned on plus image stabilization, the result could be the sort of keepsake home video that you'd never be able to get any other way. Or, if on vacation, you can wear a GoPro around your neck on a lanyard and have it at the ready, instead of being the geeky tourist with the too big camera. Sure, you'll still use your phone too, but I guarantee that there are many travel and street photos and videos that look better shot with a GoPro Hero10 Black than any of the latest, high-end smartphone cameras.
Ultimately, GoPro manages to get one more round of utility out of its current design by putting the whole system into overdrive using a faster processor. But the competition is intense, so GoPro will have to keep innovating to keep its market-leading position. Nevertheless, the Hero10 Black pulls it off, and thanks to the depth and breadth of the GoPro ecosystem, it remains the best all-around action camera, at least for now.
Price: $549, currently on sale for $449

[Image credit: Mark Henninger/Techlicious]
Mark Henninger is an AV enthusiast, equipment reviewer, photographer and videographer. He is a THX-trained video calibrator and has extensive experience working with consumer displays including TVS, projectors, monitors and smartphones. Mark started the editorial review program at AVS Forum, where he served as Senior Editor and then Editor.
Discussion