He Said, She Said: A Hands-on Review of the Apple iPad
Techlicious editors independently review products. To help support our mission, we may earn affiliate commissions from links contained on this page.
Written by Suzanne Kantra and Stewart Wolpin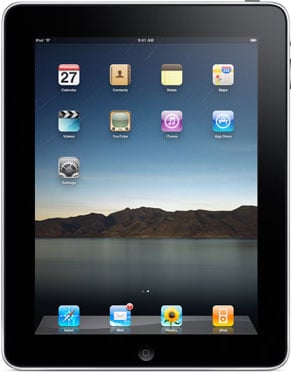 Many iPad reviewers are asking a rhetorical question: "Why do I need it?" That's the wrong question. You don't need an iPad. iPad is a total time-waster, but in good way.
The real question is "Why do I want it—or not?" To answer this question, Stewart Wolpin, one of our regular contributors, and Suzanne Kantra, Editor-in-Chief, purchased iPads ($499 for 16GB WiFi-only versions) and unboxed them this weekend so we could provide a full hands-on review of the good, the bad and the beautiful of this highly-hyped product.
Stewart: iPad gives you more ways to fill your time than any other device devised. Over the weekend, it provided distraction while I accompanied my wife on a shopping trip. I was actually glad to go since I knew I had a cool plaything to help pass the time on the boutique's sofa with the other husbands and boyfriends, many of whom wanted an iPad tour.
On a weirder level, I discovered iPad makes an excellent companion in the, um, reading room, which is totally a guy thing. In fact, given all the distractions iPad offers, I have a feeling I'll do a lot less reading, regardless of which room I'm in.
Suzanne: The holiday weekend was the perfect opportunity to try out the iPad, as well as observe its use by my husband, children and parents. All took to the iPad easily and there was at least one app that caught each person's eye.
Out of the Box
Apple has simple down cold, and the experience of unboxing the iPad was no exception. You get the iPad, a charger (which pulls apart to serve as a USB connector) and a one-page guide.
Before you can use the iPad, you have to make sure you've downloaded and installed the latest version of iTunes on your computer. You then connect your iPad to your computer, so you can register your iPad, transfer music and movies in your iTunes library, and sync contacts, calendars and web browser bookmarks. If you already own a Touch or iPhone, you can also transfer apps you've bought.
Suzanne: One notable problem is that the 3-foot charging cable/USB cord is far too short. If your outlet is near the floor, you won't be able to charge and use the iPad at the same time, unless you're sitting on the ground. Plus it doesn't charge in all USB ports. The manual says that it will charge very slowly, but my iPad had a "not charging" notification message when I tried plugging it into all of my computer's USB ports. Apple is basically forcing you to get the optional 6-foot power adapter—for another $29...
Look and Feel
The iPad is a beautiful, sleek device that we would be happy to be seen carrying around. At 1.5 pounds, iPad feels a little heftier than we'd expected, more than twice the weight of a basic Kindle, but it's definitely lighter than a laptop or netbook, which we wouldn't bother to carry for purely entertainment purposes.
Suzanne: Unlike the Touch and iPhone, the iPad has flat edges. So if you're holding it for an extended period of time, to read a book or play a game, the edges cut into your hand. I ended up resting it on the palm of my hand, lap or the bed most of the time, but that's not always practical or preferable. And, this may just be a perception issue, but I'm afraid it will break. I freely hand over my iPods, Touch and even iPhone to my toddler for use, but not the iPad. Part of it is the price tag, but the other is a sense that the big 9.7-inch display will crack if dropped. A comfortable, shock-resistant case is a must.
Stewart: Its smooth back is too slippery; considering its cost, I'd feel better with a firmer grip.
iPad LCD screen has a wide viewing angle. My wife and I watched the Paul McCartney at CitiField concert sitting side-by-side on a train and each of us could see the band just fine. But the screen is highly-reflective. In daylight or other bright environments, it's almost a mirror and, in dark scenes especially, every finger smudge and dust spec becomes visible and annoying. Fortunately, iPad, like the iPhone, has a special anti-smudge screen that reduces oil streaks.
WiFi or 3G?
Stewart: The initial WiFi version sort of limits iPad's best behaviors. You can wait until later this month for the $130-extra 3G version and its $15/month AT&T 3G service, or get a MiFi – a deck of playing cards-sized gadget that converts a cellular signal into WiFi, which also can be used with your laptop – from Sprint or Verizon. Slip the MiFi in a pocket or backpack and you become a walking hotspot. I've been using Sprint's, and it works perfectly.
Suzanne: A number of the apps need wireless connectivity to work properly. However none are compelling enough that I can see shelling out another $15 or $30 for a month of cellular access on top of the $130 3G premium. And I already get email on the road through my iPhone. So I'll be sticking to my iPhone for connected apps away from home.
The Interface
If you have a Touch or iPhone, there's really nothing to learn. There are just three buttons on the iPad – the Home key, which brings up the listing of apps, a volume toggle and an orientation lock, which disables iPad's accelerometer.
Most of the navigation is done via the 9.7-inch touchscreen. You touch to select items, swipe to turn pages and move items around, and pinch to shrink, enlarge and rotate. There's also a virtual keyboard, which automatically pops up any time you want to input text.
Stewart: I like typing on iPhone's touch QWERTY but was concerned that typing with the iPad on my lap and with the screen facing up parallel with the ceiling would be a problem. Not only wasn't the angle a problem, but after a half dozen typing sessions I found I could tap out messages and short notes with a high degree of accuracy and speed, which even I was surprised by.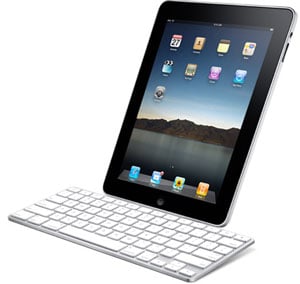 Suzanne: I frequently use the iPhone virtual keyboard to compose messages, but continue to be plagued by typos. With the iPad keyboard, I've had virtually no issues. The larger keyboard really makes a difference. But if I were going to use this for typing school reports, I would go for the add-on keyboard ($69).
Lacking is a camera for stills, video recording and video chat. Most netbooks and cell phones have them built-in, which makes its absence annoying. We Skype all the time with relatives and that isn't going to happen on the iPad.
The Basic Apps
The iPad comes with 12 apps preloaded onto the device. If you're a Touch or iPhone user, you'll immediately notice that most have been upgraded to make use of the larger, higher resolution display.
Productivity: Calendar/Contacts/Mail/Notes/Maps
The updated productivity apps really make use of the extra space. Whether it's seeing a list of your contacts while viewing one, pulling up the list of new mail over an email or viewing more of a map, the improvements speed up access and use. They also look like their real world counterparts—Contacts looks like a physical book and Calendar likewise.
Web Access: Safari/YouTube
For a portable device, Safari is a great browser. It renders pages well and the added screen size makes selecting links even easier than on the iPhone. The lack of Flash, which many sites use for navigational elements and videos, is definitely a problem. Media properties like the Wall Street Journal, TMZ and The New York Times, have apps, which solves the access issue, and Apple pre-loads YouTube. If you're planning on this being your only means of Internet browsing, though, think again.
Entertainment: Photos/iPod/Videos
iPad is a great digital picture frame. Just hit the flower icon to the right of the screen unlock slide to start an animated slide show. With iTunes, it's ridiculously easy to sync your pictures. And like iPod and iPhone, iPad optimizes (i.e. compresses) your photos so you don't waste memory storing high-resolution photos, which means you'll be able to fit more pictures on the iPad.
If you've purchased videos from the iTunes store in standard definition, you'll have mixed results. Cartoons like Scooby Doo looked fine, but the sitcoms looked a little grainy. The built-in speakers were surprisingly good—delivering load, clear sound for movie watching.
Shopping: iTunes/App Store
Not much has changed here. Making purchases is still faster and easier on your computer, but it's easy enough to search and see best sellers.
iPhone/iPod Touch Apps on iPad
One of the purported benefits of the iPad is the existing library of more than 140,000 iPhone/Touch apps. Using apps that aren't designed for the iPad's larger screen poses some problems. You can run them in a small window on the iPad or blow them up to fill the screen. Unfortunately many of the apps have just enough resolution to look good on the iPhone/Touch's 3.5 inch screen. Look for apps that say they're iPad compatible, but even then you won't really know until you tried them.
Reading eBooks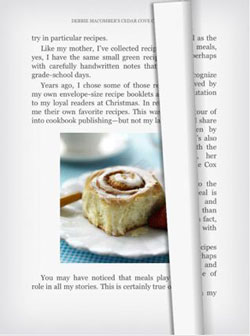 Suzanne: The Apple iBook and Kindle book reader apps are a pleasure to use. You can easily adjust the brightness and font size right on the page and with the iBook app, you select from five different fonts. Both also have a smooth page turning animation that makes it feel more like you're reading a real book.
I did not find the backlit screen uncomfortable to read and it works great in areas with low light, unlike the Kindle and other eInk readers. But the iPad is a lot more reflective, which was not great for outdoors. Also, you definitely feel the weight of the iPad (1.5 lbs) compared to a Kindle (10-19 oz).
Playing Games
Stewart: Thanks to iPad's large 9.7-inch screen and snappy accelerometer eliminating the need for separate navigational controls or joysticks, iPad is a nonpareil gaming device. And thanks to iPhone, there are more games available for iPad than for all other portable gaming platforms combined. I know I looked like an idiot "driving" (i.e. waving it around to steer) a souped-up virtual Volkswagen in EA's Need For Speed Shift racing game, but I didn't care.
Suzanne: As a casual gamer, I love the selection of games. The board games, though, really benefit with the ability to use the iPad as though it were a real game board. For checkers or chess, for instance, you can set the iPad between two people for comfortable play—not passing the device back and forth. Some of the card games even recognize when you cup your hand over your stack of cards, so you can peek in privacy. I really got hooked on Dungeon Hunter HD, a quest-based role playing game.
Summary
Suzanne: The iPad is definitely a luxury item for now. It's not a replacement for a laptop because it has a deficient browser and no camera and it won't take the place of your current portable entertainment device because it's too big and fragile. It can replace your eBook reader, your portable gaming machine (for casual games only), your digital picture frame and your portable video player. The question is whether that's enough for you. Can you cobble enough uses together to justify the iPad's $500 price tag?
For me the answer is yes. In fact I can't wait to go sit in the dentist office waiting room this afternoon. I hope they're running late.
Stewart: Like the iPhone and the iPod before it, the iPad is not about its impressive specs. It's about what it does, the experience. The iPad takes functions, features and a user interface we're familiar with, repackages them and creates new usage paradigms. That means more ways to kill time in on public transportation, in the reading room, between offering opinions on blouses, or in any other dead-time situation.
Discussion