We may earn commissions when you buy from links on our site. Why you can trust us.

HP TouchSmart 300z: a Smart Choice for the Kitchen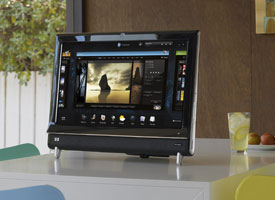 I spend a ton time in the kitchen, which led to my desire for a computer there. I decided to check out an all-in-one PC because of its compact, slim design (for more on touchscreen tech, check out Touchscreen PCs Make Access to Programs Quick and Easy).
What makes an all-in-one so perfect for my needs? There's no tower to hide and it takes up a lot less room than a laptop. Basically, it looks like a flat panel TV and can even hang on the wall using a standard VESA mount (a kit can be purchased for $50). But because it's a PC, I can check my email, surf my favorite websites, look up recipes, listen to Internet radio and best of all—watch most of my favorite shows on demand.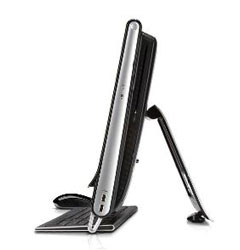 The model I tested was the HP TouchSmart 300z, a sleek, all-in-one 20-inch touchscreen computer that sits on my counter and keeps me wildly entertained, connected and up-to-date. The touchscreen is nifty—I probably use it about 75 percent of the time to navigate. You can pinch, rotate, arc, flip, press or drag a finger across the screen. There's also a virtual keyboard which lets you type right on the screen, but I prefer using the keyboard I keep stashed next to the mouse in the space below the display. Oh, and because the display is covered in glass, you can use regular glass cleaner and the included cleaning cloth to wipe away those nasty fingerprints that tend to build up.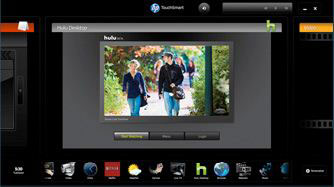 From the time I got it set-up, which took about 10 minutes out of the box and included sticking the batteries into the included wireless mouse and keyboard and logging onto my Wi-Fi network, I was hooked. I began by bookmarking my favorite sites so I could tap onto them at any moment. That includes the BBC i-Player to listen to BBC World radio in the mornings and my number one guilty pleasure, the CW Network to catch up on missed episodes of 90201, Gossip Girl and Vampire Diaries. And no, I don't have a teenage girl in the house.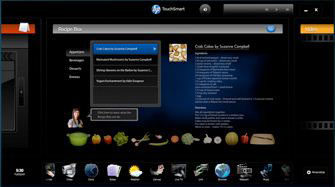 Then I checked out the apps which come loaded with the TouchSmart. Just tap on the TouchSmart Home icon and you'll be treated to an array of exclusive touchscreen applications. My favorite is the Recipe Box, which will allow you to type in your favorite recipe website (ie: Epicurious, Food & Wine, Cook's Illustrated), then actually import—or extract as HP calls it—a recipe. From there you can edit it accordingly (in case you want to add a little touch of your own), then save it and organize your collection. Don't feel like reading the recipe off the computer? Throw on a Bluetooth headset and you can have it read to you while you cook. Not my cup of tea—I like to work at my own pace in the kitchen—but it's a nifty option. A voice command, recipe dictation feature also allows you to dictate a recipe step-by step to be saved instead of typing it in. But be aware you'll have to work with the voice recognition software before the computer can pick up your commands correctly.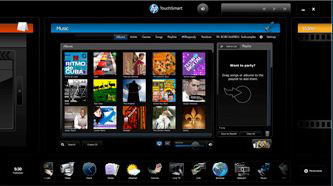 Music is simple to access through the HP Music Store, which is based on the music subscription service Rhapsody ($12.99 per month or check out the 14-day free trial) and Pandora Internet radio, a free service that delivers a personalized music experience based on your favorite bands. I am already a Rhapsody subscriber, so I loved being able to jump right in and start playing my favorite songs and playlists on the well thought out software. The speakers worked well in my kitchen, though you can always add your own for a higher quality experience.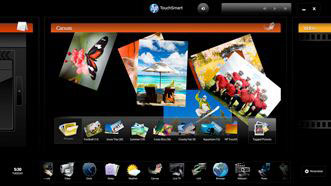 Another of my favorite apps is called Canvas, which lets you easily find all your images and make cool collages out of them. Make each picture as big or small as you see fit using the touchscreen and place them anywhere on the page at any angle. Once you're done, you can save it as a regular jpeg image file for sharing or printing. And, you can use the screen as a giant photo frame as well by tapping in to all your saved images.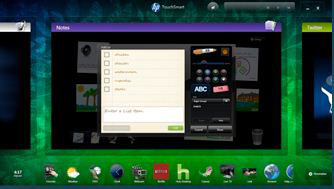 Other cool stuff includes an app to instantly play your Netflix movies (I just started watching The Tudors while I make dinner), a webcam that lets you take videos and photos of yourself, then use special effects to create all kinds of nifty images, an app to play your favorite videos on HULU and something called Notes, which lets you write to-do lists and reminders, and create video and audio notes. This is especially nice for kids, who appreciate the interactivity of the app.
I could probably go on and on—I seem to find something new to try every day. But you might want to check this out yourself. The TouchSmart 300z in the "recommended configuration" that I tested comes loaded with Windows 7 Home Premium, an AMD Athlon processor, 2GB memory and a 640 GB hard drive. If you have the counter space, the 23-inch TouchSmart 600t is a better value with its bigger screen, Intel Core 2 Duo processor, 4GB memory and 640 GB hard drive.

---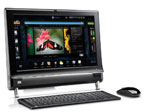 HP TouchSmart 300z (recommended configuration starts at $899): Buy Now at HP.com
HP TouchSmart 600t (recommended configuration starts at $1,049): Buy Now at HP.com
Discussion