We may earn commissions when you buy from links on our site. Why you can trust us.

Kidos Makes Any Computer Child Friendly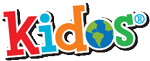 Among the dozens of educational and entertainment programs for children, Kidos, which debuted at the 2010 Consumer Electronics Show, stands out from the rest.
Targeting 3-7 year olds, Kidos downloadable software temporarily turns your regular computer into a kids computer, with a secure desktop and customized interface. The Kidos program takes over your computer screen so there is no way for your child to access your email, alter your computer's settings, or otherwise delete your documents or drive files, etc. The child stays securely within the framework of the Kidos platform. The software is currently available for FREE as a public beta and works on Macs, PCs, or Linux systems.
It takes mere minutes to download the software and set up an account, and then you can personalize the program for your child, for instance, by uploading photos of family members or recent activities, or by choosing the websites that you want your child to have access to within the framework of Kidos (PBSKids, Nickjr, etc.). We were unable to add some common sites, such as Disney.com, because of browser incompatibility; hopefully, this will be fixed during the beta period.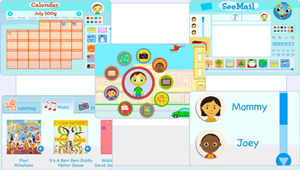 Similar to how iTunes operates, you can add to the basic options by perusing a gallery of programs and applications available for purchase like online books, games, music, art and some learning apps. For instance, kids can set up their own playlist of favorite songs, or download a game to learn a foreign language. The applications available for purchase range from $ .49 to $9.99, plus nearly 80 free options.
Several custom background designs are available, and the variety of interactive content makes it appealing to kids. One of the coolest features is the photo-based email: while kids in Kidos' younger age range won't be able to spell many words to send actual emails, they can use the mouse to find and click on someone's photo and send a picture or draw one to make a parent's or grandparent's day. For security purposes, Kidos does not allow reply emails, so kids can only send them outbound to people in their email photo contact list. While not ideal, any family or friend would then need to forward the email with a response to the parent, who could then read the response to the child.
---
Discussion