Review of Kohler's Affordable & Stylish Puretide Bidet
Techlicious editors independently review products. To help support our mission, we may earn affiliate commissions from links contained on this page.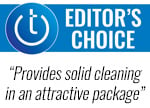 If you've had the opportunity to try a bidet at a friend's house or while traveling overseas, you already know the significant cleaning benefits they offer over toilet paper. Yet, most Americans don't own one, either because of the perceived cost, concerns about installation, or simply the hesitation to try something different on one of your most personal of parts.
However, if cost or installation worries are holding you back, they shouldn't be. There's a category of bidets seat designed specifically for installation on your existing toilet with no plumber required. The add-on bidets come in a variety of styles and features. For example, models like our Editor's Pick, the Coway Bidetmega 200, and Brondell Swash 1400 include heated water and seat, a night light, and a little drying fan for your fanny. Plus, you'll need an electrical outlet to plug it into or pay for an electrician to install one.
The Coway retails for $400, but there are much simpler models that slide under your existing seat and offer little more than a spray that you can pick up on Amazon for as little as $30. While much better than having no bidet, these cheap models tend to look…well…cheap, and some have a disturbing tendency for catastrophic failures of the valve or hose that create major water floods, always timed for when the homeowner is on vacation or out of the house. I also had a minor leak issue with the Puretide, but it was handled well by Kohler – more on that further down.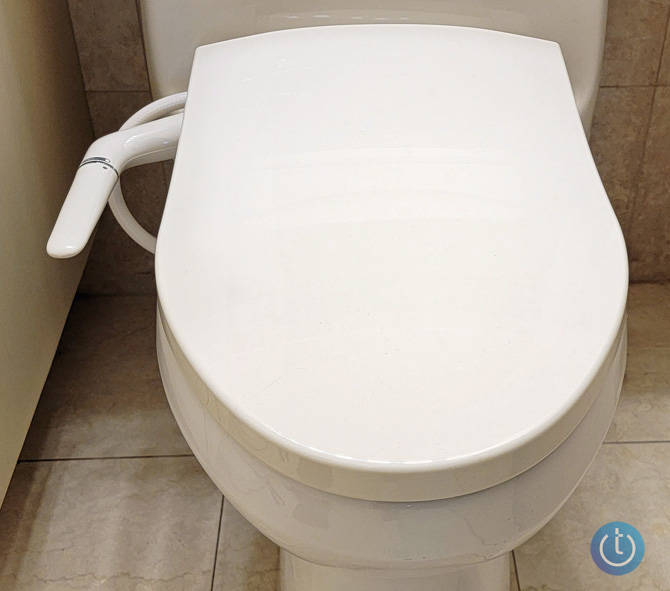 The Kohler Puretide Bidet is seated firmly at the high end of the basic models. My family spent months testing the Kohler Puretide in our home, and that bathroom instantly became everyone's favorite. It comes as an integrated unit, like the more expensive models, and looks much higher class than the slide-under cheap models. The control handle, too, is elegantly designed to fit in with home bathroom décor. And unlike other brands that only come in white, the Puretide also has a biscuit option to match a wider variety of fixtures; there are also rounded and elongated versions to match your toilet bowl shape.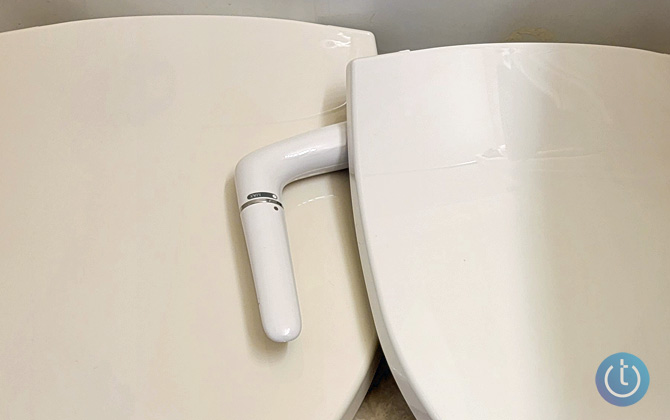 Feature-wise, it offers the spray with a little bit of a tilt action to get the job done. And at $137 on Kohler (around $100 on various discount sites - check price on Amazon), it is a solid choice for those bidet buyers looking to keep costs down without sacrificing the look of their bathroom, and who want to stick with a well-known plumbing brand.
Installation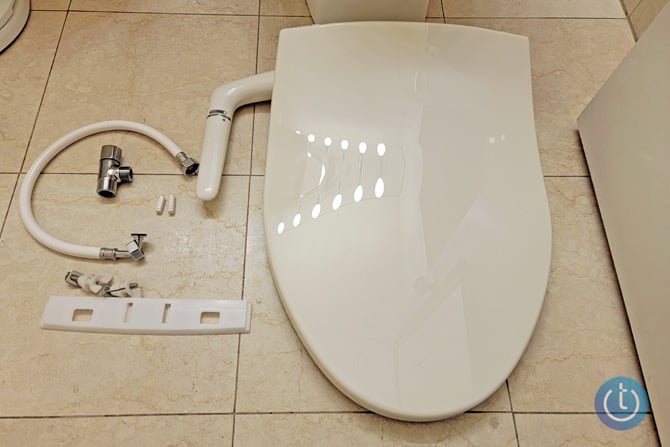 Installing the Kohler Puretide is simple. Anyone who feels remotely comfortable operating a wrench and screwdriver can handle the job. You're simply going to remove your old seat, install the new mounting plate, slide your new seat on, then hook up your new seat to your toilet's water supply using the included t-valve and hose. The whole process takes under 30 minutes. If your home comes with especially high or low water pressure, alternative nozzles are included that will adjust the spray intensity (most people should be fine with the standard one that comes pre-installed).
Toilet fit is an important consideration with the Kohler Puretide. Unlike cheaper bidets that fit under your existing seat, the Puretide is a complete seat replacement, so it must match your bowl shape. There are two models of the Puretide, round (K-76923) and elongated (K-5724), so you should make sure to pick the right one. In addition, while the Puretide fits most Kohler toilets, it doesn't fit all Kohler toilets, so be sure to check Kohler's toilet seat fit guide before you buy. The Puretide is not recommended for my discontinued Santa Rosa toilet, and the seat doesn't sit perfectly in the mounting because of the curve in my toilet tank; it's usable but not ideal as it does shift around.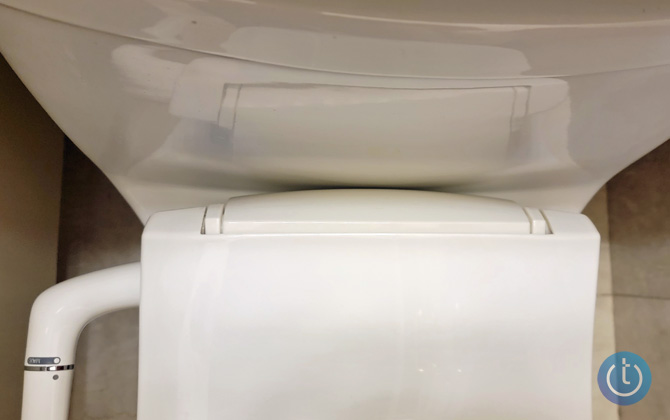 If you're unsure what model toilet you have, open up your tank, and there should be a label or code embedded in the porcelain with the model number. Mine is K3323 in the image below.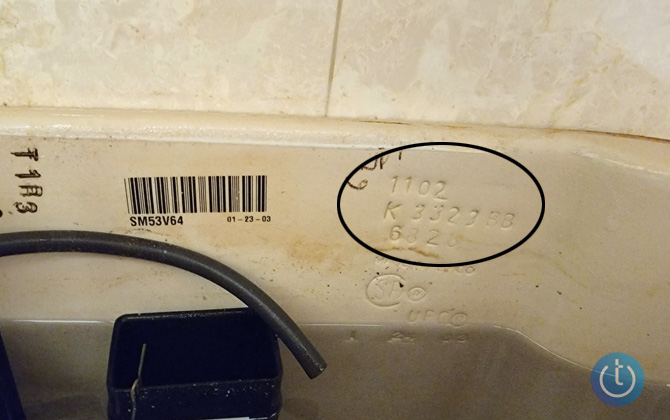 The Puretide should fit many non-Kohler toilets, as well. Though without a fit guide, you may not know if it will work until you try it.
Another recommendation when installing the Puretide (or any bidet) is to swap out the included t-valve with a t-valve that offers a shut-off switch for the bidet. All the low to mid-range bidets I looked at have a history of leaks in the owner reviews, and the Puretide is no exception. A shut-off valve lets you turn off the water to the bidet in case of a leak without shutting off flow to your toilet tank (this is the one I purchased). And if you're going to be out of the house for any length of time when a leak could create damage, it may be a good idea to shut off the bidet's water proactively.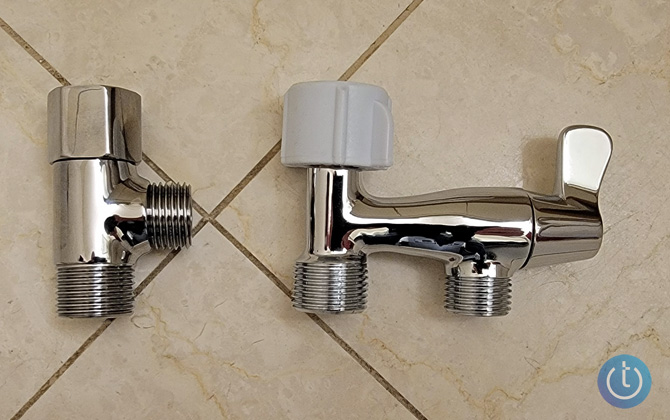 Customer support
In my research of bidet seats, I found that leaks – whether from the hoses or controls – were a frequent complaint. However, the Kohler Puretide appeared to have a lower ratio of complaints than other models, though there were issues with leaks from the handle.
Sure enough, the first unit I had developed a slow drip from the handle after a month of usage. So, I called Kohler customer service and got through quickly to a live person. The agent asked me about the issue and offered to send me a new one right away – I didn't even need to verify my purchase information. The replacement arrived within a week, and I shipped the old one back in the same box with the included return shipping label. The new unit has been problem-free for the four months since.
That is customer service the way it should be.
Features & comfort
The Kohler Puretide provides a single spray wand with a tilting action to clean both your front and rear areas. The handle offers manual control to guide the tilting and adjust the water pressure. Pressure control is smooth and will easily go from a gentle trickle all the way up to "Yowzers!" The spray nozzle provides a wide enough stream for effective coverage while keeping things focused enough to avoid collateral damage. However, my female testers found the tilting mechanism less effective for hitting frontal areas – which required a little extra body shifting – than the double wand design of other bidets.
In short, the Puretide does what it's supposed to and does it well.
Unlike more expensive bidets with electric water warmers, the Puretide will deliver water at whatever temperature is coming through your pipes. In practice, no one was bothered by the cold temps (even in winter); it turns out some parts of your body are not as sensitive to cold as you might think. If having that warm spray is critical, the Tushy Spa 3.0 is fitted with a second hose attachment for the hot water in your sink, and the water mix can be controlled using a knob. Though, depending on your bathroom setup, running that second hose may not be feasible, and if you need to run your faucets for a bit before hot water comes out, you may experience a similar issue with the Tushy bidet.
Everyone who used the seat in my family and guests found it to be comfortable (yes, they were questioned, too), even for extended sitting periods (hey, a man's got to get his reading done somewhere). The plastic itself feels a little on the thin side, but it doesn't affect the comfort. And the seat itself has a "quiet close" lid that prevents waking your household in the middle of the night. The entire seat can also be removed for cleaning by pressing a quick-release button on the side.
The "bottom" line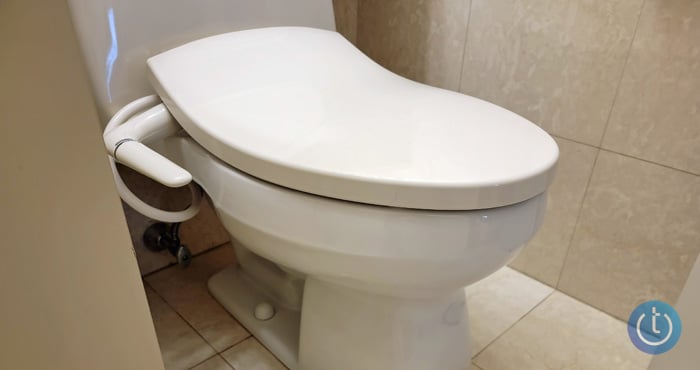 If you want to make the move to a bidet and have a limited budget, the Kohler Puretide should be on your shortlist. It doesn't have any bells or whistles (nor does it require a power outlet – which you probably don't have next to your toilet – to support those bells and whistles). However, it provides solid cleaning in an attractive package that looks far more refined than most other inexpensive bidets. And if you have an issue, Kohler's customer service is very responsive.


[Image credit: Techlicious]
Josh Kirschner is the co-founder of Techlicious and has been covering consumer tech for more than a decade. Josh started his first company while still in college, a consumer electronics retailer focused on students. His writing has been featured in Today.com, NBC News and Time.
Discussion