We may earn commissions when you buy from links on our site. Why you can trust us.

Review of the Polar OH1 Heart Rate Monitor

Polar's OH1 is a tiny optical armband heart rate monitor that delivers reliable heart rate tracking and the option of recording workouts without the use of a phone. While the OH1 doesn't have all of the bell and whistles of today's high-end chest-strap heart rate monitors, the OH1's convenience and comfort will make it the right choice for most users. Here's how the OH1 stacks up against the leading armband monitors, the Wahoo Tickr Fit and Scosche Rhythm 24.
Look and feel
The Polar OH1 is an optical heart rate monitor, meant to be worn on your lower or upper arm. The Rhythm 24 can also be worn on your upper and lower arm, but the Tickr Fit is only recommended for use on your lower arm. The OH1 the smallest of the armband monitors and so light, you'll barely notice you're wearing it. The OH1 has about the same thickness as the other armband monitors, but not the width. The other monitors have a larger flat surface, so they hug your arm better than the OH1. While I never experienced the OH1 flipping over during a workout, other users have found that it can while you're engaged in crossfit or weight training.
The OH1 has a single LED that shows you that it's powered on. Double tapping the power button turns on recording a workout without your phone, and when recording commences, the LED will double blink throughout your training session. The Tickr Fit has a much more basic setup, with an LED on the front that blinks for about 30 seconds after your press and hold to turn it on to let you know that it's on. The Tickr Fit doesn't track workouts without a phone. The Scosche Rhythm 24 has the most sophisticated visual display. Not only do the LEDs tell you that it's on and recording, but it will also indicate when it's acquired your heart rate and show you how much battery life you have left. The Rhythm 24 has two buttons: one button turns the device on and off, the other button starts your workout and lets you switch between tracking for running, biking, and swimming. The LEDs change color as you switch between sports. However, you have to set up your tracking preference – running, biking, swimming, triathalon, duathalon -- in the app before you head out.
Tracking technology
Optical sensor for the Polar OH1 (left), Scosche Rhythm 24 (middle) and the Wahoo Tickr Fit (right)
The Polar OH1 uses six green-light sensors to pick up your heart rate versus three green light sensors for the Tickr Fit and two green plus one yellow sensor for the Rhythm 24 (the yellow light is supposed to be more accurate for darker skin tones).
The OH1 was quick to pick up my heart rate and performed as well as the Polar H10, consider the gold standard for chest-strap monitors. Like all optical sensors, it can lose the ability to sense your heart rate if it slips. The band that holds the OH1 was secure, and I didn't experience any drops during the months that I tested it. The Tickr Fit and Rhythm 24 worked equally well.
The OH1 can store up to 200 hours of training data and the Rhythm 24 stores up to 13 hours of training data so that you can leave your smartphone behind. You can sync with your phone by opening the app when you come back. The Rhythm 24 requires the extra steps of downloading your workout from the monitor and sharing it with whatever app you're using to view the data.
Regarding data: When recording without a phone, the OH1 stores full heart rate data, shown in a chart, including max and average heart rates, workout time, calories burned and fat burn percent of calories. In addition to this data, the Rhythm 24 also captures cadence data for running and biking and provides your split times and pace analysis, if the app you're using supports that data.
The OH1 and Rhythm 24 are water resistant to 30 meters and can be used to track and store swimming workouts. The Wahoo Tickr Fit is not designed for swimming.
Connectivity and reliability
The Polar OH1 uses Bluetooth to connect to your smartphone. It also uses ANT+, a wireless technology that allows monitoring devices, smartphones, gym equipment, sports watches, and other devices to speak to one another. (Here's a directory of products using ANT+ technology.)
All monitors paired easily with both iPhones and Android phones. If I moved out of range of a phone during a workout, they would automatically re-pair when I was in range.
The apps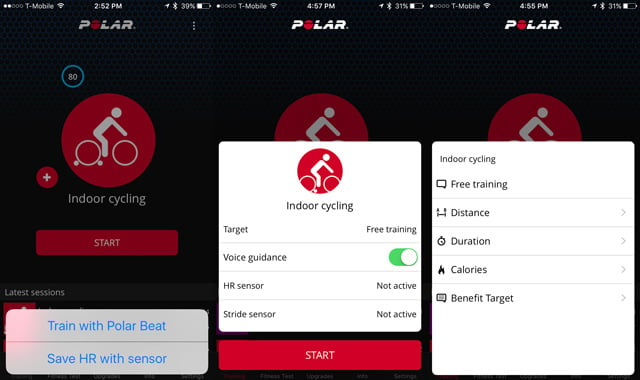 The Polar Beat app (free for iOS and Android) provides free tracking and in-workout training. Select from more than 100 types of exercises, including running, biking, kitesurfing, and judo (though oddly no elliptical). Once you've selected your sport, choose a target such as time, distance, duration, or a benefit target. The six targets include recovery workouts, tempo training, and maximum performance.
When you select a target, you receive voice guidance to help you stay within the correct heart rate zones throughout your workout. After you work out, you'll get a full report with a heart rate chart, time spent in heart rate zones, a map of your workout (if you run/cycle outside) and an evaluation of how your workout affected your fitness level. You can also see in real time whether you're burning fat or improving your fitness. You can also take a Fitness Test, which tests your fitness levels while you're lying down, and use the Running Index to find out how efficient a runner you are.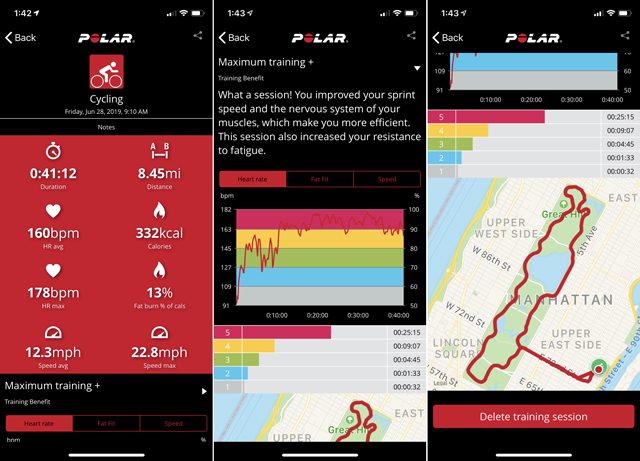 The Wahoo Fitness app delivers the same data with a different layout.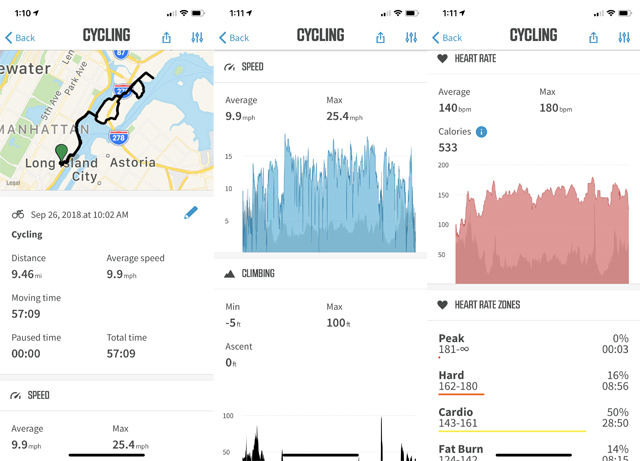 There is no app for viewing your Rhythm 24 data. The app made by Scosche only lets you select your training mode and set up syncing with another fitness app, like Strava, Edmondo, and RunKeeper.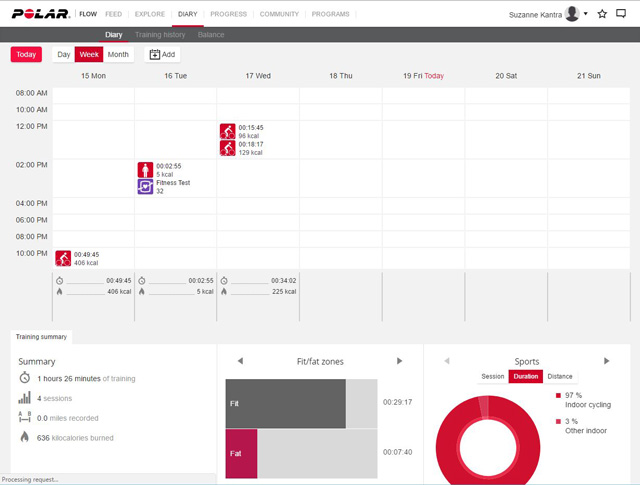 You can see your data in Polar Flow, a web service and app (for iOS and Android devices) that lets you more easily track your workout history and set up a fitness program. Polar Flow is really designed to work with Polar's heart rate monitor watches, which measure steps, sleep, and more, but it's still useful for OH1 owners.
All trackers connect with Apple Health; the OH1 also connects with Google Fit. All heart rate monitors work with a variety of third-party apps that support heart rate monitors, including Runtastic, Edmondo, and Strava. If you're not crazy about the Polar app, you can always use a third-party app.
Battery life
The Polar OH1 gets up to 12 hours of run time between charges. You can easily plug the OH1 into any USB charger for a topoff between uses. The Scosche Rhythm 24 gets up to 24 hours, and the Tickr Fit up to 30 hours. All have rechargeable batteries and use proprietary connectors to charge.
The bottom line
The Polar OH1 is a very good heart rate monitor that is comfortable to wear, easy to use, and has compelling apps that provide guidance while working out. It's missing an accelerometer for tracking cadence and an on-device battery life indicator, which are features of the Rhythm 24, and it can flip over during more vigorous weight training and crossfit classes. But the Rhythm 24 is more difficult to use and lacks a workout app from the manufacturer. And, the Tickr Fit doesn't track and store workouts without a phone.
In the end, the Polar OH1 provides the best out of box experience, is the easiest to use and comes with the best app experience, making it the best armband optical heart rate monitor for most people.
Polar OH1 Heart Rate Monitor
[Image credit: Suzanne Kantra/Techlicious, Polar]
---
Discussion