Review of the Dyson V15 Detect Stick Vac
Techlicious editors independently review products. To help support our mission, we may earn affiliate commissions from links contained on this page.
Over the last year or so, I've been testing more than a half dozen different stick vacuum cleaner models. Generally speaking, regardless of their varying price, ergonomics, or functional efficacy, most cordless stick vacs include several features and functions in common:
They are modular, with easily click-release motors, dustbins, wands, batteries, and swappable cleaning heads.
8- to 9-inch-wide rollers inside the main brush accessory removable for cleaning, especially to cut long hair off of.
A trigger you either keep pressed for as long as you need to vacuum, or an on/off switch.
A wall-mountable charger assembly that also holds varying accessory cleaning heads and nozzles.
Dustbins about the size and capacity of a large jar, usually removable, easily emptied at least once during and after each vacuuming session.
Two, often three-speed operation; the most powerful vacuum modes usually supply 10 minutes or less of cleaning time. Some premium models come with two batteries that can be swapped out and elongate vacuuming time.
An air filter, usually HEPA (high-efficiency particulate air), keeps particles such as pollen, pet dander, dust mites, and tobacco smoke from polluting your room air. These filters can be removed to be washed or, eventually, replaced.
A small display indicates speed mode, battery time remaining, or other status or condition information.
Most stick vacs also offer one or more unusual features or functions to differentiate them from competitors. For instance, some emphasize their ability to deal with specific types of dirt, such as pet hair. The Miele TriFlex HX1 is the only model we've run across that lets you move the motor/dust bin section from the top, where you'll find it on most other stick vacs, to a more center-of-gravity-friendly bottom of the wand. The dust bin on LG CordZero A9 has a button that you push down on to compress the sucked-up dirt to create more room that reduces the number times the bin needs to be emptied. The Raycop OmniAir proports to use UV light to kill viruses. However, most low-priced cordless stick vacuum models offer nothing distinguishable other than a low price.
All the stick vacs I tested provided a "good enough" amount of suction, especially when switched to the most powerful settings. After playing with seven different models, I found that function and feature sets – along with price, of course – provide a greater differentiator between models.
Over the last several months, I tested seven models of cordless stick vacuums:
I tested each model on a thick pile oriental rug with flour (as a stand in for dust), sand, long and short human hair, pet hair (rabbit), shredded paper, and Cheerios, each singularly and mixed together.
Generally speaking, we didn't find a model that fulfilled all our needs/wants – even our favorite models failed on some level.
Dyson justifiably carries the reputation as the cordless stick vacuum king-of-the-hill, the brand all other stick vac makers aim at. Dyson's latest are its V15 Detect ($699.99) and V15 Detect Plus ($749.99) models, which maintain Dyson's premier stick vac reputation.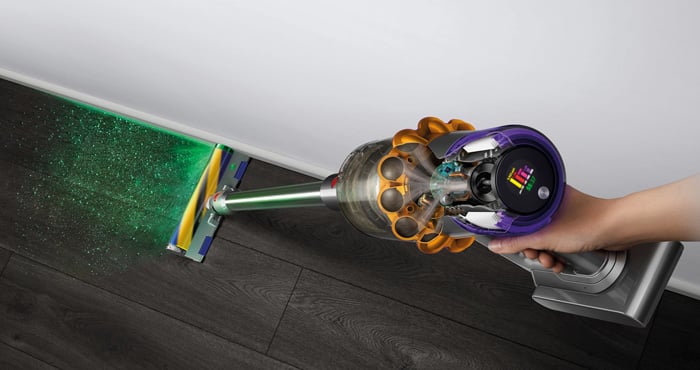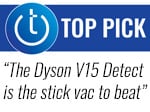 The powerful and versatile V15 Detect includes a host of functional and logistical improvements primarily a replaceable battery and two unique brush attachments, over Dyson's previous and nearly identical V11 flagship. The V15 Detect+ adds a HEPA filter and a "low-reach" 90-degree bendable adaptor.
While the V15 really sucks (in a good way), it is bulkier and heavier than most of its competitors, especially the Miele Triflex HX1, particularly when used for handheld, non-floor cleaning.
Yes, you can find cheaper cordless stick vacuums. But with the V15 Detect, you certainly get what you pay for.
Setting up the Dyson V15 Detect
As are all stick vacs, the V15 Detect is modular with click-release motor/dustbin, wands, battery, and swappable cleaning attachments. The V15 does include more of these cleaning attachments than other stick vacs we tried, seven in all:
a "high torque" cleaner head, the V15's primary cleaning attachment, equipped with an 8.5-inch-wide roller (most stick vac rollers measure between 8-9 inches wide) with an anti-tangle comb
a low-profile Laser Slim Fluffy cleaner head, a bare floor brush that deploys a green laser that lets you see how much dirt there is to clean
a "stubborn dirt" brush with stiffer bristles, good for wall molding
a crevice tool, a common stick vac attachment for corners and, well, crevices
a hair screw tool, best for upholstery, beds, and pet areas
a mini soft dusting brush
a combination tool, a slightly extendable close-up attachment included with most stick vacs
And like all stick vacs, the V15 comes with a charging dock that is designed to be screwed to a wall. The V15 can be charged with or without the dock and, like most stick vacs, can simply be leaned against a wall.
Aside from one cleaning head already attached to the V15, two attachments can be clicked into a clip that snaps onto the V15's wand, and two attachments can be clicked into the charging dock. That leaves two attachments for you to store…somewhere, which means you'll need to figure out which attachments you'll use most frequently. Not accommodating all the included attachments is not unusual in the stick vac world.
The primary part of all stick vacs is the modular motor and dustbin assembly. V15's motor/dustbin assembly is aligned vertically and, at 15 inches, is the tallest assembly of any stick vac we tested.
Atop the motor/filter housing is a round 1-inch color status LCD. You tap or press-hold the button below the screen to toggle through its varying settings.
Dyson claims the V15's "hyperdymium" motor generates "the most powerful suction of any other cordless vacuum." While listing a lot of specs for its motor, the most familiar is the V15's 230 air watts (AW) rating – but beware comparative power or suction measurements. While the astm.org (American Society for Testing and Materials) stipulates stick vac testing procedures, stick vac makers tout two different power specs – air watts or suction power, which measures air flow, or just plain wattage, which is a measure of the motor power. These apples-and-oranges specifications provide no true comparative assistance. Even comparing air or suction watts doesn't help since the makers can measure at the nozzle end where the dirt is sucked up, or at the inlet spot nearest the dust bin.
Using the Dyson V15 Detect
You can toggle through three power/cleaning modes: a green low-power "Eco" mode, the default "Med"/auto mode, and a red "Boost" mode designed for short-term, tough-to-suck situations.
The 6.8-pound V15 is the second-heaviest stick vac we tested, 0.12 pounds heavier than the V11, and feels like it. It's got an easy-to-hold trigger, but there is no continuous use switch as found on some other vacs – you need to keep the trigger pulled throughout your cleaning. Because of its weight and girth, the V15 requires a strong arm and wrist to pull and especially push the high torque brush head across thick rugs or carpets (especially in its high-power Boost mode), and a strong elbow to keep it elevated for handheld cleaning. Lengthy vacuuming sessions can be rough on the top area at the base of your thumb, which gets pressed against the inside of the motor assembly while you're holding the trigger. A few minutes of usage left a red indent at the base of my thumb, so I started wearing a single cushioning leather glove on my V15 vacuuming hand for long usage sessions.
You won't get an alert when the dustbin is full. There is a "Max" line printed on the front of the clear bin a little less than halfway up but, as with most stick vacs, you should keep an eye on the bin – and empty it frequently – to avoid jams, clogs, and overheating.
All these annoyances are mitigated by the V15's excellent sucking power. The V15 sucks up dirt as effectively as the other top vac I've tested, the Miele TriFlex HX1. One back-and-forth double pass sucked up all the sand, shredded paper, hair and Cheerios I sprinkled across my test rug. And what the V15 sucks up stays sucked. No debris gets left behind once you release the trigger as often happens with some competitors, and I saw little unsucked debris remaining in the connecting wand. Nearly everything on the floor got sucked up and into the V15 dustbin.
Its powerful suction also makes V15 an effective – if, again, heavy – cleaning tool with any of attachments, especially the hair screw tool, which is one of the more effective sofa vacuuming attachments I used.
What came in really handy – and what I ended up using the most – is the bare floor Laser Slim Fluffy cleaning head. Most stick vacs claim their primary cleaning head is "all purpose" or "all surface." But, of course, a jack-of-all-trades is often a master of none. With its soft brush and bristles, the Slim Fluffy safely swept and vacuumed my hardwood floors more effectively than my usual broom, and its slim profile allowed it to get further under furniture. The bright green laser really illuminates your floor like a rock concert laser show, brightly exposing otherwise unseen dirt, especially in the dark. A switch on the roller housing lets you switch off the laser, I guess in case it scares the cat, or you don't want to see otherwise unseen dirt.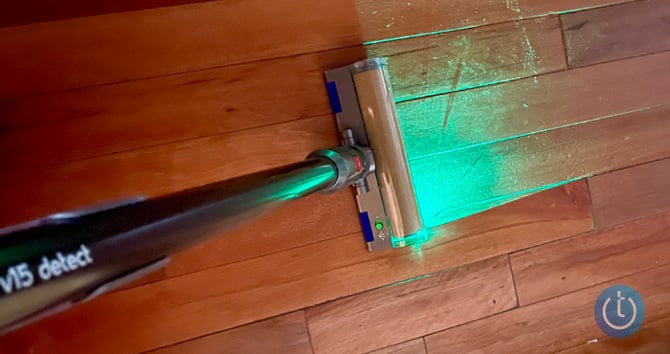 After a vac session, the LCD displays four mysterious measurements. Dyson explains what they are:
"An acoustic piezo sensor has been integrated into the vacuum. Carbon fiber filaments in the cleaner head pick up microscopic particles which are sized and counted up to 15,000 times a second. The dust enters the vacuum and hits the acoustic piezo sensor within the bin inlet with the tiny vibrations being converted to electrical signals. The dust size and quantity are shown on the in-built LCD screen, so the user can see how much dust the vacuum has removed, as well as the different sizes of particles and deliver scientific proof of a deep clean."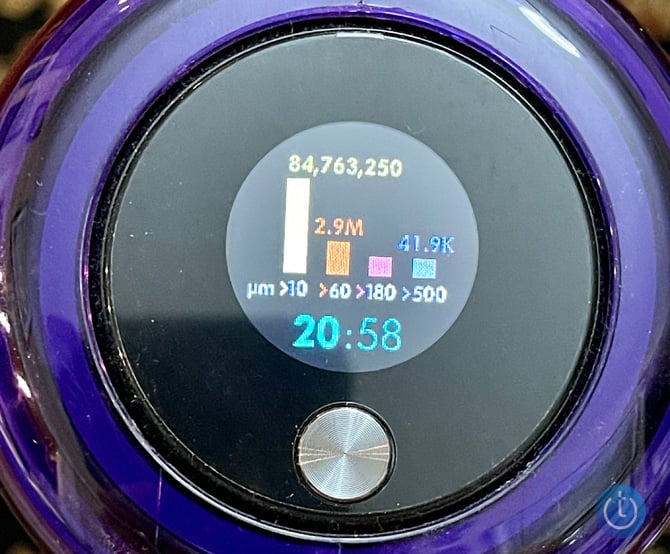 If you care, you can change how sensitive the particle count is. Anyway, below these essentially useless particle stats is the vacuum time remaining, which is what we really need to know.
Dyson V15 Detect battery
Most cordless stick vacs makers have solved their wares' most vexing cost issue: after a few years and hundreds of recharges, stick vac lithium batteries lose their power retention. If the tired battery is integrated into the vac's motor and supplies only a few minutes of cleaning, you must toss the whole unit and buy a new one, the major issue with some versions of the Dyson V11. To address this issue, most stick vacuum models now run on removeable/replaceable batteries, including the V15 and later V11 models.
Disappointingly, considering its price, the V15 comes with only one removable battery. Many stick vacs, regardless of price, include two batteries, effectively doubling their run times. If you want a second battery for your V15, it'll run you an additional $149.99. Even more unfortunate, you can't charge two V15 batteries simultaneously as you can with two-battery models from other vac vendors.
The V15 battery requires a longer-than-most 4.5 hours to totally recharge, but it will run up to an hour in the eco mode, all identical to the V11 battery specs. Of course, most times you'll use the middle "Med" or auto mode, which automatically adjusts suction power depending on the surface or usage and provides more than 30 minutes of run time. That doesn't sound like a lot, but the V15's half hour of single-charge vacuuming is actually generous compared to other stick vac models, some offering as little as 10 minutes of suction power, and likely way more than you'll need for most daily cleaning. The V15 will pulse three times when battery life is nearing its end.
Maintaining the Dyson V15 Detect
Both the V15 "high torque" and "hair screw" brush heads include "anti-tangle" characteristics. The high torque brush is equipped with combs inside the housing that forces hair, especially long hair and pet hair, to evenly wind around the brush that make the hair relatively easy to simply pull out, rather than having to cut it off the roller as you need to do with most other stick vacs. The "hair screw" roller is deeply grooved, making it equally easy to remove human or animal hair.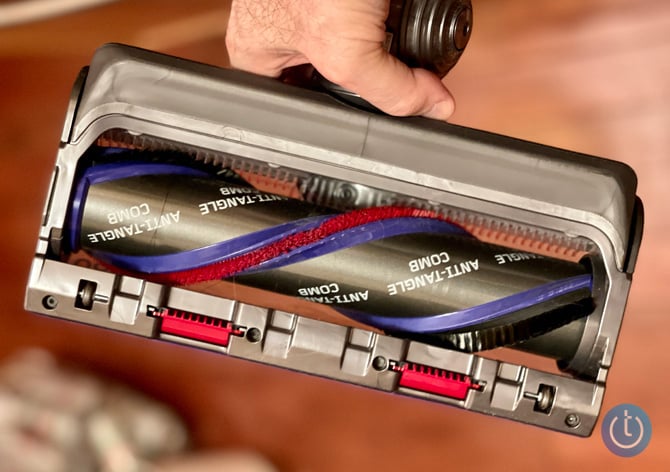 For some reason, each of the V15 brush cleaning attachments employ different roller release methods. For instance, you'll need a quarter or half dollar to unlock the roller from the high torque assembly, a rather shockingly low-tech method considering this is a Dyson. Far easier, a side lift-up latch releases the Fluffy brush roller for cleaning. There's a hooked red latch that releases the roller assembly on the hair screw tool.
As noted, the V15 includes "point and shoot" hygienic bin emptying. Unclip the wand, hold the bin over a trash can, then push down the red latch. In a single motion, the dustbin slides down, cleans what Dyson calls "the shroud," the bottom bin trap door drops open and most of the debris is ejected. Tapping the bin against the side of your trash can will dislodge stubborn particles, but you'll likely still need to reach inside the bin to get at stuck dirt and to pull hair off the filter/motor assembly exposed when the dustbin drops down. Unfortunately, the V15 doesn't come with a bin cleaning tool, a simple plastic hook, as other less expansive vacs do. Once emptied, just close the bottom trap door, and push the bin back up until it clicks into place.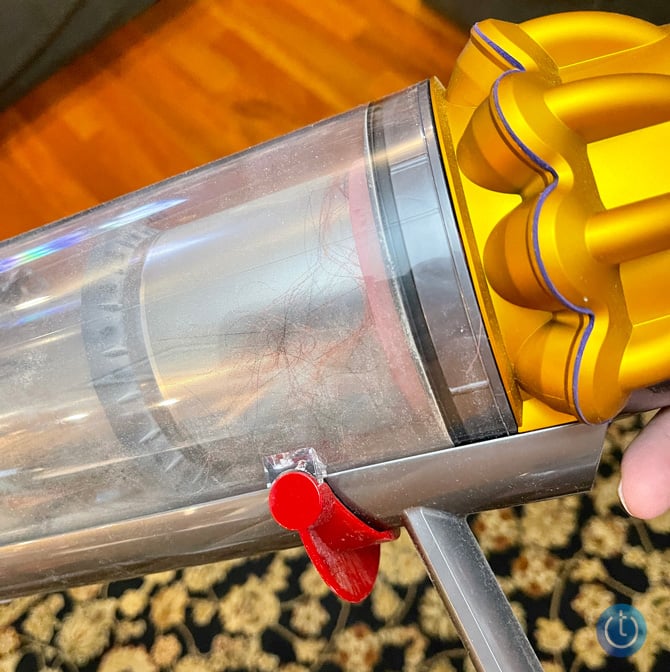 When the bin is slid down, there's a small red latch on its underside that you push to dislodge the bin from the motor assembly for cleaning. Make sure you release the bin over a trash can or sink or you'll get residual dirt from the bin all over you. The bin is not dishwasher safe and should just be washed with water – no detergents.
Along with the bin, the V15's single filter is easily removed by twisting off the housing off the top of the motor to be cleaned. Like most stick vacs, you need to wait 24 hours for everything to dry before reassembly and its next use. The manual doesn't indicate how often you should clean the filter, though. General rule of thumb: clean it if its dirty.
The bottom line
With the V15, Dyson retains the title of stick vac to beat, with a couple of caveats.
Yes, the V15 sucked the best (in a good way), includes lots of unique attachments to attack specific cleaning tasks – including the Slim Fluffy that deploys laser light to see what you're cleaning on a bare floor, provides generous single-charge running time, and its parts are easy to disassemble to clean.
But the heavy V15 can be tough to handle for lengthy sessions, you only get a single rechargeable battery, no HEPA filter unless you step up to the V15+, and it's among the most expensive stick vacs available.
However, having used lower-priced models and experiencing the V15's premium performance, Dyson's V15's premium price of $699.99 can be justified.


[Image credit: Stewart Wolpin/Techlicious, Dyson]
Stewart Wolpin has been writing about consumer electronics for more than 35 years, including news, reviews, analysis and history, and has attended and covered nearly 50 Consumer Electronic Shows and around a dozen IFA shows in Berlin. For the Consumer Technology Association (CTA), he is an elector for and writes the official biographies of the annual CT Hall of Fame inductees, and is the keeper of the industry's official history.
Discussion