We may earn commissions when you buy from links on our site. Why you can trust us.

Review of the Fellowes AutoMax 130C
Fellowes AutoMax 130C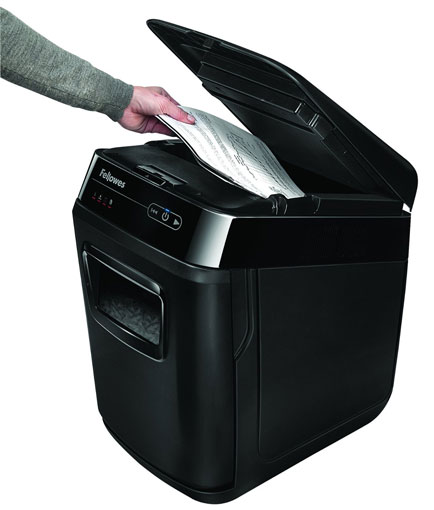 Efficiency has come to paper shredders with Fellowes'new AutoMax line of "walk-away" shredders that turn a stack of paper into confetti at the press of a switch.
The four new shredders are part of a growing product segment known as auto-feed shredders, a market space shared by U.S. stapler maker Swingline and its line of Stack-and-Shred shredders. (Read our review of the Swingline Stack-and-Shred 100X, an auto-feed shredder capable of devouring up to 100 sheets of paper per load.)
The Fellowes AutoMax 130C ($329.99 MSRP or $234.98 at Amazon) competes with the Swingline but has a 30 percent larger capacity, shredding up to 130 sheets of paper per load. How else does the AutoMax stack up?
Fellowes innovation
Fellowes' first auto-feed shredders, which launched in December 2013, were commercial-grade, heavy-duty models capable of handling (as their names imply) up to 300 or 500 sheets of paper per load. In December 2014, the company introduced its first consumer-oriented, medium-duty auto-feed shredders, the AutoMax 130C and AutoMax 200C ($549 and $383.58 on Amazon), capable of shredding up to 130 or 200 sheets of paper per load.
The new shredders are also distinguished by their inner workings. The heavy-duty models use a large, robust cutting block to handle larger loads and a feeding mechanism with rubber paddles that grab the paper sheets and pull them into the cutting block 10 to 12 pages at a time. By comparison, the medium-duty models rely on a less robust cutting block and a rotating auger that folds and pushes the paper down into the cutting block four to six pages at a time.
Unlike Swingline, Fellowes does not offer a micro-cutting shredder. These models only cross-cut the paper. They do accommodate small paperclips and regular staples, like their Swingline counterparts. And, all models incorporate a jam guard system that automatically attempts to clear jammed paper, credit cards or discs from the cutting block.
Also like Swingline, Fellowes packs additional features into its higher-end models. For example, both heavy-duty models can shred a mix of paper and CDs at the same time. Of the medium-duty models, only the 200C shreds CDs as well as credit cards, and you have to use the manual feeding slot.
Moreover, the paper chambers in Fellowes' heavy-duty models automatically lock when they are closed and automatically unlock when the shredding is complete, but there is no locking mechanism on the medium-duty models. According to Nancy Heaton, director of global marketing for business machines for Fellowes, this is because the heavy-duty models are intended for multiple users in an office, while the medium-duty machines are aimed at individuals.
Shredder performance
Our 130C review unit was solidly built and both simple and gratifying to use. However, we found some aspects that could be improved.
Once the chamber cover is closed, starting the shredding requires the push of a button —auto-feed shredders in the literal sense of automatically feeding pages to the cutting block, but not fully automatic like the Swingline Stack-and-Shred shredders, which begin consuming paper as soon as their covers are closed.
The cover itself on the 130C was problematic. Its small latch button was difficult to press, making opening the cover less than easy. The cover swung open quickly, not smoothly and slowly as we'd come to expect from high-endshredders. The same latch was difficult to catch when closing the cover (although we ultimately figured out a two-fingered technique to get it done in one attempt).
We also were disappointed that, priced as high as it is, the Fellowes 130C could not shred discs.
We appreciated that the 130C was equipped with wheels. It's nice to be able to move the machine around the office to wherever unwanted paper is accumulating.
All things considered, the Fellowes 130C represents a good value for the money. It would be a worthwhile purchase for anyone who wants the indisputable convenience of an auto-feed shredder.
Fellowes AutoMax 130C

Image credit: Fellowes, Inc.
Corrected on 5/6/2015 to indicate that all Fellowes models have a jam guard system.
---
Discussion