Review of the Swingline Stack-and-Shred 100X
Techlicious editors independently review products. To help support our mission, we may earn affiliate commissions from links contained on this page.
Swingline Stack-and-Shred 100X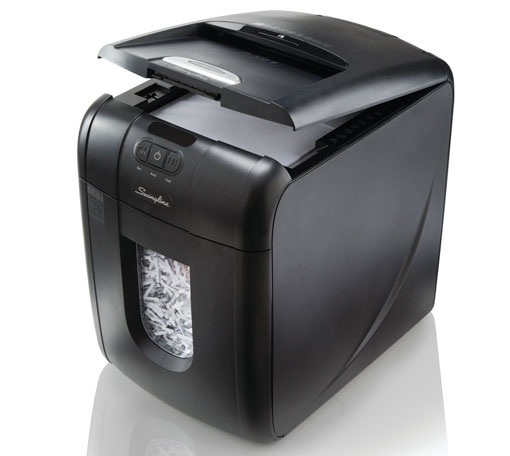 One of the easiest ways to protect yourself against identity theft is to shred documents containing important personal data such as your Social Security number or bank account information. But shredding can be a bother, especially if you're using one of those inexpensive models that shreds fewer than 12 sheets at a time while perched atop a tiny garbage pail —the kind of shredder that identity theft protection services have been known to give away free with a paid membership. Standing over one of these shredders to feed it a ream of documents a few sheets at a time is time-consuming and tiresome.
To combat that tedium, two leading office supplies makers, Swingline and Fellowes, have brought to market a much more convenient kind of shredder, the auto-feedshredder. Stack paper in the paper chamber, close the cover and walk away. The machine automatically ingests and shreds the sheets, stopping only after every page is reduced to confetti.
The Stack-and-Shred 100X ($499.99 MSRP, or $226.36 at Amazon) is one of Swingline's line of Stack-and-Shred auto-feed shredders. (Read our review of the Fellowes AutoMax 130, which competes and compares with this shredder.)
Swingline innovation
Auto-feed shredders were introduced for industrial use about 15 years ago, according to Adam Smith, director of marketing at Swingline. Swingline finally introduced the category to small businesses and consumers in 2011, beginning with the 100X. Late last year, it expanded the Stack-and-Shred lineup to 11 models, which are capable of shredding between 60 and 750 pages per load.
Seven of these machines have names ending in "X,"indicating that they crosscut the paper into slices measuring 3/16"x 1-1/2". Five have names ending in "M,"indicating that they micro-cut the paper into slices measuring 1/8"x 1/2"for even better security.
As its name implies, the 100X crosscuts up to 100 sheets stacked in its chamber. And it's inside that chamberwhere Swingline's biggest innovation for Stack-and-Shred is found: a set of eight sticky rubber rollers that pull as many as four sheets at a time from the bottom of the stack and, aided by gravity, feed them to the machine's rotating cutter blades below. A pressure plate attached to the closed cover pushes down on the paper stack from above, ensuring it makes contact with the rollers. Smith says this mechanism is patented.
All of the Stack-and-Shred models accommodate small paperclips and regular staples. Staples get shredded along with the paper, while paperclips get separated from the paper between the rollers and fall into the collection bucket below.
All Stack-and-Shred models have a manual feeding slot for shredding up to 10 sheets of paper A self-cleaning function runs the cutting blades forward and back after each use to clear them of sliced paper remnants; anti-jamming technology does the same to clear stuck paper.
But higher capacity brings added features. While the desktop 100X shreds credits cards in addition to letter-sized paper, for example, the taller 300X ($1,249.99 MSRP or $835.58 at Amazon), which has a 300-sheet capacity, also shreds legal-sized paper and CDs and offers a lockable chamberand wheels. The 500X and 750X ($2,499.99 MSRP or $1,543.08 at Amazon, and $3,999.99 MSRP or $2,773.98 at Amazon, respectively), with 500- and 750-sheet capacities, include an integrated reservoir that holds lubricating fluid for the cutting blades.
Shredder performance
The 100X review unit we tested was solidly built and both simple and gratifying to use.
Unlike the comparable Fellowes model (AutoMax 130) that we tested, the Swingline truly turned shredding into a load-and-leave proposition. After we snapped shut the chambercover, the 100X automatically sensed the presence of paper sheets and started shredding them, then ran through its cleaning cycle and shut itself down after the last sheet was consumed. By contrast, the Fellowes model required a button press to begin shredding after the chambercover was shut.
We were disappointed that, priced as high as it is, the Fellowes 130C would not shred discs.
We also tested a 300X review unit and were likewise impressed. In fact, were it not for the significant price difference between the two, our home office preference would be the 300X —or perhaps the 200X ($999.99 MSRP or $592.18 at Amazon) —given its higher capacity, disc shredding capability and wheels.
Notably, Swingline tells us that the 100X is intended for individual users, while the 300X (and all models above the 100X) are meant to be shared by five or more users.
The bottom line
In testing we found the Swingline Stack-and-Shred 100x to be truly a load-and-leave proposition and super simple to use. It self-cleans after every cycle, so no maintenance is required. We highly recommend the 100x for disposing of your sensitive documents at home.
Swingline Stack-and-Shred 100X
Image credit: ACCO Brands
Discussion