We may earn commissions when you buy from links on our site. Why you can trust us.

Review of the Miele Triflex HX1 Pro Stick Vac
Vacuuming is a stop-and-go activity. You start, then you stop to pick up something off the floor. You need to move a chair. Someone calls. Your vacuuming is constantly being interrupted. But when you turn off its power to deal with the interruption, what do you do with a stick vac? For most stick vacs, you need to lean it against a wall or furniture. But Miele has completely redesigned its Triflex HX1 stick vac so it can stand up on its own in the middle of the floor.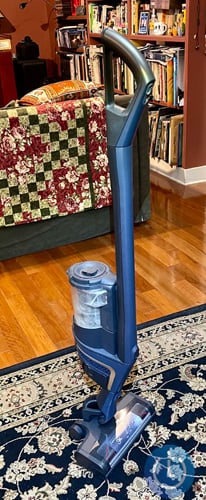 You can assemble the aptly-named Triflex in three configurations, most uniquely with the motor placed at the bottom just above the cleaning head, more like a standard corded vac. It's in this motor-at-the-bottom configuration that the Triflex can stand independently.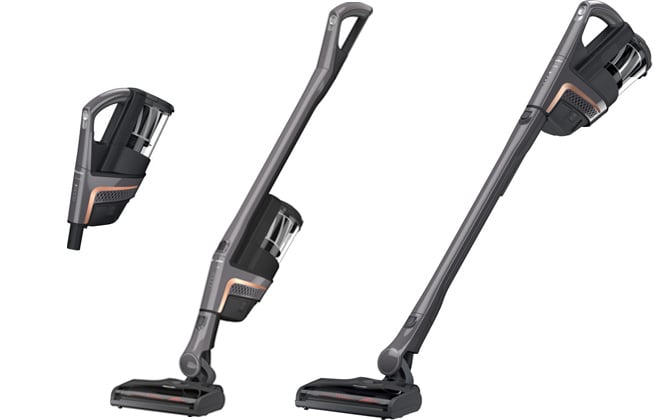 The Triflex HX1 comes in three variants: Miele Triflex HX1 Pro ($799), the "Cat & Dog" ($699), or the plain Triflex HX1 ($499). The version I tested was the expensive Pro version ($799), which includes two batteries and a separate charging tray so you can simultaneously charge both batteries. The two lower-priced options include only a single battery: the Cat & Dog edition includes a special "electro compact handheld brush" for pet hair, or the plain Triflex HX1, which lacks a front light on the primary Electrobrush cleaning head and a HEPA filter, which filters out finer allergens. A second add-on or replacement battery, the HX LA, for one of these less expensive Triflex versions, costs $169, while a second HX LS chargerwill run you another $105. If you're a careful shopper, buying the $499 Triflex version plus the extra battery and charger costs around $150 less than the Pro edition, and you essentially only lose the front light and the HEPA filter.
Over the last year, I've been testing more than a dozen stick vacs.
I evaluated each one for how well it handled a thick pile oriental rug with flour (as a stand-in for dust), sand, long and short human hair, pet hair (rabbit), shredded paper, and Cheerios – singularly and mixed together.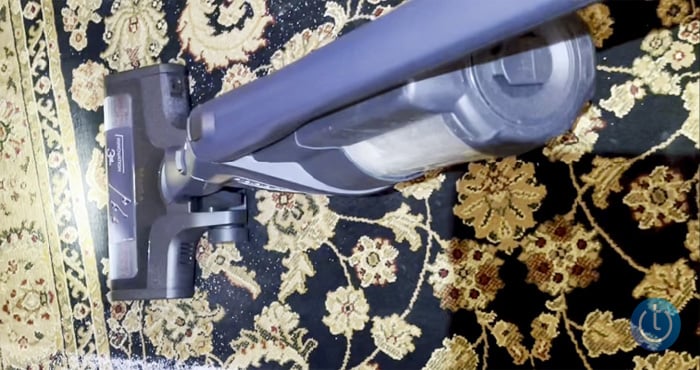 The Miele Triflex HX1 Pro is my pick of the stick vac pack. I'm sold on its stand-up convenience, three-way modularity, powerful suction, and other unique attributes, but it's not perfect.
Setting up the Miele Triflex HX1 Pro
The Triflex's three-way configuration options are not a gimmick. First, the motor can be clicked into place at the normal stick vac position atop the wand, right under the handle. In this position, you can attach a long wand to clean underneath furniture, reach up to vacuum ceilings, curtains, or any other hard-to-reach locations or you can simply click-on a short attachment directly to the motor to create a sort of an advanced (and slightly heavier) dust buster to more easily vacuum sofas, beds, or other off-floor surfaces, as you can with other stick vacs.
Or, you can shift the motor to the bottom just above the cleaning attachment with the wand above it. The resulting lower center of gravity makes the Triflex easier to push/pull across a floor than any other stick vac – more like a corded vac – and can then be clicked into an upright position to stand up on its own.
Included with all three versions are four cleaning head attachments:
the primary Multi Floor Electrobrush brush; the brush with the Pro and Cat & Dog versions are equipped with a front BrilliantLight to illuminate what you're vacuuming
upholstery nozzle
dusting brush with synthetic bristles
crevice nozzle
An Electro Compact hand-held brush can be bought separately.
Unlike other stick vacs that often can't accommodate storage for all their included accessories, an included accessories holder can be integrated atop the Triflex' charging dock and conveniently holds its three attachments with the fourth presumably attached the vac. And because the Triflex can stand on its own, you don't need to wall-mount the dock – you can just connect the AC adapter directly to the Triflex motor.
The Triflex' instruction manual is poorly illustrated. Other than a parts identification diagram near the front, the other usage and maintenance illustrations are inconveniently grouped unlabeled and uncaptioned in the rear cover triple foldout.
Using the Miele Triflex HX1
Beyond its three-way configuration options, Triflex Pro offers additional advantages:
an extra-wide 11-inch roller – most stick vac rollers average between 7 to 9 inches – which means fewer vacuuming back-and-forths over debris
a front LED spotlight on the main brush to illuminate the dirt ahead of you
a "backbar" that catches large particles that might otherwise be shot by the roller behind the vac, handy for things like spilled cereal, especially on bare floors
an easy-to-reach thumb slide on the handle that makes it easy to quickly switch speeds with one hand
an "Electrobrush" on the main brush head that automatically adjusts to an optimal height relative to the floor surface – you'll hear a slight change in the sound when the brush adjusts when you move from carpet to bare floor and vice versa
a HEPA filter that doesn't need washing – just brush it off around once a month
For pure suction, the Triflex' Vortex technology trails only the Dyson V15 Detect in overall effectiveness (Miele doesn't release air wattage power specs) – but not by much. The Triflex usually needs only a single back-and-forth pass to suck up most debris such as sand, shredded paper, pet and long hair, and large particles such as spilt cereal, and its extra-wide 11-inch roller means slightly fewer push-pulls across the floor. On bare floors you only need the low speed, and you need only the top speed for denser carpets or rugs.
The Triflex's lower center of gravity with the motor mounted at the bottom is important: at nearly 7.9 pounds, the Triflex is the heaviest stick vac I tested, more than a pound heavier than the hefty Dyson V15 Detect. This extra weight makes hand-held cleaning more difficult. And, at 80db when vacuuming a carpet, the Triflex is also among the noisiest of the stick vacs I tested. Wearing wireless head or earphones while vacuuming is recommended.
In addition to its weight, there's some other bad news. Long hair winds tightly around the Triflex's narrow roller. You'll need an X-acto-like blade or scissors to cut it all loose, even with the narrow trench in the roller to guide your slicing. If no one in your household has shoulder length or longer hair, you'll encounter no issues.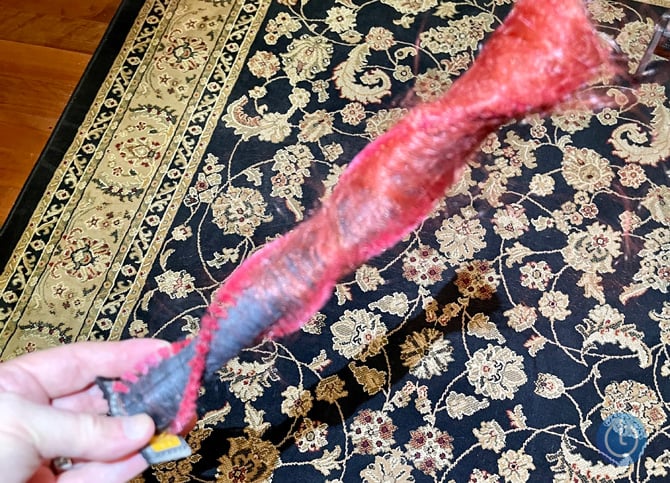 The Triflex also is equipped with a surprisingly stingy 16.91-ounce (.5 liter) capacity dustbin that requires more frequent emptying than other stick vacs. There's a "Max" line around halfway up on the dustbin. You shouldn't let debris rise too high above it, otherwise you'll face problems shaking all the debris loose.
Rather than a status display indicating precise remaining battery time or percentage, you get a disappointing and imprecise three LED array on the front of the motor assembly with a solid or flashing light in various combinations. You need the manual to figure out how much battery life remains or what error messages are being presented. For such a pricey vac, you'd think Miele would have included an actual screen that presented all this information in plain English (or any other appropriate language).
Triflex' swappable batteries are a third larger than the cells on other stick vacs but don't supply extra runtime. Expect about an hour of vacuuming at the low speed and around half that at medium speed, which is about average, and doubled if you add a second charged battery. The batteries require four hours of charge time, also about average.
Maintaining the Miele Triflex HX1 Pro
Triflex's dustbin has an easy twist top that opens its trap door for emptying. Be careful not to let the debris fill higher than the Max line or you'll encounter some trouble shaking stubborn debris loose – not an uncommon occurrence among stick vacs. The dustbin cannister comes apart for cleaning, you just need to make sure the dustbin is completely dry before reattaching it and using it again.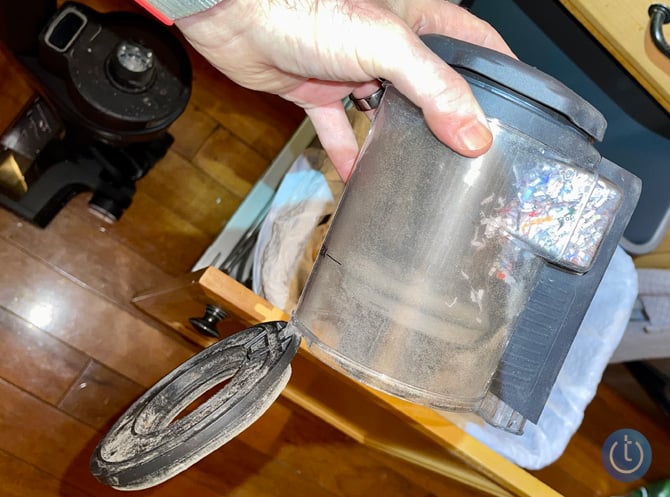 Both the pre-filter and the fine particle filters simply twist to lift out for cleaning. You don't wash the Triflex' conical filters, just tap and brush them clean about every month or so. Miele claims its filters' three stages of filtration "ensure the exhaust air is actually cleaner than the ambient air in the room."
A catch release on the rear of the main Electrobrush brush head lets you easily remove its roller for washing and hair removal. You can turn on the vac on to suck cut hair into the dustbin or just pull the hair off the roller.
The bottom line
I consider Triflex' weight, smaller dustbin capacity, confusing LED array, and long hair issues as minor tradeoffs when you consider the flexibility of its motor placement and its ability to stand up by itself. Plus, its excellent suction, auto surface height adjustment, and easy maintenance makes the Miele Triflex the most practical and flexible stick vac I tested.
Yes, it is the priciest stick vac I tested, $100 more than the also expensive Dyson V15 Detect. But if you don't need the front light and can survive with a single battery, the $499 version of the Miele Triflex stands out as an outstanding stick vac bargain.


[Image credit: Miele, Stewart Wolpin/Techlicious]
Stewart Wolpin has been writing about consumer electronics for more than 35 years, including news, reviews, analysis and history, and has attended and covered nearly 50 Consumer Electronic Shows and around a dozen IFA shows in Berlin. For the Consumer Technology Association (CTA), he is an elector for and writes the official biographies of the annual CT Hall of Fame inductees, and is the keeper of the industry's official history.
---
Discussion