Review of the HTC Droid Incredible 2 (Verizon)
Techlicious editors independently review products. To help support our mission, we may earn affiliate commissions from links contained on this page.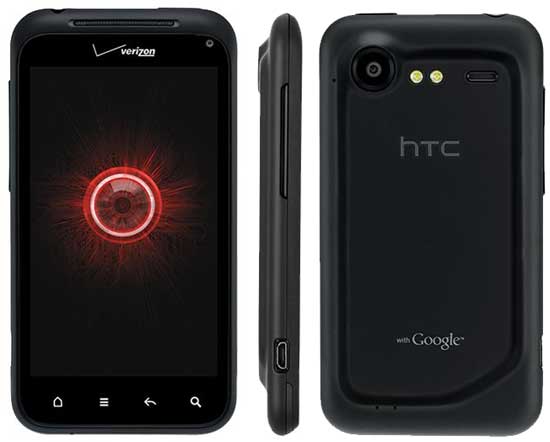 My hands-on review of the HTC Droid Incredible 2 confirms that it is a solid phone with a number of great features. Its "super LCD" display rivals the AMOLED screen of the Samsung Galaxy S series and the Incredible 2's build quality puts the Samsung's to shame.
But the Droid Incredible 2 is not perfect. It's still sporting last year's technology when it comes to its single-core processor and 3G-only speeds. For $200, I would have expected more. Nonetheless, the Droid Incredible 2 should make most buyers very happy.
How it feels in the hand
The Droid Incredible 2 is a nearly perfect combination of size and weight. It feels solid in your hand yet, at 4.6 ounces, it's among the lightest phones with a 4-inch display. And the rubberized back and sides make it super easy to hold. The Droid Incredible 2 measures 4.7 x 2.5 x 0.48 inches, which makes it slightly thicker than the Galaxy S series, but the rear hump adds to gripping comfort.
While the rubberized case is very functional, it's also rather bland, and I am concerned that it may start to look scratched up over time.
Display and Sound
The HTC Droid Incredible 2 has a 4-inch display (800 x 480) which uses "super LCD" technology to produce an incredibly bright image, with natural bright colors that don't look oversaturated. Super LCD also offers better viewing angles than standard LCD screens.
Compared side-by-side with the Samsung Galaxy S 4G's highly-regarded AMOLED display, the Droid Incredible 2 was slightly brighter at maximum settings and had richer colors, while the Galaxy S 4G exhibited deeper blacks. But getting into this level of minutiae on a cell phone is probably going overboard. Suffice it to say that you'll be very happy with the Droid Incredible 2's display.
Sound from the built-in speaker was adequate, if somewhat more tinny than other phones. There is no HDMI-out.
Web browsing & mobile hotspot
If there's one big disappoint with the Incredible 2, it's that it is only 3G. In my testing in NYC, that meant typical download speeds of around 1.5 Mbps, with a peak at 1.9 Mbps. Not bad, but our HTC Thunderbolt 4G LTE phone delivered peak download speeds of over 15 Mbps—a huge difference.
If you're an international traveler, the lack of 4G is made-up for (somewhat) by the fact that the Droid Incredible 2 is a world phone that can run on both CDMA and GSM networks.
Web browsing on the Droid Incredible 2 is made better by the inclusion of Flash 10.1. Pages rendered quickly and they looked fantastic on the super LCD display.
The Droid Incredible 2 can act as a mobile hotspot for up to five devices.
Camera and video recording
The HTC Droid Incredible has an 8MP rear-facing camera, a 1.3MP front-facing camera, and can shoot 720p video. There is also a dual LED flash on the back.
Photos on the Droid Incredible 2 were very good. Colors were natural and more detailed than most other cell phones cameras, thanks to its 8MP sensor. Both color and detail suffered in low-light conditions, though no worse than on other phones.
Camera menus were intuitive, with useful controls for customizing white balance, ISO, exposure, contrast, etc. The camera also provides a touch to focus feature, which comes in especially handy in low-light conditions, or for using photo effects such as changing the depth of field.
The 720p video recording was also better than on most other cell phones, with fewer compression or motion artifacts. But it still is not up to standalone camcorder quality.
The Droid Incredible 2's 1.3MP front camera offers plenty of resolution for video chat. But, here again, we really wish that 4G speeds were on tap.
Keyboard and Navigation
General navigation was what you would expect from Android 2.2—which is very good. There are seven panels, each customizable with various widgets and apps. The keyboard is well laid out and typing is quick using the Droid Incredible 2's predictive text input.
Though the Droid Incredible 2 is not using the latest dual-core processors, I noticed little difference in load times or navigation when compared with a dual-core Motorola Atrix. Unless you're planning to rock 3D games on your phone, you probably won't either.
My one criticism is what Verizon/HTC did to the app list. Rather than the typical Android scrolling list, apps are broken up into sections of 16 apps per page, similar to the Samsung TouchWiz interface. If you have a lot of apps, it can get tedious scrolling through these pages one at a time.
There are icons at the bottom of the app list that let you display all apps, frequently used apps, downloaded apps and Verizon installed apps. The first three are somewhat helpful, the last is not. Verizon installed far too much bloatware on the Droid Incredible 2 and wants you to know all about it. Of the 19 apps Verizon is promoting, only a handful will be helpful to most users and none can be removed.
The Droid Incredible 2 uses touch-sensitive main navigation buttons—for Menu, Home, Back and Search—that will rotate depending on the app you're using and the orientation of the phone. Pretty neat, but I still prefer physical navigation buttons.
Storage
The Droid Incredible comes with a 16 GB microSD card and will support up to a 32 GB microSD card.
Battery life
I didn't have time to do extensive battery life testing on the Incredible 2, but with a 1450mAh battery and specs similar to the HTC MyTouch 4G, I would expect the Droid Incredible 2 to be typical for most smartphone—will last you through the day under normal usage and you may get 24 hours if you don't use it much.
Pricing and availability
The HTC Droid Incredible 2 is available starting April 28th for $199.99 with a new, two-year customer agreement. Fortunately, Amazon already has it discounted to $99.99.
Should you buy it?
The HTC Droid Incredible 2 is a very nice phone. It's a great size, has a beautiful 4-inch display, has a very good camera and pretty much every other feature you would want, except for 4G. However, your only 4G option on Verizon right now is the HTC Thunderbolt, which will run you $50 more than the Incredible 2 and, with a 4.3-inch display, many people (including me) will find it uncomfortably large.
So if you're looking for an Android phone on Verizon, I recommend the HTC Droid Incredible 2 as my phone of choice. But $200 is a little dear without 4G or a dual-core processor to receive our highly recommended rating.
Rating: Recommended
Detailed Specs
Talk and Standby Time: Up to 6.5 hours talk time, up to 15 days standby
Band/Modes: CDMA 800/1900MHz + UMTS/HSPA 900/2100MHz + GSM/GPRS/EDGE 850/900/1800/1900MHz
OS: Android 2.2
Weight: 4.8 oz
Dimensions: 4.7 x 2.5 x 0.48 inches
Battery: 1450 mAh
Display: 4.0" WVGA Super LCD (800 x 480)
Video: 720p
Camera: Rear-facing 8.0 megapixel, Digital Zoom, Auto Focus
Front-facing Camera: 1.3 megapixel
Mobile hotspoty: Up to 5 devices.
Processor: Qualcomm Snapdragon 1GHz Processor
Memory: 768MB RAM, 16GB microSD pre-installed, supports up to 32GB micro SD
Discussion
New Articles on Techlicious