Review of the LG Lucid (Verizon)
Techlicious editors independently review products. To help support our mission, we may earn affiliate commissions from links contained on this page.
LG Lucid review summary
The LG Lucid is being targeted to first-time smartphone buyers, so I didn't have high expectations for its performance. Especially, after the lackluster experience I had with the Lucid's big brother on Verizon, the LG Spectrum. But boy was I pleasantly surprised. The Lucid was a solid all-around performer, and one of the best bargains on any carrier.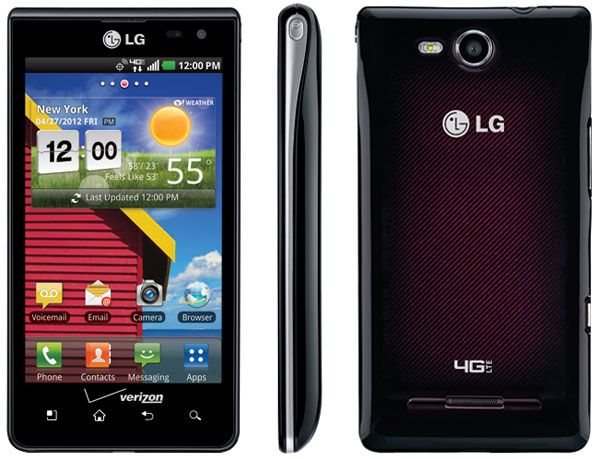 How it feels in the hand
The Lucid is targeted to the average phone buyer, so forgoes a massive display in favor of a far more hand-friendly 4-inch size. It fits nearly perfectly in my hand, with all the curves in just the right places. It's not the lightest phone out there at 5.0 ounces, but feels solid. The Lucid has a somewhat slick back cover, but given the Lucid's otherwise excellent ergonomics, it wasn't a big issue.
LG also did a nice job with button placement and size. The raised power button is right where you thumb sits on the upper right side, making it simple to find, yet offering enough resistance to avoid accidental presses. The volume buttons sit opposite on the left, and are also easy to manipulate without hunting.
Display & Sound
The LG Lucid's 4-inch display (800 x 480) doesn't stand out from the pack, but it provides nice contrast and bright colors and will serve most users just fine. It doesn't hurt that it's covered in Gorilla Glass for extra durability.
Call quality was only average and the speakerphone was less so—voices sounded tinny and distant.
Web browsing & mobile hotspot
It's nice to see Verizon's 4G LTE making its way into budget phones. The Lucid's speeds were typical for an LTE phone—which means very fast. It delivered downloads speed in the low 20Mbps range. Web browsing was speedy, naturally.
The Lucid can act as a mobile hotspot for up to 10 devices.
Camera & video recording
After being disappointed with the high-end LG Spectrum's camera performance, I assumed its cheaper cousin would be worse. Not the case. Even though the Lucid "only" sports a 5MP camera, it delivered very good shots, with natural colors, good contrast, clear images and fast shutter response. In other words, everything I want in a smartphone camera.
Video was also impressive in both 720p and 1080p. As with the photos, image quality was excellent, and the Lucid refocused quickly with moving subjects. There is no anti-shake feature.
Keyboard & Navigation
The Lucid runs Android 2.3 Gingerbread. It's too bad they didn't go with Android 4.0 (Ice Cream Sandwich), but most purchasers of the Lucid probably won't be put out.
The 1.2 GHz dual core processor was another treat at this price point and provided snappy navigation. Swype comes pre-installed.
Storage
The LG Lucid has 8GB of onboard memory and includes a microSD card slot expandable to 32GB.
Battery life
The Lucid has a 1700mAh battery that would last me through the day and into the next under normal usage—one of the benefits of a smaller display.
Pricing and availability
The LG Lucid is available from Verizon
for $79.99 with a new, two-year customer agreement. Or, you can purchase it from AmazonWireless for only $.01.
Should you buy it?
Verizon and LG are positioning the Lucid as an entry-level phone for smartphone novices. And it serves that purpose well. But even veterans will find plenty to like: LTE speeds, very good photos and excellent ergonomics.
It's not a perfect phone—call quality could be better and a higher resolution display wouldn't hurt. But for a phone that you can pick up on AmazonWireless for only a penny, it's a great buy.
Rating: Highly Recommended
Detailed Specs
Talk and Standby Time: Up to 8 hours talk time, up to 14.6 days standby
Band/Modes: CDMA Dual band/LTE
OS: Android 2.3 Gingerbread
Weight: 5.0 oz
Dimensions: 5.69 x 2.45 x 0.45 inches
Battery: 1700 mAh
Display: 4" NOVA IPS LCD (800 x 480)
Video: 1080p
Camera: Rear-facing 5.0 megapixel, Auto Focus, LED flash
Front-facing Camera: .3 megapixel
Mobile hotspot: Yes, up to ten devices
Processor: 1.2GHz Dual Core
Memory: 1GB RAM, 8GB onboard storage and microSD card slot expandable to 32GB
Discussion