We may earn commissions when you buy from links on our site. Why you can trust us.

Review of the Olympus XZ-1 Digital Camera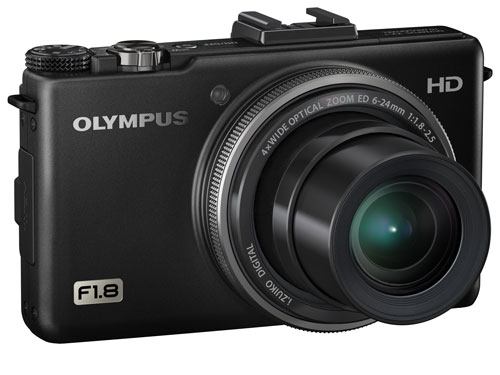 The Olympus XZ-1 is a compact camera that sells for $500. Is that completely insane? Maybe not, if you value the ability to take indoor photos without firing off a harsh, intrusive, skin-tone-unfriendly flash. The XZ-1 has a full range of sophisticated photographic capabilities, but what really sets it apart are two low-light-loving features: a fast f/1.8 zoom lens and an extra-large light sensor.
When we talk about how "fast" a lens is, it's a measurement of how efficiently it passes light to the sensor. The relevant stat is called "maximum aperture," and a lower number is better. The lenses that come with most cameras, compact or SLR, offer a maximum aperture of f/3.5. An f/2.8 lens is considered unusual. And an f/1.8, like the Olympus XZ-1 lens? Extraordinary.
To put this fast lens blather in perspective, the slowest shutter speed most of us can get away with before shaky hands lead to blurry shots is about 1/30 second. In a room that let me shoot with an f/1.8 lens at 1/30 second, an f/2.8 lens would require 1/15 second, and an f/3.5 lens pushed me to 1/8 second -- only practical for shooting inanimate objects using a tripod.
Where sensor size factors in is the grainy image noise you so often see in low-light photos. When manufacturers push up the megapixel count on a small image sensor, it creates electrical interactions between the tiny light receptors – your low-light images start to look like pointillist paintings. Olympus not only used a sensor twice as large as you'd find on most compact cameras, they also stuck to a reasonable 10 megapixel resolution – more than enough for big prints, but low enough to avoid excessive crowding and minimize noise.
Beyond the lens and sensor, the XZ-1 features are closer to a digital SLR than a standard compact camera, albeit in a package you can fit comfortably in a purse or jacket pocket. You get full manual, aperture-priority and shutter-priority exposure control, the option to shoot in uncompressed RAW format (great for extensive image editing) and a flexible metering system. The rear display isn't your typical LCD – it's an OLED screen that displays deeply saturated colors and great detail, with very high 610,000-dot resolution. Another unusual feature is the hot shoe on the top, which can be used to mount an external flash, or an external mic, or the electronic viewfinder Olympus makes for its PEN series cameras. The viewfinder is a bit pricey at $250, but it offers the increasingly rare option of holding a compact camera up to your eye when taking a picture, offering increased stability and a clear view even when bright sunlight makes it hard to see the rear screen.
You can use the XZ-1 as a point-and-shoot if you like – the iAuto system tries to match what it sees to a variety of shooting conditions and set the camera accordingly, delivering decent results. There's also an interesting twist to the full auto mode. If you like, you can bring up a Live Guide menu that lets you adjust color, brightness, and background sharpness based on live feedback on the display, without mastering the technicalities of aperture, shutter speed, white balance and color profiles.
For those who want more manual control, a handy ring around the lens makes adjustments speedy and convenient (though letting the user decide what that ring will change when shooting in Program mode instead of limiting it to ISO setting would have been an improvement).
When you're not shooting in full auto mode, the familiar Olympus quick menu system offers ready access to all the frequently changed camera settings. Pressing "OK" overlays a list of settings such as ISO, photo style, white balance, focus settings, flash mode and so on along the left side of the screen. You simply cursor through the list and make the adjustment you want without a time-consuming trip to the main menu system. It's easy to learn and efficient to use.
The XZ-1 starts up fast, focuses quickly, and needs only about a second between shots, with no perceptible shutter lag. The zoom control is responsive and accurate – too many compact cameras don't stop zoom movements precisely when you let go of the control, making accurate framing difficult.
Image quality is generally impressive, though picky users may object to a loss of detail at high ISO settings. Up to about ISO 400 this really isn't an issue, with both sharpness and low image noise even in dark shots. As you push past ISO 400, though, the aggressive noise reduction processing used to keep grainy image noise at bay results in a loss in detail, if you look closely. Unless you're enlarging an image dramatically, you probably won't notice. If you're a detail-hound, though, you can increase the Sharpness setting (adding a bit of noise in the process), or shoot in RAW format and tweak the sharpness/noise trade-off in your image editing software.
Video recording gets its own button on the back of the camera for fast access, with the results stored in 720p Motion JPEG format – not the most compact choice, but easier to edit and view on a computer than alternative options. The camera provides direct video playback to your TV via standard-def (cable included) or high-def HDMI (optional cable required).
So, now that we've explored what sets the Olympus XZ-1 apart, let's take another look at that price tag issue. For another hundred dollars you could buy an interchangeable lens camera like the entry-level Pentax KX SLR or Sony's NEX-3. In both cases, you'd get an even larger image sensor, but neither camera's going to fit into anyone's pocket with a lens attached, and the stock lenses have an f/3.5 maximum aperture (though, admittedly, you can swap lenses, a trick the XZ-1 doesn't allow). Considering the combination of low-light capability, full manual control, expandability and that beautiful OLED display, I figure the XZ-1 is undeniably a luxury product, but one that delivers real performance and photographic flexibility for your investment.

---
Discussion