Samsung Neo QLED 4K 65-inch Smart TV QN90C: A Movie Lover's Dream TV
Techlicious editors independently review products. To help support our mission, we may earn affiliate commissions from links contained on this page.
Most big-screen TVs can impress with blinding brightness and radiant reds, but in the process, they usually sacrifice picture details and color fidelity. Samsung's QN90C Neo QLED 4K set ($2,799, currently $2,399) is the exception that proves the rule; delivering one of the most accurate pictures available in a 4K TV, with plenty of brightness, and without the compromises in clarity or color; making it one of the top TVs at any price.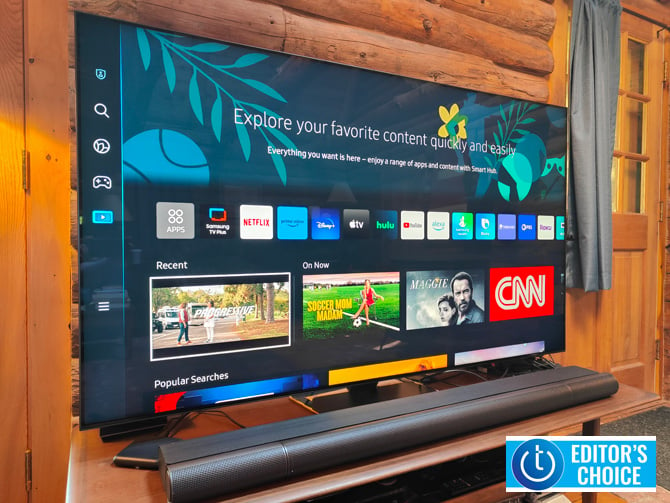 Supporting its excellent picture, the Samsung QN90C comes with more than capable smart TV features, a respectable built-in sound system, and the company's latest video processing chip, the Neural Quantum Processor. The set also includes support for the filmmaker mode video format (which will please movie lovers), Dolby Atmos surround sound, and high dynamic range HDR10+ content, which produces more intense colors. About the only format the set doesn't support is Dolby Vision, an omission most viewers won't miss.
When compared against other premium sets in this price range – a group that includes models from LG, such as the 65-inch Class C3 Series OLED TV ($2,399), and Sony, such as the 65-inch Bravia XR X93L Mini LED 4K TV ($2,399) – the Samsung QN90C more than holds its own.
Setup
To set up the Samsung set, you can go through the various menus using the included remote control or use a smartphone. I chose the latter, which let me scan a giant QR code on the TV screen and then use Samsung's SmartThings app to connect to my WiFi network.
As part of the process, you're prompted to choose between Amazon Alexa and Samsung's own voice assistant, Bixby, to control the TV. I selected Bixby for searching for movies, playing music, getting weather updates, and other functions. Samsung also includes the option of using its Adaptive Picture feature that analyzes the viewing environment (are you in a bright room or is it at night) and the current video content to deliver the best picture. In all, Samsung's setup process is seamless and can be completed in less than 20 minutes.
Picture Performance
The QLED on the Samsung QN90C's nameplate stands for quantum-dot light-emitting diode. It simply means that the set uses an extra layer of quantum dots in the screen to increase the number of colors it can display; the LED part of the acronym refers to the way the screen is lit from behind using multiple LEDs. (This is not to be confused with OLED TVs, which Samsung also sells, which use organic light-emitting diode technology to create a picture.) QLED displays are no longer restricted to high-end TVs, but Samsung's Neo QLED QN90C still has the edge over lower-priced models in terms of overall picture performance thanks to its sophisticated video processing and higher refresh rate (120 Hz vs. 60 Hz).
Samsung also refers to the QN90C as mini-LED TV (not to be confused with micro-LED, a technology that still costs more than the average new car). Mini-LED means the QN90C uses multiple LEDs to independently illuminate different sections of the screen, allowing the TV to keep one corner of the screen dark for a shadowy look while simultaneously lighting up another corner to illuminate, say, the hero's flashlight or lightsaber.
The Samsung QN90C is based on a 120-Hz LCD panel, which means it can deliver a sharper picture than lower-priced 60-Hz TVs. In addition, the TV has several preset video modes, including Dynamic mode (for sports), Standard mode, Movie mode, and Filmmaker mode. (There's also an intelligent mode setting, but I found it wasn't that smart; its exaggerated contrast and brightness made colors bleed, and some images look flat and artificial.) After trying out various video sources, including streaming, broadcast, and Blu-ray discs, I found that the best mode to produce the most accurate picture on the Samsung QN90C was Filmmaker mode, which I used for most of my testing.
Overall, the Samsung QN90C offers an impressive picture with improved horizontal viewing angles so that those family members sitting off to the side can still appreciate the 4K image. However, the set's most striking feature is its excellent color reproduction. Realistic color is paramount, with skin tones, tans, and freckles all faithfully reproduced. Reds remain deep and rich even alongside yellow and magenta in an actor's sweater. Even verdant jungle scenes are naturally green and vibrant.
In 4K material, like Star Wars: The Rise of Skywalker, details such as the blood-red cracks in Kylo Ren's helmet are clear and sharp. And in fast-action sequences, there's a clarity often lacking in other sets; you can actually see the arrow fly by Ray and strike the stormtrooper, for example. In desert scenes, screen uniformity is top-notch, so there are no hotspots or dim edges on the screen.
Furthermore, Samsung's video processing prevented the appearance of unnatural banding that can occur in scenes featuring sunsets or sunrises where a smooth transition between colors is called for. In the serpent's lair, shadowy corners were subtly shaded but still visible, and Ray's lightsaber rarely created unwanted halo effects. Even in Harry Potter and the Deadly Hallows, the Samsung QN90C did well, revealing details in dark corners and subtle shading that even some OLED sets have trouble reproducing.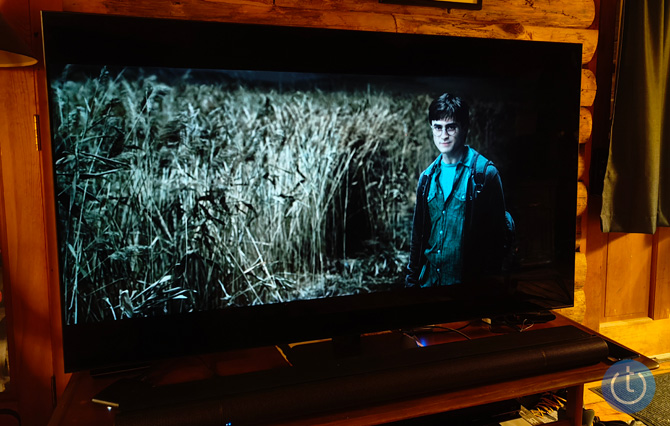 If you watch broadcast television programs, most of what you're looking at is in lower-resolution HD. So it's important that a 4K set does a respectable job converting HD into a 4K picture, so-called upscaling. Samsung has a lot of experience in this regard, and the computer processor and software it uses does a superb job handling HD programs. TV fare, such as the Brit mystery series Death in Paradise, looked seamless and detailed when upscaled on the Samsung QN90C. There was no image jitter or picture artifacts in movie or filmmaker mode. The lush rainforest scenes didn't blur any tree fronds, and the scintillating blue water looked clear and inviting.
As for games, the Samsung QN90C automatically recognizes when you switch to, say, an Xbox or PlayStation console, putting the set into game mode and triggering its auto low latency setting designed to minimize video processing that might slow down the picture. So for first-person shooters like Call of Duty (if that's your thing), there's minimal delay between your twitching finger and what appears on the screen. In other words, if you get eliminated by another player, you can't blame it on the TV's slow reaction time.
Audio Performance
Since most TV makers focus their attention on picture quality, the sound performance of sets is usually their Achilles' heel. However, Samsung has put more energy into the audio section of the QN90C so that it delivers above-average sound.
The set has two main preset audio modes, Standard and Amplify, as well as support for Dolby Atmos, the surround sound mode favored by most movie content these days. In Standard mode, the Samsung QNC90 doesn't have a very wide soundstage, but it takes a balanced approach that doesn't overly emphasize the high or low notes in music. Subjecting my neighbors to my favorite 80's hit, Aha's "Take On Me," the track retained a good portion of its bass line, although there was something missing when it came to those high, soaring vocals. I had a similar experience with tracks from Steely Dan's "Can't Buy a Thrill." The over-produced songs on the album did well, with individual instruments nicely separated, including maracas and vocals; even the background bongos were clearly discernible.
What you won't get in the Standard audio setting is a lot of volume. At the 70 percent level, for example, I received about 60 dB of volume in a large living room. If you switch to Amplify mode, as the name suggests, you'll get more sound pressure – 80 dB at the 70 percent setting. However, Amplify mode is designed to boost dialog in video content, so it overemphasizes vocals and higher notes in soundtracks, which will sound tinny to most listeners. (For making further adjustments, Samsung has a 7-band equalizer for lowering the treble or boosting the bass.) However, I found Dolby Atmos soundtracks were reasonably rendered. Still, as with nearly every slim TV, if you want the full home theater experience, you will want to add a soundbar or separate surround sound system to improve the sonic experience.
Like Sony and LG, Samsung offers a feature that can use the TV's speakers in tandem with a compatible sound bar (rather than turning off the TV's sound when you're using the soundbar). Samsung calls this feature Q-Symphony, and it can be quite compelling, delivering dialog that seems to come from the actor's lips on screen while simultaneously projecting sound effects that emanate from all around you. However, like other versions, Q-Symphony only works with Samsung's own recent soundbars, like the excellent 80C I reviewed. Unfortunately, I had already returned my review unit to Samsung, so I couldn't test it with the Neo QN90C.
Design
All this technology is packaged in a handsome chassis with a bezel-less frame that's surprisingly svelte for a quantum-dot LCD TV. It's just 1.1 inches deep at its thickest point, which is not OLED skinny but is still quite slim. In comparison, most LED TVs are more than twice as thick. And aside from the ports on the right side of the back panel (4 HDMI, 2 USB, and optical and Ethernet ports) and the power connection on the left, the Samsung QN90C's smooth back means that if it has to be situated such that its back side will be exposed, it won't be an eyesore. The set's center-mounted stand completes the elegant design, and its heavy metal bass construction means the set is stable on a tabletop. The only hitch is that because the 10-inch-deep stand is in the center, it makes it tricky to fit a sound bar underneath it.
Smart TV Features and Remote Control
Samsung is one of the few TV manufacturers that is still developing its own smart TV software, called Tizen, for streaming video and juggling apps. Most other makers, with the exception of LG, have adopted either Google TV or Roku as their smart TV software platform. That's not to say Samsung has fallen behind. It offers all the main streaming apps and does a reasonable job of providing regular updates. It even supports less popular but essential apps for movie fans, such as the Criterion Channel.
And the company supplements the regular apps with aggregated content, including over 200 live streaming channels and thousands of free shows (usually supported by advertising). Since Samsung is also agnostic as to what streaming service you should subscribe to, the company doesn't promote, say, Amazon Prime options over Netflix. With large on-screen icons and additional categories like movies to rent for less than 4 dollars, you'll find listings that include everything from Amazon to Vudu.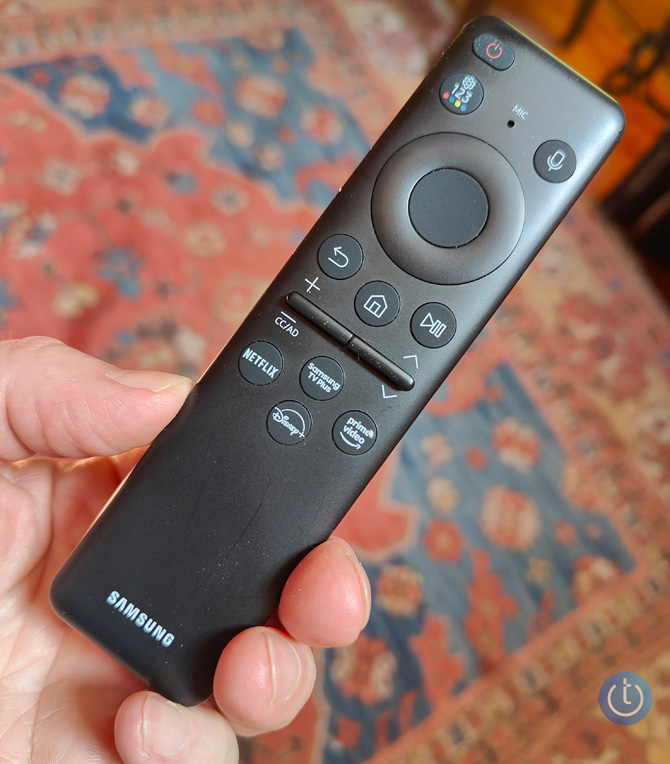 To control it all, rather than a typical mundane remote control, Samsung offers something a little different. The remote is light and small, just under 1.5 inches wide and only 5.5 inches long, and it's rechargeable. But what makes it unusual is that it has a diminutive solar panel, so you may never have to plug it in to charge it. And you don't have to leave the remote in the sun; it gets its energy from indoor lighting, as well.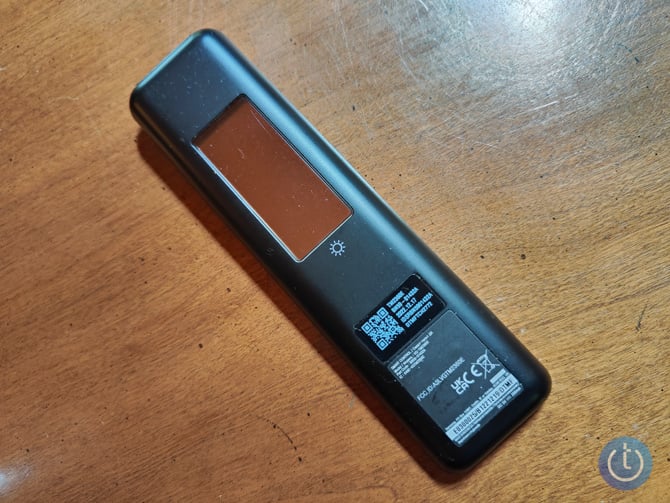 The remote for the Samsung QN90C has the home and settings buttons, a power switch, and a circular directional pad for navigating menus. There's also a mic button that you press and hold to ask Alexa questions or use Bixby, Samsung's voice assistant. You can also set up voice commands to work without having to press the mic button or even turn on the TV, a handy option when you just want to know the weather forecast. All you have to do is say, "Hi, Bixby," and then issue a command, including controlling other compatible devices, such as lights, that you've connected to the SmartThings app. Bixby is reasonably accurate but a little too literal. If you ask it to switch to Roku, it will default to Samsung's Roku app rather than a connected Roku streamer. In Samsung's browser, asking for The New York Times takes you not to the newspaper's site but to NYT videos elsewhere. And like other voice assistants, Bixby is easily confused. "Play Bodhisattva by Steely Dan" came out as "Booty sootfoot by Steely dan."
Bottom Line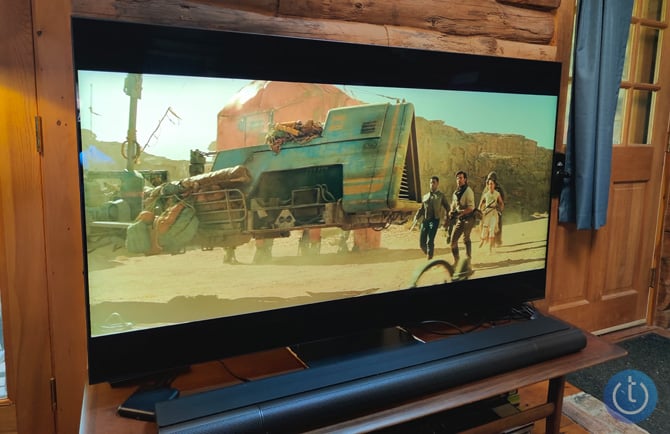 To say that there's a lot of competition in the big-screen TV space is an understatement. Big-box stores have racks and stacks of bargain 65-inch models priced at under $1,000. But those TVs lack the features and picture performance of Samsung's QN90C ($2,799, on sale for $2,399 at press time). For serious movie fans who want the sharpest 4K picture possible, the QN90C's faster refresh 120-Hz display, mini-LED backlighting, and superb advanced video processing, you can't go wrong buying this set.


[Image credit: John Quain/Techlicious]
John R. Quain has been covering science and technology for over 20 years. His work has appeared in Rolling Stone, PC Magazine, Esquire, and U.S. News & World Report. He was the on-air technology contributor to the CBS News Up to the Minute television show for 17 years and is a regular contributor to The New York Times.
Discussion