We may earn commissions when you buy from links on our site. Why you can trust us.

Should You Buy Your Kid a Smartphone?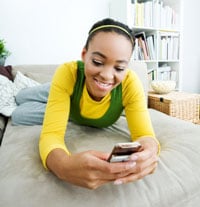 My 9-year-old daughter has been asking for a cell phone for three years. It will be a few more before she gets her wish, but each time she asks, I think about what type of device I would get for her. Would it be a regular phone, with calling and texting, or a smart phone? I'm going with a smart phone.
With my daughter, one of the most important things a smart phone could do for her is to keep her organized. All smart phones come with a calendar. So she'd be able to schedule her longer-term homework assignments and after-school activities. I'd be able to send doctor's appointments and family activities to her phone and they'd appear on her calendar.
Another feature that appeals to me as a parent is Google Maps, available on most smart phones. I know that she'll never get lost when a map is always in her "pocket." Plus, I can load a navigation app for use in the car when she gets her driver's license.
A smart phone is also a homework helper. My daughter is already being given assignments that require her to research subjects on the Web. With a smart phone, maybe she'll actually get some of that work done on the bus ride home. And with Google search set to strict filtering, I know she won't be exposed to explicit text or images.
On the entertainment front, a smart phone can replace a number of the devices she uses today. She already has an iPod, loaded with her music, movies and TVs shows. A smart phone can handle that plus give her access to streaming services like Netflix, for movies, and Slacker, for music.
She also loves playing games on her Nintendo DSi — mostly games involving virtual pets and shopping. So I can see her easily moving her gaming to a smart phone. Hard-core junior gamers, though, will enjoy the newest Android phones hitting the market later this spring. With their dual-core processors, there will be plenty of power and the 4- to 4.5-inch displays are competitive with stand-alone, portable gaming systems.
Then there are the e-book reading apps. As an avid book reader, my daughter is constantly complaining about running out of things to read. Not with a smart phone. I could send new titles to her phone whenever she's ready for more.
Managing smart phone features
With all of the functionality a smart phone has to offer comes the need to use it responsibly. For some kids, this won't be a problem, but others might benefit from the boundaries you can set with parental controls.
For things like managing talk time, text messaging and call blocking, the carriers all have parental controls. For everything else, you'll have to rely on settings you choose on the phone.
The best parental controls are found on the iPhone. That's because they're baked into the operating system. You can turn off access to Safari, YouTube, the camera, iTunes, installing and deleting apps, making in-app purchases, playing multi-player games and adding friends in Game Center. You can also restrict access to music, TVs shows, movies and apps based on ratings. Plus you can add an app like Safe Browser to filter content on the Web if you don't want to shut it off entirely.
Android phones don't have any parental controls built into the operating system. There are apps out there though that do that, and they cover some areas that the iPhone doesn't. There's Android Parental Control (free), which restricts access to apps. AppNotifier (free) will let you know when your child loads apps onto the phone. SMS Filter ($1.35) looks for keywords in messages and blocks inappropriate content. And Picture Alert ($9.99) will send copies of any videos and pictures taken by the phone's camera.
BlackBerry 6 and Windows Phone 7 operating systems are also devoid of parental controls and there's nothing out there except call- and text- blocking apps.
There is also the data plan fee to consider when you're looking at smart phones. You'll be paying a minimum monthly fee of at least $15 on Verizon (150MB), $10 on T-Mobile (200MB) or $15 on AT&T (200MB) and $20 per month on Sprint (unlimited). But go over that limit and the fees can add up quickly.
While parents have the ultimate say in what type of phone to get their children, the question of smart phone versus regular phone is rapidly becoming moot. Already 94 percent of teens consider themselves advanced data users and their data use is skyrocketing, as they've become avid app users, according to a recent Nielsen study. Soon all phones will be smart phones by today's standards. And I think that's a good thing.
---
Discussion