We may earn commissions when you buy from links on our site. Why you can trust us.

TCL S Class 5.1 Soundbar: Big Sound, Small Price, Effortless Install
In the bad old days of surround sound, it took patience, perspiration, and proficiency with sound systems to install a home theater sound system. Thankfully, those days are long gone as evidenced by TCL's S Class 5.1 Channel Sound Bar system (model S4510), one of the easiest systems to install that we've ever tested. Better still, it delivers a significant sonic boost over what's available from most TVs for just $279.99 (less than $200 in retail).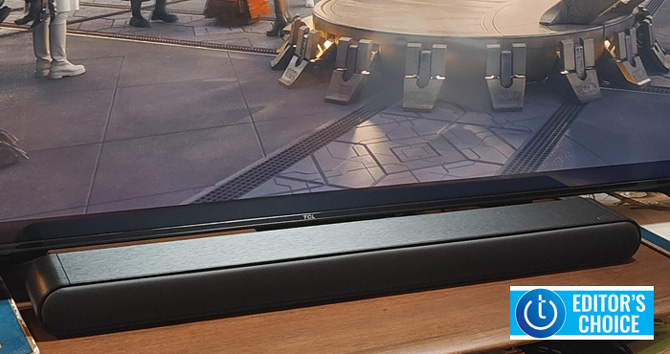 Touted as a complement to 55-inch or larger TVs, the TCL S Class system handles Dolby Digital soundtracks (rather than the more advanced Dolby Atmos) and offers DTS Virtual: X support. Both modes deliver an immersive surround sound experience that movie lovers and sports fans will appreciate. However, if you're looking to fill a larger living room with earsplitting sound effects and want Dolby Atmos support, you will have to spend more to make the upgrade to a model like Samsung's $800 HW-Q800C Soundbar.
+ Pros
– Cons

Very simple setup
Good surround sound separation

Loose bass notes
Tricky remote control
Design and Setup
The TCL S Class sound bar is actually a sound system. It includes a 31.89-inch-wide, 2.44-inch high soundbar that sits beneath your TV, two rear satellite speakers, and a floor-standing subwoofer. The 5.1 channel designation means that there are three channels up front from the sound bar, the two rear satellite channels, and then the subwoofer (the .1 channel). TCL rates the system for a total of 300 watts of power.
The hallmark of the TCL S Class sound system is its incredibly easy setup. True, soundbars always claim to be easy to install, but this model was exceptional. Just unbox it, plug the power in, and connect the center bar to the TV's HDMI eArc port, and presto, it will be pumping out sound in less than 10 minutes. Also true to the TCL instructions, just plugging in the satellites to the subwoofer and then plugging the subwoofer into a power outlet automatically made the wireless connection to the soundbar and brought the satellites to life. Not exactly magic, but pretty darn close. There was no awkward pairing process, no calibration needed, and no settings to adjust. The TCL S Class sound system worked straight out of the box.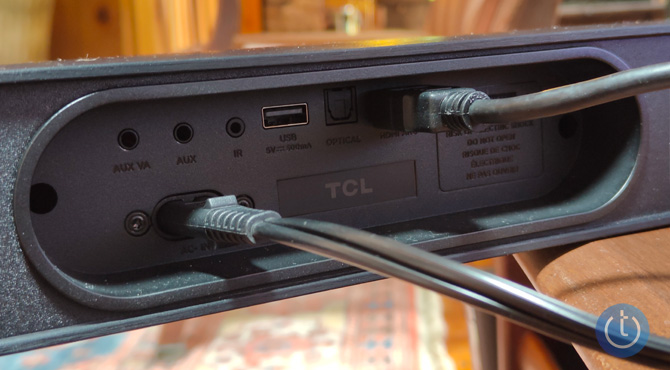 As mentioned, although the subwoofer is wireless, the satellite speakers use cables to connect to the subwoofer. Fortunately, those cables are over 26 feet long each, which should offer plenty of flexibility for most installations.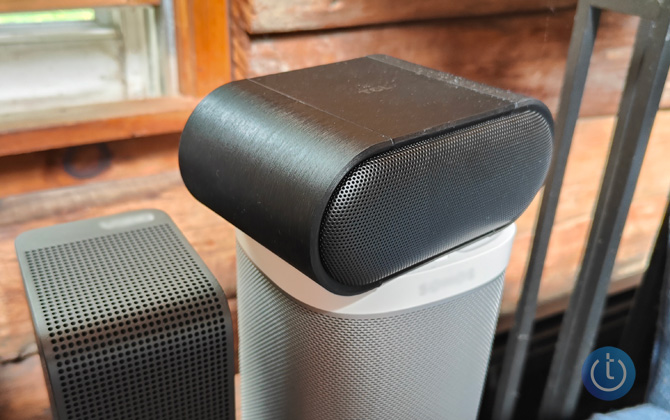 If you are looking for more audio options, the TCL S Class sound system includes Bluetooth for wireless sound sources like a smartphone, an optical digital audio port for a stereo system, and a USB port for an MP3 player or similar device. There's also an analog stereo input. Plenty of options to handle most families' needs.
Audio performance
Given all those possible sound and music choices, TCL includes several preset audio modes to match, including a Music setting, Sports, Game, Voice (for focusing in on dialog), Movie, and Standard settings (for most broadcast programs). To switch modes, you depress the surround button on the supplied remote control, and a voice will tell you when you've switched modes.
Music mode, for example, directs more of the audio to come from the center of the soundbar, which tightens up the bass and gives it more midrange. It also focuses the soundstage up front and diminishes the role of the satellite speakers and the subwoofer. Still, when auditioning a video of Cream performing Born Under a Bad Sign live, the TCL S Series revealed a reasonable dynamic range and solid reproduction of Eric Clapton's guitar. On the other hand, Jack Bruce's fretless bass lacked focus, and the notes seemed loose. Aha's Take On Me confirmed the impression with stable high notes but a sloppy bass line.
While watching streaming content at night, I frequently tested the Voice mode. This setting noticeably reduces the volume of the side/back channels and midrange notes. Instead, the Voice mode focuses on higher, midrange frequencies to emphasize typical dialogue and direct much of the sound to the TCL S Class soundbar's center channel. It's effective, but some viewers may still resort to invoking subtitles (an ingrained habit of younger viewers).
Other modes render predictable sonic changes. Game mode focuses the sound up front and emphasizes the higher registers for first-person shooters with a more rounded bass profile to give explosions more oomph from the subwoofer. Sports mode transfers almost all the crowd noise up front and makes a college football game sound, well, more lively with very little bass and minimal participation from the satellite speakers. (If you want more from the satellites you can boost those separately.)
However, the real test of a surround sound system is an action-packed movie, and Guardians of the Galaxy 3 proved a worthy workout for the TCL S Class sound system. Songs from the movie's soundtrack received the space rock treatment with a convincing surround sound effect. Even better, the S Class system proved very effective at creating the sensation that rockets (and some alien projectiles) were coming at us from the side and back. Sparks and explosions in the initial fight scene came clearly from the left and right while maintaining the wisecracking dialog squarely in the center. All of this was enhanced by a better-than-average dynamic range.
Even when you don't have a Dolby movie soundtrack, the TCL S Class sound system can be switched to engage the DTS Virtual:X mode to enliven any source material. However, the DTS Virtual:X mode can also make some soundtracks seem artificial and cause listener fatigue. It is very much a matter of personal taste.
But no matter what mode you prefer, the TCL S Class will deliver a definite boost to your cinematic experience. In a medium-sized living room with few sound-reflecting surfaces, I pushed the volume up to 80 dB without any appreciable distortion. Consequently, most viewers will find it delivers enough volume for their Marvel movie nights.
Remote control
In addition to power, source, Bluetooth, and volume buttons on the sound bar, TCL includes a compact remote control with the sound system to manage a variety of settings. Its four-way directional pad is fairly straightforward but mastering its series of dedicated buttons and relying on just a series of LEDs on the soundbar to convey the system's status can make it challenging to operate.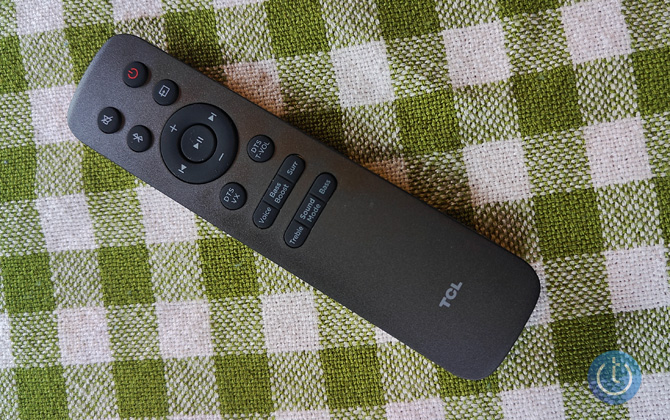 For example, after a long press of the Voice enhance button, you then have to press the up/down buttons to switch from mute, default, and high enhancement levels. A short press and then touching the up/down buttons allows you to adjust whatever current enhancement level you've selected. Similarly, a long press of the Bass Boost button will enable or disable a night mode (which reduces the bass output so that the subwoofer's rumbling doesn't wake everyone in the house). A short press on the same button reveals the current boost level on the LEDs, and then you can tap to the up/down buttons to raise or lower the amount of bass output.
In other words, making finer adjustments on the TCL S Class with the remote control takes a bit of practice.
The bottom line
The TCL S Class Soundbar 5.1 sound system ($279.99, on sale for less than $200) does what such upgrades are supposed to do: make the experience of watching movies, sporting events, and streaming series more immersive and more entertaining. The added bonus is that you don't have to sweat technical details or finicky settings to get it all working. Sure, more expensive sound bar systems will offer some features that the TCL S Class model lacks, such as compatibility with Apple Airplay and support for Amazon's Alexa assistant. But for less than $200 retail, it's difficult to argue against the huge improvement in sound the TCL S Class system offers for movie nights and binge viewing.


[Image credit: John R. Quain/Techlicious]
John R. Quain has been covering science and technology for over 20 years. His work has appeared in Rolling Stone, PC Magazine, Esquire, and U.S. News & World Report. He was the on-air technology contributor to the CBS News Up to the Minute television show for 17 years and is a regular contributor to The New York Times.
---
Discussion