We may earn commissions when you buy from links on our site. Why you can trust us.

TCL S Class S4: A Big Beautiful Picture with a Small Price Tag
Not every dinner has to be a Michelin-starred, five-course production, and not every TV set has to deliver a six-figure, world-class picture. Often, a well-prepared meat-and-potatoes meal is just fine – especially if you're the one paying the bill. So it is with TCL's latest 65-inch S Class S4 4K TV with Google TV (model 65S450G). It isn't going to win image contests against sets costing thousands of dollars, but what it does, it does very well – for an extremely reasonable $529.99 list price.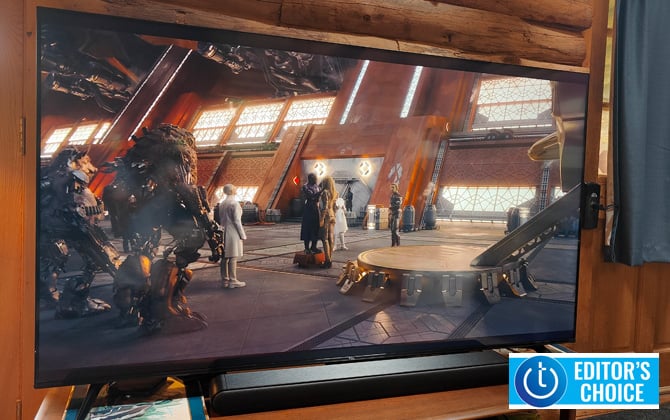 In addition to its Google TV smarts, the TCL S Class S4 set has loads of 4K features, including support for Dolby Vision and HDR 10 (high dynamic range) programs, as well as Dolby Atmos soundtracks and DTS Virtual:X audio. It also works with Amazon Alexa and Google Assistant, and it can automatically kick into a low-latency game mode when you switch to your favorite console. What's missing is a quantum-dot display layer, which can deliver richer colors, and a speedy 120-Hz display, a prized feature for hyper-competitive gamers. Nevertheless, the TCL S Class S4 uses a completely serviceable 60-Hz 4K panel and delivers a solid 4K picture that will suffice for most movie and TV viewers.
+ Pros
– Cons

Competitive price
Excellent smart TV features

Slow interface
Mediocre contrast
Setup
The design of the TCL S Class S4 set is utilitarian. Its chassis, for example, doesn't have the sort of smooth contoured back that high-end models sport, so there's a bump on its behind where the electronics are housed, and some vertical support structures are evident. Fortunately, this won't matter to most buyers since all this is usually concealed in a wall mount or tabletop installation.
The 65-inch TCL S Class S4 set has v-shaped legs at each end of the display, so it sits solidly on a tabletop. And if you decide on a wall mount, the set weighs just a little over 30 pounds, which is light for a display of this size and makes it easier to maneuver. (By contrast, the TCL Q Class Q7 4K QLED 65-inch model I recently reviewed weighs 45 pounds.) The one feature that the TCL S Class S4 set does compromise on is HDMI connections; it only has three, whereas more expensive models generally have four inputs. Otherwise, the S Class S4 includes all the usual connections, including WiFi and Bluetooth, optical and analog audio ports, and Ethernet and coaxial cable connections.
Setting up the TCL S Class S4 set is extremely easy – if you use the Google Home app, available on both Android and Apple iOS smartphones. Launch the app on your phone, scan the on-screen QR code with your phone's camera, allow it to connect to your home WiFi network, and away it goes. You can expect – as you can with all smart TVs – that the set will also require a software update, which took me about 15 minutes on the TCL S Class S4 set.
Part of the regular installation process also involves training Google Assistant with a handful of voice commands. ("Ok Google, remind me to water my freakin' plants every day.") And you can set up features such as a slide show of artwork to kick in when the TV goes to sleep, also known as ambient mode.
Picture performance
Two notable aspects of the TCL S Class S4 set's display technology do limit its overall picture performance. It doesn't include a quantum dot layer (often referenced as QLED sets), so it doesn't offer some of the more intense colors available on more expensive models, and it doesn't have local dimming – hundreds of backlights that can be individually turned on and off. That means it lacks some subtly when it comes to contrast ratios. In other words, while it can produce some deep, solid blacks, the TCL S Class S4 isn't as adept at revealing minute details in shadowy scenes. Nonetheless, neither of these limitations prevented it from faithfully reproducing a variety of programming and content, from 4K movies to streaming shows and broadcast TV programming.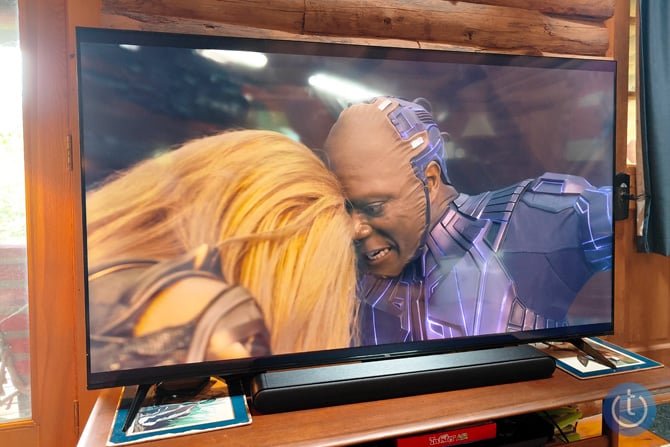 The TCL S Class S4 set offers several pre-set video modes, including Low power, Sports, Movie, Game, and Vivid modes. I determined that Movie mode was best in terms of yielding accurate colors, brightness, and contrast. Sports mode, for example, produces over-saturated reds, and Vivid tends to cause bright objects on screen to bleed into other elements. I used Movie mode for testing, but if you want to make further picture adjustments, TCL allows you to adjust features such as digital noise reduction, sharpness, and motion clarity. You can also tweak a couple of expert calibration picture settings, including color space and white balance.
In Movie mode, the TCL S Class S4 set produced vibrant greens and generally spot-on color accuracy. In a 4K HDR10 version of Star Wars: The Rise of Skywalker, red picture elements did look a little muted and leaned toward the orange end of the scale. Action sequences, however, were rendered without any annoying picture artifacts or distortions.
Later in the movie, however, the issues with contrast became apparent in the serpent's cave, where some details in the shadows were obscured. I also found that while off-axis viewing was consistent (so you don't have to sit in the center of the couch to get the best view), the TCL S Class S4 screen was a little more reflective than most, so it behaves best in a dimly lit room. Screen uniformity was also generally good, although the set has a propensity to reveal the occasional flaring along the picture edges of some solid color images.
On the other hand, the TCL S Class S4 handled color transitions very smoothly. There was no banding distortion in desert sky scenes, for example, and there was minimal haloing around bright objects like lightsabers. Furthermore, flesh tones looked pleasantly realistic across the board, and the set produced excellent 4K picture details even in complex scenes such as one in which multiple images were reflected through multiple panes of glass.
And while no TV can fix all the imperfections of programs like sporting events broadcast on compressed cable TV channels, the TCL S Class S4 set did a commendable job upscaling lower-resolution content to the 4K screen. There were certainly no serious distortions in racy car chase scenes, for example, where image blur and odd picture artifacts can sometimes be an issue.
Audio performance
TCL offers several preset sound profiles on the S Class S4 TV, including a Movie mode, as well as Music, Standard, Voice, Live, and Dynamic modes. There is no equalizer adjustment, but you can tweak the balance.
Oddly, the Dynamic mode tended to mute songs. The Voice mode, which is supposed to make notoriously difficult dialogue tracks easier to hear, tended to make speech sound reedy so that everyone sounded like REM's Michael Stipe. Movie mode produced the most pleasing overall sound, as one might expect, with a more rounded and wider soundstage in an attempt to give it more of a surround sound effect. Movie mode also seemed to boost midrange notes – all the better to appreciate those massive, blockbuster explosions – and Live mode proved to be just a more boisterous or brighter version of Movie mode.
Some listeners might prefer the Movie mode setting for music, but it can sound strained and artificial after a few songs. So I switched to Music mode for a variety of concerts and music videos. A live performance by Cream of "Born Under a Bad Sign" was dominated by the high-end notes (in a pleasant and not too tinny way), but Aha's "Take On Me" had virtually no lower bass, and the famously soaring vocals never hit the top notes.
If you're looking to fill a big room with sound, the TCL S Class S4 will need some assistance. With the volume set to about 85 percent on the set, I measured only 72 Db sitting about 12 feet away. That's not enough sound pressure to produce a full cinematic effect in a large living room, but it's also typical for a great many big-screen TVs, regardless of price. I didn't detect any serious distortion at high volume levels, either, but we'd still recommend adding a sound bar (like TCL's matching S4510 sound bar) to create a better home theater experience.
The bottom line
There is a constantly shifting and changing array of smart 65-inch 4K TVs on the market at a wide variety of price points. Moreover, in the $500 range, there's a lot to choose from, but the TCL S Class S4 65-inch TV holds its own against the competition both in terms of price and features. A $479.99, the Samsung 65-inch CU7000 Crystal UHD 4K Smart TV, for example, also uses a 60-Hz panel, but it doesn't use the more capable Google TV interface. And there's the Hisense 65-inch 4K UHD Smart Google TV (65A6H) available for $469.99. However, TCL's S Class S4, which retails for $529.99, can be found at shopping sites for less than both models (at press time, it was $399.99), and with such a good picture, one has to ask oneself, why pay more?


[Image credit: John R. Quain/Techlicious]
John R. Quain has been covering science and technology for over 20 years. His work has appeared in Rolling Stone, PC Magazine, Esquire, and U.S. News & World Report. He was the on-air technology contributor to the CBS News Up to the Minute television show for 17 years and is a regular contributor to The New York Times.
---
Discussion