We may earn commissions when you buy from links on our site. Why you can trust us.

The Typhur InstaProbe Is Our New Favorite Instant-Read Thermometer
Whether you're an experienced chef or a kitchen newbie trying not to overcook their steak, everyone should have an instant thermometer in their kitchen. And for years, the king of instant thermometers has been the Thermoworks Thermapen. It's what I have handy in my kitchen drawer, and it's the model everyone from Serious Eats to America's Test Kitchen ranks as their top choice.
So, when Typhur offered me the opportunity to test their new InstaProbe instant-read thermometer, I was curious to see how it would fare against the reigning heavyweight champ. And, to my surprise, it fared very, very well. The Typhur InstaProbe proved to be as accurate as the Thermapen, with blazing-fast response times. And the bright OLED display and built-in magnet for sticking to your refrigerator, range hood, or grill pull it ahead of the Thermapen with features. I'm also a fan of the sleek modern design of the InstaProbe over the industrial aesthetic of the Thermapen, though I have some concerns over how well it will hold up to drops onto hard kitchen floors. On the downside, the InstaProbe also comes at a price premium of $109 versus the Thermapen at $99.95 (discounted to $74.96 at the time of this writing).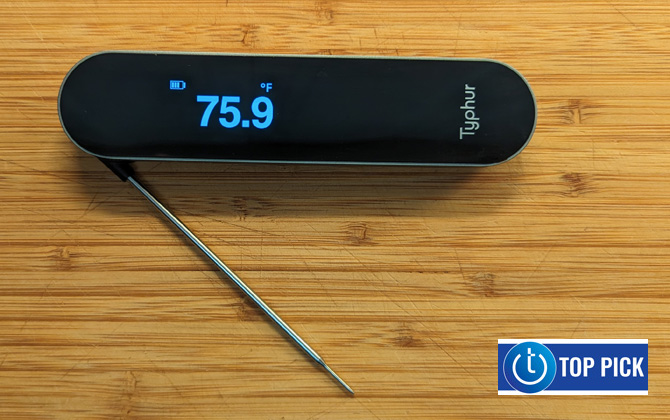 All in, the InstaProbe is an excellent instant-read thermometer that excels at its core purpose and looks great doing it.
+ Pros
– Cons

Highly accurate and fast
Attractive, modern design
Bright, large OLED display
Magnetic mount

More expensive than Thermapen
Uncertain durability
Testing the speed and accuracy
The sole purpose of any instant-read thermometer is to 1) read the temperature accurately and 2) provide that reading as quickly as possible. With that in mind, I set up a series of accuracy tests for the InstaProbe both on its own and head-to-head against my existing Thermoworks Thermapen. I also measured the time it took to take a measurement in each scenario.
One issue with the testing process is that it's very difficult to take exact measurements outside of laboratory conditions because liquids circulate, creating temperature variations. In my testing, I judged the InstaProbe accurate if it was a) within half a degree of my expected temperature (which is its rated calibration threshold) and b) within half a degree of my Thermapen. And while the InstaProbe measures temperature in .1-degree increments, I rounded to the nearest whole number because the accuracy rating is ±.5F (± 0.3C). The claimed temperature range is -58.0 to 572.0F, and I tested with temperatures that you would typically need to measure in the kitchen, from frozen ice cream to boiling oil.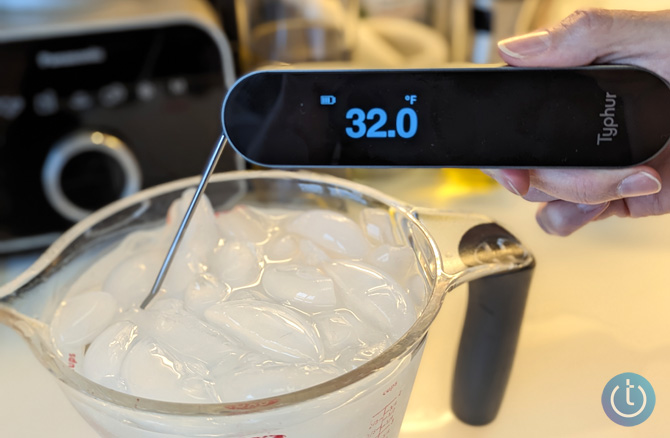 | | | | |
| --- | --- | --- | --- |
| | Expected Reading | Typhur InstaProbe Reading | Thermapen Reading |
| Ice Water Slurry | 32F | 32F | 32F |
| Boiling Water | 212F | 210-213F | 212F |
| Ice cream | Unknown | 6F | 6F |
| Sous vide | 125F | 125F | 125F |
As you can see, the Typhur InstaProbe delivered very accurate readings across a range of temperatures. In addition, I tested it with hot oil, and the measurements were in line with Thermapen (I'm not reporting exact readings because hot oil has significant temperature variations, making it impossible to compare exactly).
Typhur claims a .75-second response time for temperature readings. My experience confirmed readings in the 1-second range – much faster than my older Thermapen, which took 6-8 seconds to come to temp, and identical to the new Thermapen One's claimed one-second read time.
Display readability
The Typhur InstaProbe has a large, bright OLED display that autorotates with the thermometer orientation. I found it much easier to read in a dark oven or sunlight than the Thermapen Classic. The new Themapen One has a backlit display. However, it's lower contrast, so in most dimly lit environments, I would expect the OLED display of the InstaProbe to perform better.
The OLED uses a glass front, which gives me some concern that it may not hold up as well to drops as the Thermapen or other instant thermometers. And I've already broken a small plastic chip off the side of the case. For that reason, the InstaProbe may be better suited to a home kitchen, where there is less abuse, than in a commercial environment. In fairness, my Thermapen has worse damage to the plastic, and the battery cover no longer stays attached, though it took me a few years to get it to that state.
Other features
One standout of the InstaProbe is the integrated magnet that allows you to store it conveniently on your refrigerator, range hood, or grill. And if you're storing it in the open, you'll appreciate the modern black and grey design, which will complement any kitchen décor.
The InstaProbe is rated IP67 for water resistance and dust protection. It uses a 4.3-inch probe (about standard for the industry) that rotates up to 180 degrees – though the display orientation flips, the probe works better for righties than lefties when at an angle – a 270-degree rotation would have made it truly ambidextrous. It runs on 2 AA batteries (included), has a 30-second auto-shutoff to conserve the batteries, and a motion sensor to wake it back up with movement.
The bottom line
It's rare that I find products that are good enough to replace my long-time favorites, but the Typhur InstaProbe ($109) accomplished that task. It's as fast or faster than any Thermapen model, just as accurate, and the large OLED display makes it super-easy to read, even for my aging eyes. I also love that I can stick it to my refrigerator with the integrated magnet for easy availability, rather than having to dig through my miscellaneous stuff drawer to find it.
I do have some concerns about its resistance to damage from falls, so I wouldn't recommend it for environments where it takes frequent abuse. And while the InstaProbe is nearly 50 percent more than the Thermapen's sale price, as of the writing of this review, it's not a huge premium ($35) for a device that I would expect to use in my kitchen for years to come.

[Image credit: Josh Kirschner/Techlicious]
Josh Kirschner is the co-founder of Techlicious and has been covering consumer tech for more than a decade. Josh started his first company while still in college, a consumer electronics retailer focused on students. His writing has been featured in Today.com, NBC News and Time.
---
Discussion