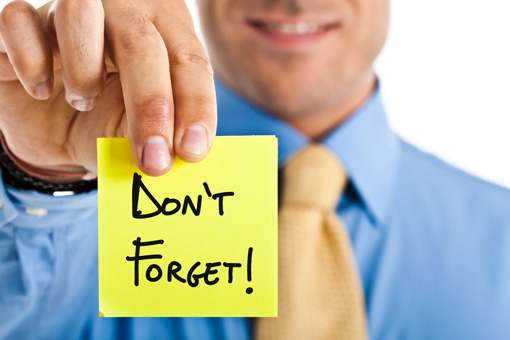 Every day there are dozens of things you need to remember to do—ask your friend about her sick mother when you chat, recall which piece of art you and your child decided to get framed, remember to pick up milk when you're in the supermarket. But getting a reminder at the most appropriate time is not always as simple as putting an appointment in your calendar.
Fortunately, there are apps that will help you remember all these normal life activities that too often slip through the cracks. You can set a reminder to pop up the next time you're in the your local supermarket or when you make a phone call to a specific person. You can even schedule alerts to trigger when you have an hour free on your calendar, so you can take care of those important tasks that just never seem to get done.

So don't forget: Check out my picks for apps that will help you remember the important things in your life.
Snap a photo to remember later
Sometimes a picture really is worth 1000 words and that's when the Wand app (free on iTunes) can be a lifesaver. What microbrew did you enjoy last summer at the new seafood restaurant? Which of your daughter's drawings did you want to get framed? Not only can you set reminders, but when a picture is not enough, you can also add a caption—"best beer with whole fried clams--ever".
You can also categorize your photos and share them as albums, like "best microbrews."
Be reminded when you get somewhere
When a reminder is tied to the next time you go to a particular store or place, a location-based reminder works like a charm. For those with iPhone, location reminders are built into the Reminders app that comes pre-loaded. When you set up a reminder, you can toggle on "Remind me at a location." There, you can select an address manually or from you address book, and choose for the reminder to trigger when you arrive or when you leave.
Android users can used Google Now, which comes preloaded on Android devices. Either launch the Google Now app and scroll down to the bottom where you're see a reminder icon (a finger with a string tied around it) or tap the microphone on your Google search box and say "remind me." Add a title for the task and then select when or where you want the reminder. Google Now is part of Google Search (free on iTunes) for iOS devices and works in the same way.
You can also set reminders using any web browser by typing "Google Now Reminder" into the Google search bar. A box will come up letting you fill in the "what when and where" and then you can choose to "remind me on Google Now."
Be reminded when you have free time
Need to call a friend to wish her a happy birthday? Want to remember to ask your sister-in-law about her trip to Japan? With Shifu (free on Google Play), you can set reminders to trigger when you have the opportunity or time. So you can a set a reminder like "Call Julie to wish her a happy birthday whenever I have 15 minutes free" or "The next time I talk to Emily, remind me to ask her about her trip to Japan."
Shifu also lets you set location-based reminders or even the next time you're connected to WiFi—great for remembering to back up your photos while traveling.
[business man with reminder image via Shutterstock]