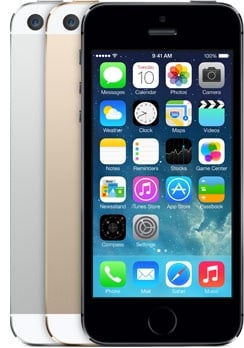 The wait is finally over. Today at its headquarters in Cupertino, Apple announced the coming release of its two newest phones: the flagship iPhone 5S and the less expensive iPhone 5C.
The first thing you'll notice is the fact that the iPhone is getting a heavy dose of colors. The higher-end iPhone 5S (starting at $199 for 16GB) comes in your choice of three metallic colors: silver (white), gold, and space gray (black). The new plastic-backed iPhone 5C (starting at $99 for 16GB), meanwhile, comes in five flavors: green, blue, yellow, pink and white. The new colors go great with the new colorful design of the new iOS 7, which will be on both phones at launch.
The changes aren't just skin deep though, so let's take a look at the hot new features in both.
Apple iPhone 5S
Predictably, the 4" iPhone 5S is more powerful than the iPhone 5. It features Apple's new A7 chip, the first ever 64-bit smartphone processor. It's more than twice as fast as the current 32-bit iPhone 5 and designed to deliver a high-quality gaming and movie editing experience. The phone also features an "M7 Motion Coprocessor," a brand new chip that constantly measures the phone's movement data. According to Apple, the M7 will help power the "new generation of health and fitness apps."
Apple continues to focus on image quality with the iPhone 5S. First of all, the 8MP camera sensor is 15% larger and the camera gets a faster f/2.2 aperture lens. Apple also designed a brand new two-LED "true tone flash," capable of delivering more accurate skin tones. Among the other new features: a 120FPS slow-mo, 120FPS 720p HD video, auto image stabilization and a burst mode that takes multiple photos and automatically chooses the sharpest one. It's not the best smartphone camera on the market, but the pictures it takes sure do look great.
There's one more sexy new feature on the 5S: a fingerprint identity sensor. Built in to the phone's home button, the sensor allows you to unlock your phone without the need of a PIN. Your fingerprint will also allow you to buy from iTunes without a password – a great way to keep your kids from running up a huge tab on your card. The sensor is smart enough to read your finger from any angle, and you can register multiple prints on a single device in case you want other family members to be able to unlock your phone for you. If you're worried about the privacy of your biometric data here, don't be – Apple will not store fingerprint information on iCloud or any of its company servers.
Apple will be offering leather phone cases for the iPhone 5S at launch in a variety of colors. Those will set you back $39 each.
Apple iPhone 5C
The iPhone 5C is Apple's most colorful phone ever. The entire back and side of the case will be made from one single piece of hard-coated polycarbonate material, a type of heat- and impact-resistant material. (It's "beautifully, unapologetically plastic," says famed Apple designer Jony Ive.) That means no seams and no joints – Apple wants their entry-level phone to look slick.
Spec wise, the iPhone 5C shares a lot in common with the current iPhone 5. It features the same 8MP rear-facing camera, the same A6 processor and a 4" Retina display. You get a few upgrades, though: there's a new FaceTime HD camera and a slightly larger battery.
Apple will have silicon cases available for the iPhone 5C at launch in a variety of colors. Their cost is $29 each.
Here comes iOS 7
Even if you're not in the market for a new iPhone, your current one will likely be able to get a visual upgrade to the new iOS 7 operating system. But that's not all you get with iOS 7 – the operating system features a new notification center, a swipe-away control center, automatic app updating, awesome new photography features such as filters, an ability to multitask and the brand new iTunes Radio streaming music service app. You can get an in-depth look at the feature set of iOS 7 here.

The new iOS 7 will be available for free starting September 18. The operating system will work with the iPhone 4 and later, iPad 2 and later, iPad mini, and iPod touch (5th generation).
Are the phones worth it?
If you're in need of a new phone in the next few months, both the 5C and 5S make great choices. You know that the iPhone is always a solid device and the camera on the 5S looks great. But if you're stuck on a contract, nothing about either seem killer enough to merit a $649 full-priced phone purchase. After all, if you already have an iPhone, you'll get a lot of great new features with iOS 7 when your update comes through on Wednesday, September 18.
Still, if you want the newest and greatest iPhone, Apple will sweeten the pot a bit. Purchase any new iOS device and Apple will throw in iPhoto, iMovie, and its iWork suite of apps (Apple's answer to Microsoft Office) for free. You'll also be able to access iWork for iCloud, letting you edit documents on your phone or on the web, whichever is most convenient.
If you do buy one of these new Apple iPhones, don't let your old device just sit around unused. Take a look at Techlicious's new phone trade-in service comparison feature, available at tradein.techlicious.com. Just tell our website a little bit about your old phone, and we'll automatically scan multiple phone-buying sites to get you the best deal in cash. We'll even send you a pre-paid mailer. It's a great way to support the site and get a some extra dough at the same time.
Apple's new iOS 7 will be available on Wednesday, September 18. Preorders for the iPhone 5C begin September 13; there are no preorders for the iPhone 5S. Both phones launch on September 20 in the U.S. and Canada. The iPhone 5S will be available in 16GB ($199 with two-year contract), 32GB ($299) and 64GB ($399). The iPhone 5C will be available in both 16GB ($99 with two-year contract) and 32GB ($199). You can learn more about both at the Apple website.