Looking for a way to get back on track toward meeting your fitness goals? Some fitness fitness apps not only help you reach your target weight, nutrition, and activity goals but let you earn cash as well.
In addition to sweat equity, you'll have to put in a little effort to get your payout. Some of these fitness apps automatically sync to third-party fitness or food trackers. Others require you to take pictures to show visual proof of your healthy habits. If you meet your goals, you'll be rewarded with cash, gift cards or product discounts from major retailers — and the congratulatory remarks of friends who've followed you on your journey to wellness.
Achievemint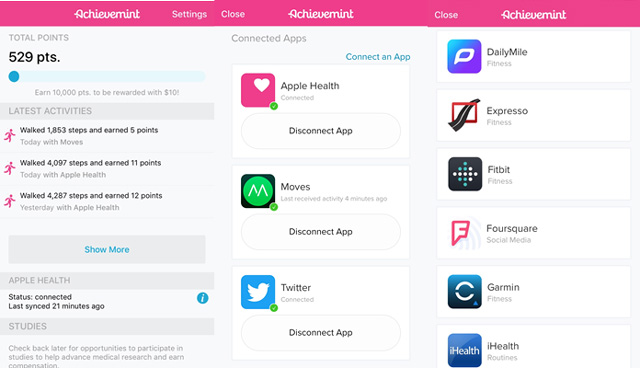 Achievemint takes a minimalist approach to tracking healthy outcomes. There are no internal communities to join, data you have to manually enter or photos to upload. Just sync your external health tracker, like an Apple Health or RunKeeper, and Achievemint compiles all your results in its simple interface. A quick calculation of my steps shows that 350 to 370 steps are worth one point. You need 10,000 points to earn $10, which could take some time for the most sluggish users. Eligible activities include walking, sleeping, logging meals, weighing yourself and tweeting healthy tweets.
Achievemint works with over 40 health and fitness apps including Fitbit, Moves, MapMyRun, Garmin and iHealth, about half for iOS devices and half that are Android-compatible. An Android-compatible Achievemint app is in development; for now, you can link your Android fitness apps through the website.
Price: Free for iOS devices at Achievemint
DietBet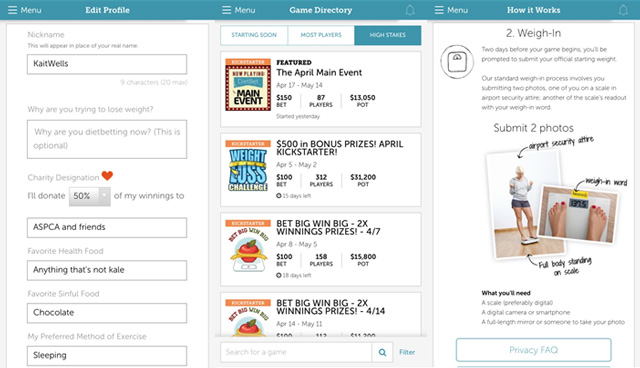 DietBet takes the office Weight Watchers pool and turns it on its head. Join a current "game" or start your own, and challenge your friends or connect with strangers. There are three game levels: Kickstarter, Transformer and Maintainer. In Kickstarter, after four weeks, whoever's lost 4 percent of their body weight splits the pot of money. But since no one's trustworthy in the digital space, DietBet requires all gamers to submit their official starting weight two days before the game begins by uploading a full-body photo standing on a scale plus a second photo of the scale's readout screen. You have 28 days to lose the weight, while participating in self-reported weigh-ins and cheering on your friends with more photos and comments. Once the four weeks are up, you'll have another two days to submit your end weight; you're only required to submit photos if you've won the game.
Transformer's rules are similar to Kickstarter's. You have six months to lose 10 percent of your weight. Interim goals and prizes are offered every week or month. In Maintainer, you have 12 months to maintain your initial weight, with interim goals and prizes offered every week or month.
Winners are notified via email. Use winnings toward new DietBets, or cash out via PayPal. Since DietBet understands that money can be tight, they'll forfeit their cut in order to ensure the winner(s) don't lose any money. (DietBet's fee ranges from 10 to 25 percent of the monthly bet before paying out the winners.) Still not sold? Try a game risk-free for seven days, and if it's not for you, they'll issue a full refund.
Price: Free for iOS and Android devices at DietBet
HealthyWage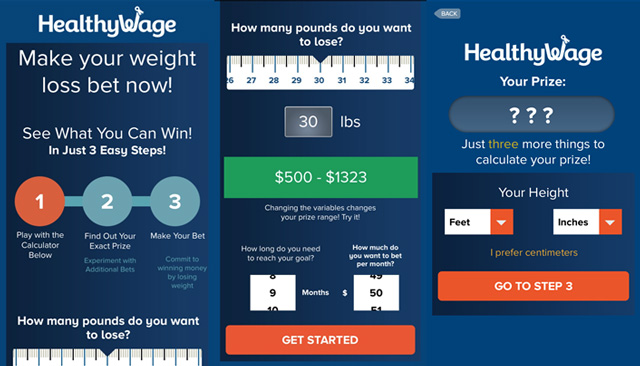 HealthyWage reminds me of a pocket-sized version of "The Biggest Loser" show. HealthyWage starts your weight loss journey by encouraging you calculate your winnings before you commit to a challenge. Use the built-in calculator to enter how many pounds you want to lose, how long you need to reach your goal and how much you want to bet per month. Weight-loss goals range from zero to 200 across six to 18 months, and you can wager $6 to $1,600 per month in $1 increments. For example, you could win between $500 to $1,323 if you lose 30 pounds over nine months on a bet of $50 per month. HealthyWage gives bigger prize offers to people who statistically have a hard time losing weight, based on BMI, time of year, how much you want to lose and other factors to get an exact payout.
If the prize estimate sounds like a winner, move on to enter your personal information such as height, weight and waist size. At that point, you'll see your exact prize amount. My information produced a predication I'd gain $169 with a return on investment of 37.66%, for a total prize of $619.45 on a bet totaling $450. The clock starts ticking once you enter your official weigh-in; weigh out during the last two weeks of your challenge. To verify your weight, upload a weigh-in video or video chat with a HealthyWage rep so they can witness your weigh-in.
To stay on track during the challenge, participate in unofficial weekly weigh-ins. While they're not required, weekly weigh-ins are encouraged to prevent fraud among contestants. While you're limited to just one HealthyWager at a time, you can actually participate in up to 10 team and jackpot challenges at a time. Winners are typically paid within a week via check or PayPal.
What stands out about this app is the people at HealthyWage seem committed to enforcing strong contest regulations and ensuring everyone loses the weight in a healthy manner. Pregnant participants are disqualified but can postpone a challenge until a future date. There's even a yo-yo rule to help previous winners who may have regained their weight, designed to keep them from repeating their weight loss in an unhealthy manner. Professional athletes, bodybuilders and trainers who have earned more than $5,000 in contests or by providing weight loss training services over the last five years aren't eligible to participate.
If losing weight is your focus and getting multiple trackers to talk to one another presents a headache, consider HealthyWage for the simplicity of its design. While you may use a fitness tracker to count steps and calories, there's no need to connect to HealthyWage in order to win big. Just lose the weight to earn your prize.
Price: Free for iOS and Android devices at HealthyWage
Pact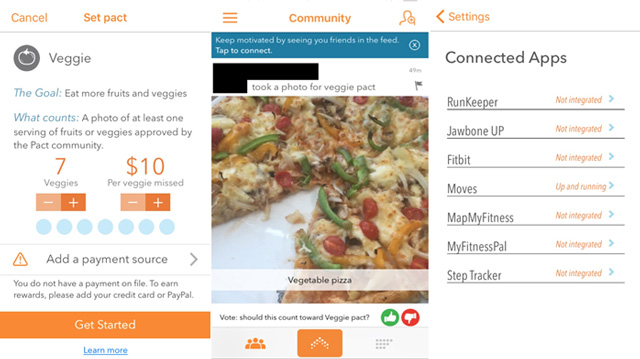 Pact gives you three different ways to earn a small chunk of change by joining a Veggie Pact, Gym Pact or Food Log Pact. Veggie Pacts encourage you to eat more fruits and vegetables. You set a serving goal and how much you'll be charged if you miss each serving. To prove to your Pact community that you're eating right, you must upload a photo of one serving of healthy fruits or vegetables that look as if they're being eaten; a filtered Instagram shot of a grocery cart full of apples wouldn't count, but a Snapchat-esque photo of you eating an apple as juice rolls down your fingertips would. To approve your photo proof, the Pact community approves your photo with like and dislike buttons. Commitments run from one to 35 days, and penalties range from $5 to $50 per day missed, in $5 increments. You can only count up to five servings per day.
Gym Pacts are similar to Veggie Pacts, but you're limited to one workout per day. Commitments run from one to seven days, ranging from $5 to $50 per day missed, in $5 increments. Track your workouts by video recording or by connecting to a third-party fitness app. A workout must last at least 30 minutes or 10,000 steps per day.
Food Log Pacts must track three meals per day with at least 1,200 calories consumed. Commitments run from one to seven days, ranging from $5 to $50 per day missed, in $5 increments. You're limited to tracking your meals with a single app, MyFitnessPal, and all entries must be logged by midnight to be counted.
Earn payments based on the number of days you're committed to your cause. It's paid for by those who didn't make it. Pact says rewards range between $0.30 to $5 per week. You can receive your payout through PayPal once you've earned at least $10. Pacts run for one week from Monday to Sunday, and activity reports are emailed mid-week. If you complete one Pact and fail another that you've already wagered to (aka Stakes), the money lost won't count against your rewards pot; in other words, the funds remain separate.
Price: Free for iOS and Android devices at Gym Pact
Walgreens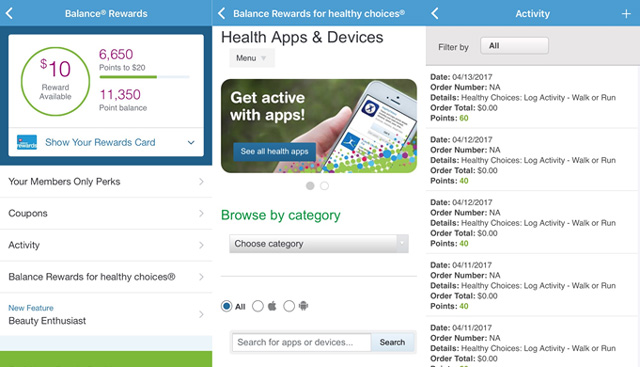 Walgreens Balance Rewards
Walgreens is one activity tracker you don't have to think about when it comes to redemption terms. The Walgreens app serves as an activity tracker, membership card, sales circular and prescription refiller all in one. With each healthy step you take, you're on your way to earning Balance Rewards that can be redeemed like cash at any Walgreens store. It's easy to be greeted with a nice surprise from the cashier stating you have a reward available that you can apply toward your purchase. (Which reminds me, I have another $10 in the bank!)
Not sure how all of those points add up? Go to your activity log to see which healthy activities are raking in the small bucks. Walgreens can connect to 26 health and fitness apps and 40 different devices, including Lose It!, WebMD, the Walgreens Blood Pressure Monitor, and Jawbone Up.
Price: Free for iOS and Android devices at Walgreens
Wellcoin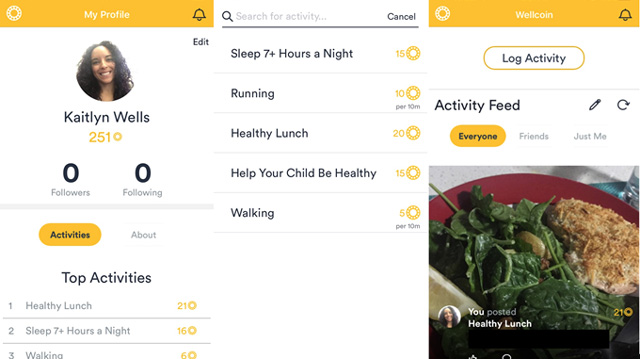 Wellcoin took the best of the Pact and Walgreens apps to create its own niche. While Wellcoin requires you to provide photographic proof of your healthy activities, you won't be penalized for skipping out on a pact. Instead, your healthy deeds are used to earn rewards points that can be redeemed for products and services.
Earn Wellcoins by documenting dozens of activities, including seemingly counterintuitive activities such as doing something unhealthy (gasp!) for one point to altruistic winners like donating blood for 180 points. Cleaning the house earns you five points for each 10 minutes you're at it, and you can earn 60 points each time you pick up a prescription. If you're not ready to post your photos, you can browse community submissions and vote their proofs up or down to earn extra Wellcoins. To earn more points faster, connect your Fitbit, Strava, RunKeeper or Prana Power Yoga app. You're limited to earning 60 points per day under the Get Moving category, 70 points for Eat Well, and 30 points for Feel Good. If you hit your limit, you'll be directed to alternative activities, which could push you outside your fitness comfort zone.
Spend your Wellcoins in the Marketplace on rewards such as $30 off Blue Apron food prep service (3,000 points) or a $10 Shoebuy.com gift card (2,000 points). The Marketplace currently features 12 merchants and 19 rewards. If the rewards aren't of interest, take your chances and redeem your Wellcoins as entry tickets for contests, such as a chance to win a $10 Amazon gift card for just 500 points.
Price: Free at Wellcoin
Before you sign up
If you have health issues, you should avoid these apps altogether. "Users might push past their limits in order to earn that extra buck, risking illness or injury, and might not take sufficient rest/recuperation time," warns clinical psychologist and certified personal trainer Stacey Rosenfeld. But those who like to exercise for the challenge may find incentive apps intriguing.
Brendan Corrigan, founder of incoming fitness app Commit (currently in beta testing), agrees that these apps put anyone who needs a little motivation in a better position to achieve their goals. "These apps are great for consumers because they provide the extra push most of us desperately need: financial accountability."
[Image credits: healthy lifestyle concept via BigStockPhoto, Achievemint, DietBet, HealthyWage, Pact, Walgreens, Wellcoin]