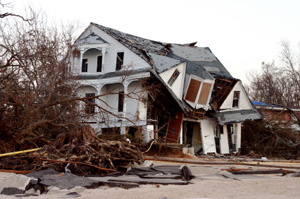 Updated October 28,2012
With Sandy pounding the East coast, we're reminded to take a look at how prepared we are for an emergency. One easily overlooked check-list item is an up-to-date list of your belongings, or a home inventory. Should the worst happen, you'll need it to recount everything that's damaged or missing and substantiate insurance claims.
A home inventory should included a detailed list of your belongings, complete with descriptions, photos, videos, estimated or acquired value (receipt if you have it) and dates of purchase—basically anything that can provide proof of ownership and condition prior to loss. While it does take time to catalog the information, home inventory software programs can make taking inventory of your belongings easier and generate reports when you need them. They can also help you to assess if you are under- or over-insured.
If you don't have a home inventory already, start by checking out one of the free, printable inventory checklists from companies like State Farm, and Farmer's Insurance. They provide a quick low-tech guide to accounting for your possessions.
But a better solution is one of the web-based home inventory management services that let you record relevant information, including photo and receipts, and store it for you safely online for access anywhere at anytime.
One drawback to the web-based services is that matching your photos with your inventory items is a manual process. With phone-based apps, you simply walk around your home taking pictures and entering pertinent information at the same time.
Whether you go the old fashion route and write out a list, use an app or go with one of the following web-based programs, it goes without saying that you should keep a copy of your home inventory off the premises. This could be as simple of printing out a copy and mailing it to a relative, emailing a copy or keeping the data stored online (see our recommended online storage sites). While you hope to never use it, you'll be glad you spent the time should you ever need it.
Web-based home inventory solutions
Know Your Stuff Home Inventory
This free service from the Insurance Information Institute captures all of the information you need for your detailed home inventory, including photos, scanned receipts and appraisals.
StuffSafe
This free basic service lets you enter detailed item information including serial number, condition and item purchase and replacement costs. Add photos, scanned receipts and appraisals and print or download a report any time.
Phone-based home inventory solutions
AllState Digital Locker for iPhone is free for anyone, even if you're not an Allstate customer. It lets you snap shots and enter basic information on price, room and category. It also has the ability to search items in its database by name or barcode to help out with the details, but in our testing, we couldn't get that feature to work. There is no online storage, but item list can be emailed from the application.
Inventory Droid for Android phones ($4.99) lets you capture detailed information about all of your property, including photos, and saves entry time by scanning bar codes to pull in key information automatically. There is no online storage, but you can export your information to an CSV (Excel) file or an Inventory Droid backup.