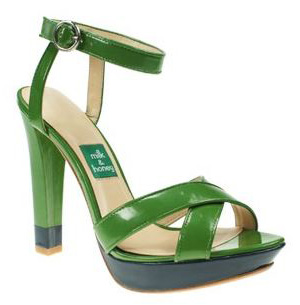 I love shoes and shop for them at least once a week online. Fortunately for my bank account, I'm usually not satisfied with what I find. I'll like the material, but not the heel height. I'll like the style but it won't be available in the right color or size.
For shoe-a-holics like me, if you're a woman with extra small or large feet or if you need the perfect shoe for a special occasion, designing your pump, sandal, wedge, bootie or flat online may be the way to go. Shoe design sites let you design a shoe from scratch, selecting colors materials and components to make a one-of-a-kind shoe. Some will also let you tweak an existing design from a design gallery.
When you order your shoe, it will take two to eight weeks for delivery, so make sure to check the delivery schedule. And If the shoe's not quite right, all of the sites will make alterations and some will accept returns. You can also consult with a live stylist if you need some help.
The shoes are pricey, coming in on average between $200-$300, but they are custom made for you.
On milk & honey you can design your own pump, flat, sandal, wedge or bootie. Once you choose your basic style, you can customize it with toe shape, straps, piping, embellishments, platforms, heel style, straps and backs. Materials include leather, patent leather, pony, snake, printed snake, glitter, metallic, croc, suede, stain, velvet and printed fabrics—quite a select when you consider there a several choices for each material type. Milk & honey also has pre-designed shoes, some of which you can make simple modifications to, like color or heel height.
Shoes take 6-8 weeks for delivery and you can return or exchange them within 30 days if they're unworn; exceptions are special order shoes—fabrics or features not offered on the shoe builder app, wide or narrow shoes and shoes below size 35 or above size 41.
The Shoe Design Studio has four basic styles: pump, sandal, t-strap and mule. From there you choose the front, back, middle, heel height and platform. Once you have the design done, you select your materials for all of the shoe parts. Choose from glazed, metallic, patent, nubuck, lace, pony, fabric and snake in a variety of colors. The selection isn't huge, but there are some fun options. You can also choose the "Play of Colours" option, which provides more design guidance, and you can chat with a stylist, if you need help.
The Shoe Design studio doesn't accept returns, but they do offer a complimentary alteration and remake service, if you're unsatisfied. They'll also pay for alteration costs at a local shoemaker. Shoes take 4-6 weeks to make.
Start with one of 16 basic shoe designs on Shoes of Prey. Then choose toe, back, decoration, heel and height options. You can also customize one of the 177 pre-made designs, a feature I love. For materials, you can choose from cotton, faded leather, patent, pony, leather, shiny leather, suede, glitter, snake, fish, silk and sequins. There's no live help, but once you've selected your first material, the app will make matching, contrasting and neutral material recommendations. Shoes come size 31 - 49 and you can select narrow and wide widths.
Shoes take about 5 weeks to make and you can return or exchange them within 365 days if they're unworn. The one exception being if you order different sizes for each foot. They also offer a complimentary alteration and remake service, if you're unsatisfied. Or they'll pay for alteration costs at a local shoemaker.