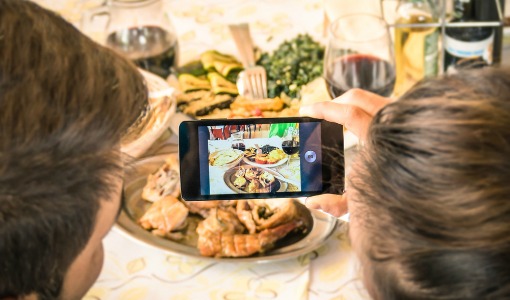 When it comes to Instagram photos, the double-tap is only good for so much. Every now and then it's a good idea to save your (and your friends') filtered pictures — you know, in case you want to do something crazy like print them. Or turn them into magnets. Here are three easy ways to get it done.
1. Save Photos to Your Computer, One at a Time
There's no way to do this on Instagram directly, but thankfully the website Gramfeed has you covered. Just sign in with your Instagram log-in and click on the photo you want to save (yours, your friend's, or anyone who's public). In the upper-right corner, hit "Download." This will open the photo in a new tab, and all you have to do is drag it to your desktop.
2. Save Photos to a Computer in Bulk
Don't want to save one picture at a time? Try 4K Stogram, an Instagram downloader for PC, Mac, and Linux. Just enter an Instagram username or photo link, and you can save up to hundreds of photos at a time. Here's an easy-to-follow tutorial from our friend Veronica Belmont.
3. On Mobile
Thanks goodness for apps, because they're pretty much the only way to save other peoples' pictures onto your phone. We recommend InstaSaver Free, which shows you your Instagram feed — all you do is tap on a picture, hit the download sign, and it automatically saves the photo to your camera roll.
And make sure you're downloading all the photos you post to Instagram by going to your Instagram options and turning on "Save Original Photos." This will automatically save your pictures to your camera roll once you've shared them with your followers.
Not too bad, huh?
For more PopSugar tech wisdom check out:
[Couple photographing food via Shutterstock]