Many people have been asking about this product since Suzanne mentioned it on the Rachel Ray Show on April 21st. Here it is! By the way, it works great on the iPad, too!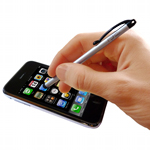 If you're a woman, every-so-often you like to let your nails grow out a little (tips are also a nice option). Not obscenely long, but long enough that using your iPhone or iPod touch becomes a chore.
Unlike most other touch screen devices, the iPhone (and the T-Mobile G1) use what is called a capacitive touch screen, which lets you type everything on your screen rather than a keyboard. These screens rely on detecting the electrical charge in your fingertip rather than pressure, which means they become difficult to use if you have long finger nails. The same problem arises if you're wearing gloves, which also block the electric current, creating issues for both men and women in winter months.
There is at least one company out there however, Ten One Design, which makes styli designed to carry an electrical charge. In addition to solving the nail / glove conundrum, a stylus is actually more accurate than your finger, and can make using some iPhone apps (such as the plethora of drawing programs) much more pleasant. Ten One makes two models, the Pogo Stylus, and the Pogo Sketch. Both have a soft felt tip that won't scratch your screen and you can find them for less than $15.