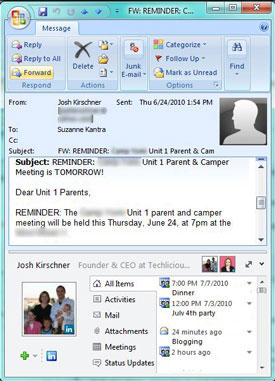 When I read an email from someone, I often want to go back and check other email conversations, recent appointments and even social network status updates to refresh my memory and put the note in context. With Microsoft new Social Connector for Outlook 2007 & 2010, all of that information is automatically populated in a window below the message I'm reading—a huge time saver.
Outlook Social Connector is built into Outlook 2010 and is in beta for Outlook 2007. From within the Social Connector window, you can sort by recent email messages, attachments, appointments and status updates from social networking sites. You'll also see contact information and the person's profile picture. The Social Connector window also appears in your Outlook Contacts list.
Even better, Social Connector will create a new contact list populated with information form your social network. So if you connect to LinkedIn, all of your LinkedIn contacts will be added to a new folder in Outlook.
For now, Outlook Social Connector works with LinkedIn and MySpace, with Facebook and Windows Live available soon. No word from Microsoft on plans for Twitter support. Once you download the Connector plug-in for a social network and enter your log-in information, you'll immediately see info from that network populating the Social Connector window when reading your email messages.