Do you get annoyed when you accidentally touch your screen while watching a YouTube video, and it pauses playback? Earlier this year, YouTube tested the ability to lock the screen controls with YouTube Premium customers, and now Google is rolling out Lock Screen to all users.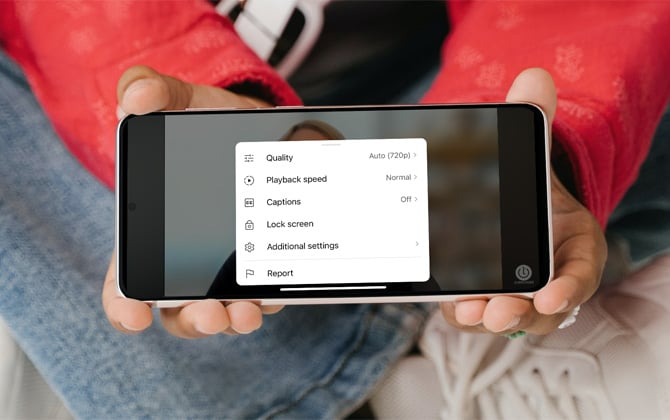 YouTube's interface relies on taps and swipes to go full-screen, fast-forward videos, and play or pause them as desired. Activating Lock Screen disables these functions, so it is only available in full-screen mode, and you'll need to activate it each time you watch a video.
Read more: Want to watch your YouTube videos on your TV? We show you how to connect your phone to your TV.
When activated, Lock Screen greatly reduces the chances of unwanted actions like shrinking or closing the video window or exiting full-screen mode. It also makes you less likely to drop your phone while watching because you can get a better grip on it when you don't have to worry about accidentally pausing your video.
How to enable the Lock Screen function in the YouTube app
Launch the YouTube app.
Select a video you want to watch.
Tap the screen to view the playback controls and menu options.
Select Settings (the cog icon in the upper right corner).
Select the Lock screen option.
You'll see a notification "Locked screen" in a button on the screen.
When you want to unlock your screen, tap anywhere on the screen, then tap the 'Tap to unlock' button.
[Image credit: Screenshot via Techlicious, phone mockup image via Canva]
As a lifelong tech enthusiast, Hemant Saxena is always looking for the latest gadgets that intersect with his hobbies. For more than a decade, he has been writing about consumer gadgets, popular apps, and social media tips for publications, including Windows Club and Techmate Tricks.