Most people sign up for Amazon Prime for the free shipping, and that $99 is worth it if you make at least 25 purchases that year. Amazon Instant Video has also added a ton of value to Prime, especially with all the original and new content that's being added all the time. But there are still lots of perks that most people don't know about.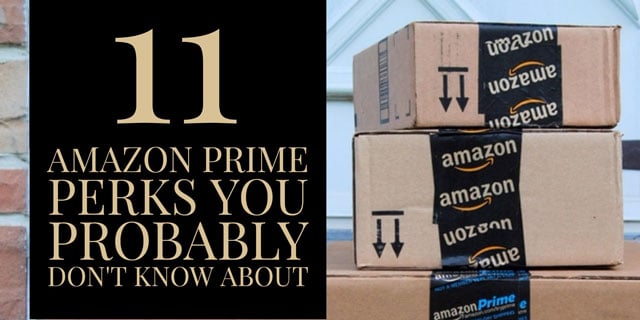 Free 2-Hour and Same Day Delivery
Amazon Prime members in major cities, like New York, Los Angeles, Seattle, Baltimore, among others, can get free two-hour delivery on thousands of items through the Amazon Prime Now app (free on Amazon, iTunes and Google Play). And in those same cities and more, you can get free same day delivery (by 9PM) of even more items. Just check to see if Free Same Day is an option upon checkout.
Prime Reading
With Prime Reading you have access to a selection of books, magazines, comics and Kindle Singles (short stories from authors including Stephen King and more).
Kindle Lending Library
With Kindle Lending Library, Amazon offers Prime subscribers that own a Kindle have the chance to borrow one Kindle book per month—on their Kindle device. Just make sure you return the book to the library after you're done with it so you can get a new one the next month.
Kindle First (Free Book of the Month)
Here's another opportunity to get a free book with Prime: on the first of each month, Amazon releases a list of six books that have yet to be published. With Kindle First, you get to choose one of the books and read it for free using the Kindle app, before everyone else. Although John Grisham's or J.K. Rowling's newest books probably won't be Kindle First picks, there is a high-quality selection in a variety of genres each month.
Amazon Family (Discount on Baby Products)
Also included in your Prime subscription is a membership to Amazon Family, which is super helpful for people who are expecting or already have little ones at home. If you've got Prime, you'll be able to save 20 percent on diaper subscriptions, along with coupons and baby registry rewards. After creating a registry, Amazon sends you coupons for a free parenting eBook, as well as 25 percent off baby apparel, maternity items and prenatal vitamins. Right now, there's even a free welcome box with samples of products like baby wipes, formula and baby shampoo. And you'll automatically save 35 percent on any subscribe and save purchases.
Amazon Household (Prime Benefits Sharing)
If there are two adults living in your household, you can create an Amazon Household in order to share all of your Amazon Prime benefits with another person.
Prime Music
There are a ton of streaming services out there to choose from, but if you've got Prime, you're already subscribing to one. There are over a million songs, including those by Taylor Swift, Kanye West and Madonna. Their personalized radio stations are also ad-free. You can listen on PC, Mac, Fire, iOS or Android devices, and even download the songs to your device for internet-less situations.
Video Add-On Subscriptions
When you're an Amazon Prime customer, you can purchase add-on subscriptions to premium channels like Showtime ($8.99 per month) and Starz ($8.99 per month) at a discount. And if you have a Fire TV or Fire TV Stick with Voice Remote, you can use voice search to find shows and movies.
Twitch Prime
Twitch Prime will appeal to anyone who plays video games. The service lets you watch video streams ad-free on Twitch and offers free characters, skins and other bonuses in some of your favorite games.
Video Game Pre-orders and Discounts
Another Prime benefit that is great for gamers — Amazon is offering 20 percent off physical copies of games during the pre-order period and the two weeks after the game's release. Plus, if you pre-order the game, Amazon guarantees free delivery on release day, so you won't have to worry about your friends sharing spoilers.
Prime Photos (Free Storage)
Since our photos live digitally these days, they're always at the mercy of your device. Fortunately, Prime members are able to store unlimited photos in the cloud. All you have to do is upload through their mobile app or through a web browser. You won't have to worry about your kids' photos disappearing anymore.
Updated: 10/6/2016 with information on Prime Reading
[Image credit: Amazon boxes via Julie Clopper / Shutterstock.com