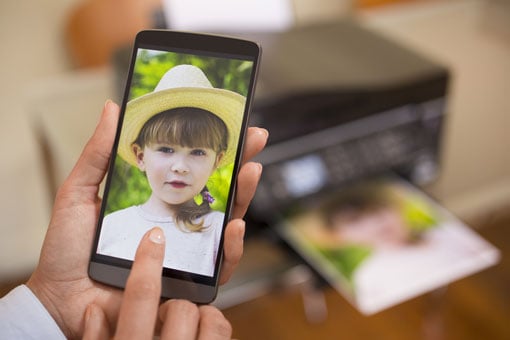 One of the best cameras is the one you have with you — and for most of us, that camera is your smartphone. But unless you're meticulously sharing and backing up your photos online, most of them are probably languishing in your smartphone's digital archives.
Free your photos from the shackles of your smartphone with services and hardware that make it easy to print your photos professionally (for shipping directly to you), on the go or at home. We've rounded up our favorite, easy ways to print photos from your smartphone.
Order professional prints with an app
Most photo developers today print smartphone pictures. Apps such as Kicksend and Snapfish let you order prints for pickup at retailers such as Walgreens. Even more streamlined photo services let you order prints from your smartphone for delivery to your home within a couple of days. Send photos from your smartphone to one of our favorite print services to get lab-quality prints without leaving the house or shelling out for your own printer.
PrintStudio
This sleek, intuitive app takes care of printing pictures as well as photo books, greeting cards and other photo products from your phone camera or Instagram account. Ordering prints is a simple matter of choosing exactly the size of photo you want, from a set of photo strips to a 54-image poster, and then picking the best of your snaps.
You can print photos in several unusual sizes, including 4" x 4" squares, 2" x 2" mini-squares and business-card-sized prints, as well as standard formats including 4" x 6" and 8" x 10" prints and 20" x 30" posters (probably best for owners of uber-high-megapixel phones like the iPhone 6s Plus or Samsung Galaxy S6). Send prints anywhere in the world. (Last-minute long-distance present, anyone?)
The app makes it easy to order unique frames and displays, including a reclaimed Santa Cruz block frame or multi-picture wooden and concrete displays.
Price: Free at Google Play and iTunes
Prints: $12 for 24 square prints; $15 for 24 4" x 6" prints; $10 for a set of nine photo strips (36 pictures); more prices at Social Print Studio
Shipping: $6 by FedEx and DHL; $12 international shipping; free shipping for U.S. orders over $50
Speed: 3-10 working days
Editing capabilities: None aside from cropping or shifting pictures to fit inside the print size
Best for: Interesting frames and unique prints (the mini-squares and 4" x 4" squares are particularly cute for Instagram images)
FreePrints (Android / iOS / Windows Phone)
FreePrints is an offshoot of online photo printing shop Photo Affections, which perhaps explains why it can offer 1,000 free 4" x 6" prints per year. This streamlined app is an easy way to print photos from your phone camera as well as Facebook, Instagram, Dropbox, Flickr, Microsoft OneDrive and Google Drive. One click from the home interface takes you to a photo selection page for uploading and ordering prints, which can arrive as quickly as within two days.
You can order square prints for Instagram shots as well as 5" x 7", 8" x 10" and larger prints at an additional cost. If you use an iPhone 6 or 6 Plus, pay for orders instantly using Apple Pay. Photos are printed on lab-quality paper from Kodak and Fujifilm, with an matte finish.
Price: Free from Google Play, iTunes, and Windows Store
Prints: Free for 4" x 6" prints (up to 85 per month or 1,000 per year); from $0.49 each for 5" x 5" prints
Shipping: $1.99 to $9.99; $1.00 more for two-day shipping; free shipping the first time you use the app
Speed: Four to six days; two working days for express shipping
Editing capabilities: Minimal; cropping, black-and-white filter
Best for: Low-cost, high-quality prints
Print on the go with a portable smartphone printer
Pull out one of these printers during your next vacation and instantly print anyone's smartphone photos for hard-copy keepsakes.
Fujifilm Instax Share SP-1 (Android and iOS)
This book-sized printer from the current king of instant cameras uses the same film and printing technology as the Fujifilm Instax Mini line. It connects via Wi-Fi or Bluetooth to your smartphone, with an app for selecting and printing photos to a roll of instax mini film.
The app lets you add black-and-white or sepia filters, as well as templates for text and graphics and "Real Time" details such as dates, location, time and weather. Prints have that slight vintage blur; if you're looking for fine detail, you may want to consider a desktop printer instead.
The SP-1 runs on flat-cell CR-2 batteries with a lifetime of about 100 prints before the batteries need to be replaced.
Price: $140 from Amazon
Prints: $17.68 for 20 sheets at Amazon
Speed: 16 seconds per print
Editing capabilities: Black-and-white or sepia filters in the Fujifilm app, templates for personalized text and greeting cards
Best for: Printing photos on the go
Print at Home with a desktop printer
Printing your photos at home can not only work out cheaper, but far more convenient. If you're looking for pro-quality home prints, dedicated photo printers can handle ultra-high resolutions and fine color detail, while standard models still offer decent picture quality at an affordable price.
Canon Pixma iP8720
Forget the four-cartridge ink system on your old home printer; the Pixma iP8720 sports a six-ink system including an individual grey ink for extra-fine color and gradation in black-and-white prints. It connects over Wi-Fi as well as Google Cloud Print and Apple AirPrint, making it easy for any device to link up and print.
The printer uses an Android/iOS app to select photos from a smartphone or tablet for batch printing. Print resolution goes as high as 9600 dpi with photo sizes up to 13" x 19".
Price: $299.99 from Canon
Prints: From $7 for 100 sheets of 4" x 6" glossy paper; $113 for a set of six ink cartridges (PDF) ($0.48 or less per print)
Speed: About 35 seconds per smartphone photo, 1 minute or more for larger prints
Editing capabilities: None
Best for: Professional-quality home photos
HP Envy 5660
If you simply want to print photos for personalized cards or family albums, a multifunction inkjet printer like the Envy 5660 produces good clarity and color, especially with smaller prints. It can connect to any smartphone over Wi-Fi via the HP app, while Apple AirPrint support lets you print directly from iPhones without an app.
Photos can be printed in sizes up to A4, with a dedicated paper tray for 4" x 6" prints. If you regularly print photos, buy the Envy 5660 with an HP Instant Ink subscription plan that gets you 50 prints per month for $2.99, with HP connecting to your printer to send new cartridges when you're running low.
Price: $117.94 from Amazon
Prints: From $5.99 for 100 sheets of 4" x 6" glossy paper; $85.30 for a set of high-yield ink cartridges (about $0.30 a print, $0.13 if you subscribe to Instant Ink)
Speed: About 45 seconds per 4" x 6" photo
Editing capabilities: None
Best for: Affordable home photo printing
What's your favorite way to print photos from your smartphone? Let us know in the comments, and tell us if we've missed your go-to.
Updated on 1/25/2016 with pricing and print options.
[printer with smartphone image via Shutterstock]